Only two days ago ICM had Labour and the Tories tied on 36%, whilst YouGov had a Labour lead of 11 points. As I wrote then:
So Labour's lead is at 11 points, 7 points or 0 points. I'm glad that's clear. I now expect everyone with an axe to grind one way or another to claim that [Poll that best serves their argument] is right because [insert name of issue they feel passionately about].
There are all sorts of ways this could be spun. For example:
Ed Miliband's speech on the union link last week could have either been a brilliant strategic move that secured Labour's lead, or a disastrous move that has led to a collapse in the party's lead.
The farcical Tory EU Referendum Bill 10 days ago was a masterful masterstroke that has crushed UKIP's vote, or alternatively it was a foolish move that has had negligible impact.
Neither of these can be proven or disproven. Countless articles will be written off the back of such assertions.
Today the polling confusion continues, as Ipsos-Mori's latest poll has Labour's lead up to 11 (Lab 40 Con 29 LD 10 UKIP 12) up from just 4 last month. That's as dramatic an increase as the ICM poll was a plunge. On Tuesday Peter Kellner debunked ICM's findings. I expect someone will critique Ipsos-Mori's similarly.
The polls are all over the place.
However, whilst Ipsos-Mori have Labour surging into a double digit lead, the same can't be said for Ed Miliband. His leadership ratings are still worrying – despite receiving plaudits for his decisive speech on Labour and the union link last week, his personal ratings are on the slide somewhat: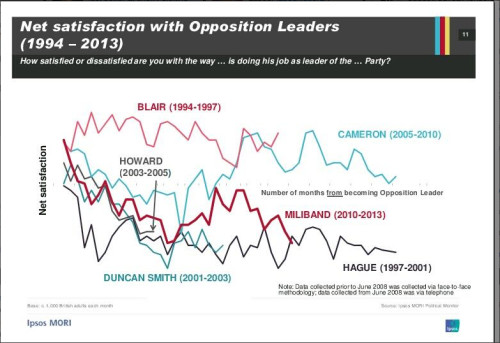 I'm loathe to say it – because it feels like we end up here every year – but Miliband will need to give another impressive conference speech to give himself a boost with the public. But more than that, he needs to be more visible and have more to say (in terms of policies) if he's going to turn this around.
Above all though, he needs to keep his head, when the rest of the party might be losing theirs.
More from LabourList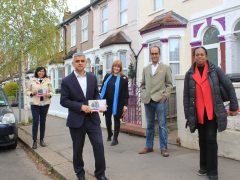 Comment
As Londoners head to the polls tomorrow, Labour sources are warning that they are "expecting a considerably worse…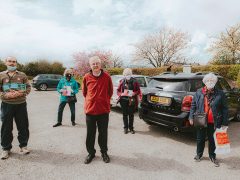 Comment
"People have realised that Wales can use its powers independently," Jane Hutt explains to me. "But Welsh Labour…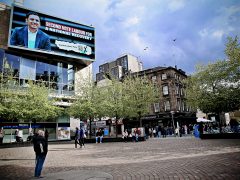 Comment
Labour started off in 1999 with every constituency seat in Glasgow, and it stayed that way until 2007,…