There was a story in the Times(£) by Sam Coates this morning that hasn't really generated the level of interest that I assumed it would, but it's worth commenting on as it speaks to an issue that is clearly aggravating many within the party – the lack of women involved at a senior level in the election campaign. Here's what the Times reported this morning:
"Harriet Harman "went crazy" at Douglas Alexander, Labour's election chief, over his running of the party's campaign and the role given to women, Labour sources have revealed. The Labour deputy leader also attacked Mr Alexander over plans to limit the party's efforts in the European elections next May, in the face of scant resources and the expectation of a poor performance."
"Ms Harman clashed with Mr Alexander at a private meeting at Labour headquarters on Monday in front of about three dozen staff, who were "shell-shocked" by the exchange, during which she accused him of speaking over her and ignoring her contributions. She interrupted a presentation by Mr Alexander to raise her issues and at one point declared that she was sick of hearing from "more panels full of boys". She argued with him for several minutes."
Now clearly senior politicians fall out. Like in any working environment there are rows, disputes, grudges and fights. Show me an election campaign that didn't have you a fight and I'll show you a campaign that won no seats.
But that said, a row between politicians or staffers is one thing – a loud and angry row in front of over thirty staff is a completely different kettle of fish. It's unpleasant, it's not the kind of thing you want to be hearing about the party – but more importantly than that, it's not the kind of thing that happens lightly.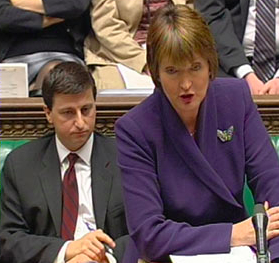 Tensions are clearly high.
You don't have a row in front of thirty staffers in the Labour Party and not expect it to become a big deal, and this will be a big deal internally, even if it hasn't set the Westminster Village alight. There is clearly a significant proportion of the party who believe that only having men steer the election campaign is untenable. Jacqui Smith and Emma Burnell have articulated that here before. They are not going to stop feeling that way whilst the status quo remains.
If the party were looking for someone senior, female and with significant experience of running a political campaign, they could do far worse than speak to Stephanie Cutter – the Deputy Director of Obama 2012 – who was in London last night to deliver our inaugural Christmas lecture. Her speech, and the responses to the panel discussion that followed, displayed her understanding of the importance of crafting sharp messaging and the use of data and widely available tools to campaign innovatively even when there's not much money about (as is the case in the Labour Party).
I've no idea if she'd be interested or even available. But the Labour Party could do far worse than give her a call…
Value our free and unique service?
LabourList has more readers than ever before - but we need your support. Our dedicated coverage of Labour's policies and personalities, internal debates, selections and elections relies on donations from our readers.
If you can support LabourList's unique and free service then please click here.