We want to hear from you, and hear how things are going in your area – email us at [email protected] – and the pick of the submissions will be added to the liveblog.
——
03.10: At long last this liveblog is coming to an end. It's a disappointing night for Labour. Winning 4 MEPs in London was a positive ending, but like with the local elections that risks massaging the figures to make the result look better for us than it really was. Final score (with one Scottish council to declare):
UKIP – 27.5%
Labour – 25.4%
Con – 24.0%
Green – 7.9%
Lib Dem – 6.9%
Finishing only just ahead of the Tories – and in second place – isn't good enough with a year to go until election day.
The Tories have come third for the first time in their history – but they will be able to live with being just a point behind Labour. And Scotland might alter the totals slightly when they announce officially in the morning, but results were still disappointing there and won't shift things too much.
In the coming days – starting later this morning – the party will have to hold an inquest into what has happened, and some of that will happen on LabourList. But for now, it's time for bed. Goodnight everyone, and thanks for staying with us. – MF and CP
03.07: Final London results:
Lab – 806,959
Con – 495,639
UKIP – 371,133
Green – 196,419
Voteshare nationwide now looks like this:
UKIP 27.50%
Labour 25.40%
Tories 23.94%
Only thing left to come in now is Scotland. I'm clocking off. – CP
02.59: What we're hearing from London, in terms of MEPs, is: 4 Labour, 2 Tories, 1 UKIP, 1 Green – CP
02.54: Nick Robinson on the BBC has just said Labour believe to have 50% of the vote in London, and 4 London MEPs. – CP
02.51: Bromley South in Tower Hamlets will now not be counted until Tuesday. If, if, the result for that is announced on Tuesday, it will only have taken five days to count. – CP
02.47: Just been told the election agents have been called in to be told the results at City Hall in London now. So, unless the agents have a problem with the results, we should know what the London results are… soon? – CP
02.16: Bromley South ward in Tower Hamlets is about to start its third recount for the council. Here all night, guys. – CP
01.42: The Guardian are reporting that Labour look set to finish just 1.2% ahead of the Tories in second place. Third would have been disastrous, but only creeping ahead of the Tories isn't good enough, frankly. Not good enough – MF
01.24: Getting bored? Well, we've got some Labour Party infighting for you! Looks like friends of Michael Dugher are blaming Douglas Alexander and friends of Douglas Alexander are blaming Michael Dugher in tomorrow's Times (£). It's not altogether clear what people think actually was bad about the campaign, so currently this just seems to be about personality clashes… – CP
01.16: We're still waiting for Tower Hamlets to finish counting. There's nothing to be done. – CP
01.04: National voteshare so far: UKIP 29.12%, Tories 24.11%, Labour 23.65%.
With only Scotland and London left to declare, I would say we are certainly going to finish above the Tories (unless something unforeseeably terrible has happened). Given UKIP's poor standing in London and Scotland, we should catch up on them a bit too, but that six-point gap is insurmountable by this point. Second place. Is it good enough? – CP
00.54: Not going to get Scotland tonight, because of observing rest on Sundays in the Western Isles, but BBC now saying SNP might win there, not Labour. UKIP still expected to get an MEP there.
We told you that London result should be around 1am, delayed because of the count in Tower Hamlets taking so long. I have absolutely no idea when Tower Hamlets will finish counting. If anyone does, please, please tweet me @Conorpope or email us at [email protected] – CP
00.37: So far, Lib Dems have got one MEP. Not sure if they will get any more, which would mean a net loss of eleven. – CP
00.33: West Midlands results. Number of MEPs. – CP
3 UKIP, 2 Labour, 2 Tory
00.31: South East results not great for Labour. UKIP killing it there. This is the MEPs totals there. – CP
4 UKIP, 3 Tories, 1 Labour, 1 Green, 1 Lib Dem 
00.28: That North West result pushes Labour into second nationally. – CP
00.22: Results in from the North West. BNP's Nick Griffin officially gone. Cheers North West! – CP
CON: 351,985 (2 seats)
GREEN: 123,075
LAB: 594,063 (3 seats)
LD: 105,487
UKIP: 481,932 (3 seats)
00.17: This is North East Lincolnshire results, part of Yorkshire and Humber (I think, I'm from Lancashire). Includes Grimsby – one seaside constituency I speculated Farage might be looking at, especially now longstanding Eurosceptic Labour MP Austin Mitchell is stepping down. – CP
Labour 22.8%
UKIP 41%
Con 21%
Lib Dem 4.5%
00.14: Labour have topped the poll in Reading, which has a couple of swing seats that will be important in 2015. – CP
00.10: If the Lib Dems are left with any MEPs tonight, talk is that it will be one in the South East. Tough claim to be "the party on In" when you're not going to be there. – CP
00.06: North West result expected in the next few minutes, according to Manchester MP Lucy Powell. – CP

00.03: Croydon saw a decent Labour win. Up in North London, Islington delivers a tremendous one. Labour 18,000 votes ahead of second place Greens there. – CP
00.00: UKIP a fair way ahead in Hull. Lib Dems and Tories both doing terribly. – CP
UKIP 35.77%
Labour 31.81%
Lib Dems 11.84%
Tory 8.24%
23.57: Labour currently 1.3% behind Tories and in third place. But I'd expect we will do much, much better than them in places like London and the North West, which are still to declare. UKIP currently way ahead, just over 30%. – CP
23.51: We're not expecting the result from London until 1am, because Tower Hamlets is still, still, counting. – CP
23.46: Tories slip from 1st to 3rd in Wales. Labour top in Wales – but only just – over UKIP. – MF
23.44: Going out on a bit of a limb here, but with London still to come, I'd guess UKIP will win by 2/3 points, with Labour 2/3 points ahead of the Tories. Something like UKIP 29%, Lab 26%, Tories 24% – MF
23.42: Wales seats: Tories 1, Labour 1, Plaid Cymru 1, UKIP 1. No change there. – CP
23.40: The Lib Dem line for tonight appears to be "We predicted we'd do badly. We have!" – CP
23.38: South West Result (MEP): UKIP – 32.3% (2) CON – 28.9% (2) LAB – 13.7% (1) GRN – 11.1% (1) LDEM – 10.7% 
Clare Moody elected for Labour there. – CP
23.35: Yorkshire and Humber results in: UKIP 3 seats, Labour 2, Tories 1. – CP
23.28: Lib Dems come fifth in Sheffield, with Labour first, as predicted.
Lib Dems have come THIRD in Nick Clegg's seat of Sheffield Hallam, behind Labour and UKIP. That European strategy went well for them then. – CP
23.23: Farage asked which seaside constituency he plans to stand in next year (a reader writes in to suggest Bootle, by the way). He says "I haven't decided yet!"
Which means he has literally only decided that he wants to be an MP by the sea. Farage also says he expects Labour to promise an EU referendum. – CP
23.21: So that returns us one MEP in the East Midlands, Glenis Wilmott. I think we would have hoped to do a little better there. – CP
23.18: Labour third in East Midlands. – CP
UKIP 368,734
Tory 291,270
Labour 279,363
23.10: Waiting on formal declaration in Sheffield, but looks like Labour have won and the Lib Dems have come in fourth, maybe fifth. Local Lib Dems are looking understandably glum, and there is speculation that they have not topped the popular vote in Nick Clegg's Sheffield Hallam constituency. – CP
23.09: This is the result in Oxford. UKIP in fifth. Labour top. – CP
LAB 13015
GREEN 8337
CON 5997
LIB 5332,
UKIP 4979
23.06: Farage has arrived at the count in Southampton, saying he'd like to stand for Parliament in 2015 in a constituency "by the sea". Thanet? Great Yarmouth? Great Grimsby? – CP
23.04: UKIP have beaten Labour in Southampton – which currently has two Labour MPs – MF
22.56: Labour look likely to win in Scotland over the SNP. That's a big deal – UKIP would also gain an MEP. – MF
22.51: UKIP didn't make many inroads in Doncaster on Thursday in the local elections, but we hear that they've topped the vote there in the European elections. That's Doncaster, home of Ed Miliband, as well as Rosie Winterton and Caroline Flint… Labour vote up 12%, but still pipped by UKIp by 1% – MF
22.51: That carnival went well then. European election votes Croydon:
Lab 32,439 (32.9%)
Con 26,687 (27.1%)
UKIP 19,560 (19.8%)
Green 6,829 (6.9%)
LD 3,768 (3.8%) – CP
22.47: Ed Davey is up on the BBC – now is a good time to note that Labour got two seats in Norbiton in Kingston today with a 12.5% swing to return to the council (and only missed out on a third seat by 3 votes…) – MF
22.46: To be clear, I think we'll finish 2nd. 3rd isn't worth thinking about – MF
22.44: Harriet Harmsn is on BBC and says that she "hopes" Labour will finish above the Tories and improve our vote share from 2009. We absolutely have to do both to stave off an absolutely disastrous night. Even second would be a poor result. – MF
22.43: That Bimingham result seems to show that UKIP's success elsewhere is still not being replicated in the cities, because they are failing to take as many Labour votes as they are in other places. – CP
22.39: Lib Dems come third in Eastleigh being UKIP and the Tories. Ouch. – MF
22.35: So the Tory leader in the European Parliament has lost his seat. Remember this from Callanan?
Tory MEP Martin Callanan, the leader of the Conservatives in the European Parliament, went further by saying that cutting the 50p tax rate was "one of the biggest mistakes that we've made so far in this parliament" and that "politically it was disastrous to do so in a recession".
22.33: Birmingham result is in:
Labour – 93,740
UKIP – 52,063
Con – 39,329
Lib Dem – 19853
22.32: In Wales Labour are on 30%, but UKIP are just behind on 27%. IN WALES. – MF
22.26: Labour  come third in Eastern region behind UKIP and the Tories.
UKIP: 542,812
Con 446,569
Lab: 271,601
Green 133,331
LD: 108,010
That's only 17% of the vote for Labour in Eastern region, but that is up 7%. – MF
22.20: Of course Labour taking that Tory seat in the North East means Martin Callanan – the Tory leader in the EU Parliament – has lost his seat. – MF
22.15: Labour take one seat from the Tories in the North East – up 11% of the vote, with UKIP in second. – MF
22.13: Labour top UKIP in the North East. I shouldn't be excited to hear that, but after rumours earlier today I am. Worryingly large number of UKIP votes though. Lab 221k, UKIP 177k, Tories 107k, Libs 36k – MF
22.09: The North West European Parliament Election in 2009 was the first time I voted, so you can understand how upset I was when the BNP's Nick Griffin was elected. We're hearing rumours that he won't even attend the count tonight – and it looks like he's busy working out how to take the "MEP" out of his Twitter handle… – CP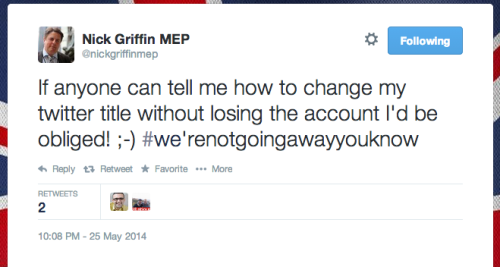 22.08: Labour on over 50% of vote in Leicester. We hope that's a big boost for deputy mayor Rory Palmer who is no 2 on east mids list – MF
22.06: The Tower Hamlets delay is going to delay the European election announcement for the whole of London. Thanks Tower Hamlets. – MF
22.05: When we stopped this liveblog at quarter past eleven on Friday night, Tower Hamlets was the only council still counting. Tower Hamlets is still counting. We are very glad we decided not to wait up. – CP
22.01: The Front National – led by Le Pen – have won in France. Syriza have won in Greece. – MF
21.50: People have been tweeting rumours all evening of a Lord Ashcroft exit poll (showing Labour in third) and one from the German paper Die Welt (showing Labour second, four points behind UKIP). There are no exit polls for tonight. Die Welt's appear to be an amalgamation of polls, while the Lord Ashcroft one simply doesn't exist. Hold tight for now. – CP
21.47: Speaking to a Labour source, I'm told that Labour are expecting UKIP to win – as they did before election day. However, they argue that they've done better than expected. That probably means coming ahead of the 25% of the vote bar the party had set itself in advance. However coming second may exceed the expectations of the party – but it won't satisfy those (including me) who think Labour need to be winning this a year before election day. – MF
21.38: So for arcane reasons we're not meant to report on what's happening at counts around the country until 10pm (even though most of them have been all but completed by now) – but what we can do is say how LabourList readers thought the party would do ahead of election day. In our weekly poll we asked how Labour would do in these elections. It doesn't suggest a great deal of confidence amongst party activists – 56% of LabourList readers think Labour will come second in these elections, compared to just 37% of whom think we'll come first. We're not far from find out the truth. – MF
21.35: So will Labour win tonight? Firstly lets ask what we mean by win – does that mean voteshare or MEPs? If Labour can't win by either metric that's problematic to say the least – it's 30 years (1984) since an opposition party failed to win the European elections. Kinnock won in 1989. We won in 1994 when the party didn't have a permanent leader. And William Hague won in 1999 when the Tory Party were at their lowest ebb.
However, if Labour finish 2nd, the Tories will likely finish 3rd – the Tories have never finished third in a national election in their history. Ever. That duck could be broken tonight. – MF
Sunday 21.30: Evening all – we're back to take you through the results from the European elections. It's one of the peculiarities of the European elections that many of the votes will already have been counted, and in many areas parties will already have a fair idea of the result from Thursday, but nothing official can be announced until all polls have closed across Europe at 10pm. From 10pm onwards we're expecting a fairly brisk announcement of the results from the regions. We may not be up all night this time, but we're expecting an eventful night nonetheless… – MF
23.12: On Thursday at 7am we kicked off our election day liveblog.
Since then we've brought you nearly 300 updates. We broke the news of several election night results from around the country (including telling you Labour could win Hammersmith and Fulham 13 hours before anyone else). We've brought you analysis from across the party. We've tried to explain what this all means for the general election.
And we've consumed Red Bull at a rate that may exceed the recommended daily allowance.
It's been a long 40 hours for us – and a long 40 half hours for the Labour Party and so many of you too. Thank you for staying with us – or dropping in when you could. If you want to catch up with the liveblog, you can read it in its entirety here.
We'll be bringing you more reaction and analysis in the coming days – and we'll be back on Sunday night for our next liveblog, the European Election results from around the country. It'll be shorter but no less eventful. If you'd like to support the work we do – and help keep us in Red Bull – you can do so here.
And last but very much not least, thanks to Conor who has been an absolute liveblogging revelation – and has done some of the most "fun" shifts like "daytime" and "oh dear is it getting light outside". We're going to head off to our respective homes now and go to sleep. We'd suggest you do too – it's been a busy week.
AND SEE YOU ON SUNDAY NIGHT – MF
23.05: Barnet is done, several years after this liveblog began. 1 Lib Dem and 2 Tories in Childs Hill. The Tories take Barnet with 32 seats. 1 Lib Dem. 27 Labour with one ward voting next month. 
We're only waiting for Tower Hamlets now, but with rumours of a recount and Lutfur almost certainly winning I think we're done for tonight. – CP
22.43: Labour are the largest party in Milton Keynes now – with 25 seats. It's our best result there since 1996, and as we said earlier, will put us in good stead for that marginal in Milton Keynes South. – CP
22.32: Jules Pipe has been re-elected as Hackney Mayor with over 60% of the vote. Labour in London, nailing it again. – CP
22.24: Labour added thirteen to their total in Ealing. That's 53 Labour councillors there now. – CP
22.03: Right, Tower Hamlets is actually still not confirmed. Lutfur still favourite to win at this point, but now hearing rumours of terrible behaviour from Lutfur supporters. Upsetting stuff. – CP
21.49: More amazing London news – Labour up three in Greenwich: 43 to the Conservatives' 8. – CP
21.35: Labour looking to gain thirteen seats on Ealing Council. Just unbelievable. How has this landslide not reached outside London? – CP
21.32: Lutfur Rahman re-elected in Tower Hamlets and everything that is wrong with the world will continue to be wrong. – CP
21.30: Full recount in Childs Hill – a ward Labour need to win to take Barnet council. – CP
21.21: We've delivered a couple of lists tonight of target seats where Labour have won the popular vote (see 18.51 and 17.23). A precocious reader points out that Enfield Southgate is not on Labour's 106-seat long target list, and yet we have won the popular vote there: "30,749 votes over the Tories 30,085."
The Tories have a majority of 7,626 in Enfield Southgate, while the Lib Dems polled just over 6,000 last time. – CP
21.15: Brian Coleman – former London Assembly member and bogeyman of North London – has lost his seat as a councillor. Coleman, who lost his Assembly seat to Labour's Andrew Dismore in 2012 after a campaign by local residents and shops against him, was deselected as a Tory after a conviction for assault. He stood as an independent, but now he's gone. Farewell Brian. We shan't miss you. Don't let the door hit you on the etc etc – MF
20.52: Tower Hamlets, I'm told, is still too soon to write off, but "it's not pretty".
I spoke to some unhappy members there earlier. One told me "Getting activists (and even candidates) out on the doorstep yesterday was like pulling teeth. They just wanted to hang around polling stations. Which, I don't need to tell you, does sweet f**k all to increase turnout or even convince people to vote Labour."
I was also told that during GOTV, much of the data used was just wrong: "Lots and lots of supposed Labour promises (as recently as a few weeks ago according to the sheets) said they voted for Lutfur when I knocked them."
When I was being told that Labour were confident of winning yesterday, was it based on the number of these doors being knocked on? To have people knocking on doors that aren't Labour on election day is shoddy – and lands Tower Hamlets with another four years with of a very dodgy mayor. – CP
20.38: Almost thirty eight hours into this liveblog, this would really sting. Joshua Peck is leader of the Labour group in Tower Hamlets. – CP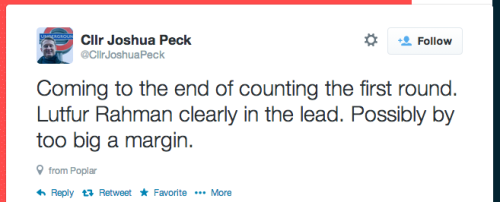 20.33: So far in Camden, Labour have 33, Tories 12. No Lib Dems so far. – CP
20.29: Labour have taken all three seats off the Tories in East Barnet. Things are looking good there, then. – CP
20.25: Ealing results coming in now. Labour already have the council, with a whopping 40 councillors, but they could make more than ten gains here. Local A&E closures have made people annoyed at the Tories there. – CP
20.20: Sounds like the headway being made in Ealing is largely down to Lib Dem collapse (who saw that coming??) but also taking a fair few votes off the Tories where gains are being made too. – CP
20.13: Great stuff coming in from Ealing. Labour running close in wards they never considered putting effort in, and have won two in Cleveland ward – local party thought "we were never in the race" in that one. – CP
20.01: Blimey. Looks like Duwayne Brooks, Lib Dems candidate for Lewisham Mayor, has just quite the party. – CP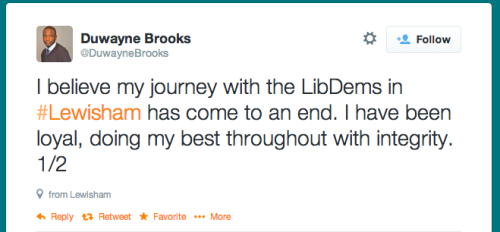 19.49: Massive win for Labour's mayor in Lewisham, Steve Bullock! He's never won on first preferences before. – CP
19.46: About to declare Lewisham's mayor: feeling comfortable for Labour. – CP
19.40: Labour got more votes in Simon Hughes' constituency than the Lib Dems. Ian writes in to say:
"Surprisingly, taking the top vote in each ward, the Lib Dems got 10,710 in Bermondsey and Old Southwark whereas Labour got 12,486. I didn't seriously think Simon Hughes would be in trouble next year but he may well be given a higher turnout in 2015 and the fact that Labour now has 16 councillors on the ground in the constituency compared to 11 for the Lib Dems."
19.26: Labour's London dream continues, gaining four so far in Kensington & Chelsea. – CP
19.23: There are no lambs left to send to the slaughter, report Sky News. – CP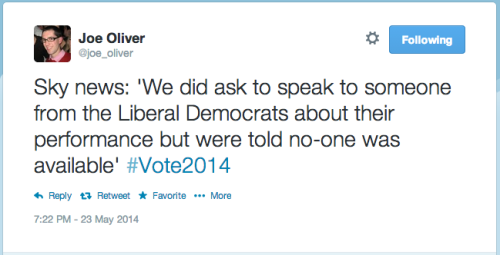 19.21: Lib Dems wiped out in Bromley. They were in a joint administration sixteen years ago. – CP
19.10: Labour have reportedly won five seats in leafy suburban Bromley and have secured the popular vote in Nuneaton – that's yet another important target seat in 2015. – CP
18.58: Has a UKIP councillor resigned less than an hour after being elected?
To Hyndburn, and a story that needs a little background. Malcolm Pritchard, a former Labour Mayor, was standing against his own daughter, Labour candidate and deputy council leader Clare, for UKIP in the Accrington ward of Milnshaw.
This week, he reported her to the authorities for electoral fraud. On Wednesday she was suspended from the Labour Party.
Today, it was announced he had defeated Clare. Since then, local MP Graham Jones has reported that he has publicly resigned from the party, 50 minutes after being elected, and will sit as an independent councillor. A journo from the local paper is reporting that this is not the case.
Could this story be any weirder? – CP
18.55: Ealing, we've had our differences, you and I (see: seventeen minutes ago), but it sound like you'll be electing Labour councillors in the unlikeliest of places, so maybe we can still be friends. – CP
18.54: Labour have gained five seats so far in leafy suburban Bromley. – CP
18.51: 29 target seat where Labour has won the popular vote. – CP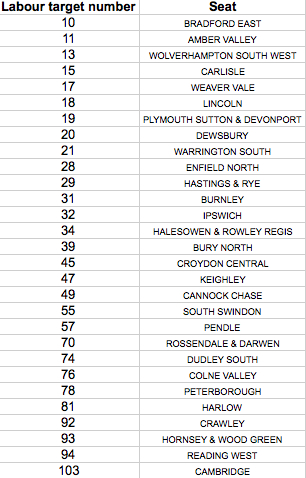 18.47: Southwark finishes with Labour 48, Lib Dems 13, Tories 2. Will be interesting to see where those Lib Dem seats lie, and how it might affect the Neil Coyle v Simon Hughes battle next May. – CP
18.38: We aren't expecting results from Ealing until at least 10pm. Why? Why? This is crazy. Sort it out, Ealing. Not on. I can't even look at you. – CP
18.35: Labour have 59 of 63 seats in Lambeth, Lib Dems wiped out. Did we report this earlier? I can't remember. – CP
18.20: Two lots of mayoral news!
TOWER HAMLETS – Turnout is 47.5% and as we have said again and again,a bigger turnout is better for Labour.
LEWISHAM – Count has been going on for an hour and a half, where Labour's Steve Bullock is looking for re-election. Looking good so far, Lib Dems suffering as they are across London. – CP
18.16: Another reason why some counts are taking SO LONG. – CP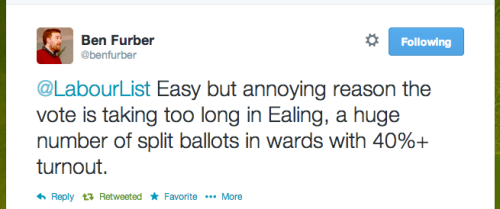 18.08: The Tories are tearing chunks out of each other. – CP
18.06: There's a lot of bored people in East London. – CP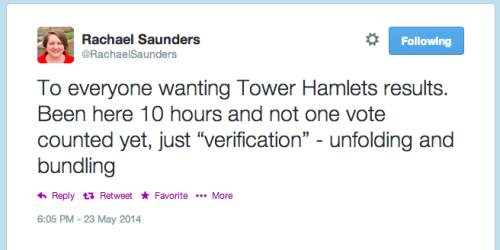 18.04: Woking has got a Labour councillor we're hearing. – CP
17.59: Milton Keynes about to declare. Important for key marginal in Milton Keynes South. That's currently held by Iain Stewart, a Tory, with a 5,201 majority. – CP
17.54: Nice little interview with John Biggs, Labour's candidate for Tower Hamlets mayor, from East London Lines. He seems relaxed, says the campaign across London has been good, and is expecting a result by 7pm. – CP
17.49: Tower Hamlets mayoral race going to second preferences, as expected. This is a big improvement for Labour on last time, when Lutfur won on the first round. Come on Biggsy! – CP
17.45: We're still waiting for loads of results across London. I'm told this is because of the extraordinarily long European ballots being difficult to unfold, and making the verification process take a very long time. – CP
17.42: Quickly denied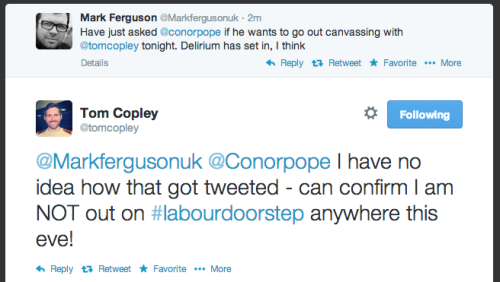 17.39: LabourList does not condone this sort of behaviour – CP

17.33: To Scotland, where there have been a few by-elections: "2 Labour holds in Fife (over 60% of vote) but significantly we gained Oban South and the Isles on Argyll & Bute council. First Labour seat there (and elected under STV)" – CP
17.31: Kelvin McKenzie narrowly misses out on election to Elmbridge Borough Council. Boo hoo. – CP
17.23: Here's a list of 20 key marginals where Labour have topped the poll: – CP
WOLVERHAMPTON SOUTH WEST

CARLISLE

WEAVER VALE

LINCOLN

DEWSBURY

WARRINGTON SOUTH

ENFIELD NORTH

HASTINGS & RYE

BURNLEY

IPSWICH

HALESOWEN & ROWLEY REGIS

CROYDON CENTRAL

CANNOCK CHASE

SOUTH SWINDON

DUDLEY SOUTH

COLNE VALLEY

PETERBOROUGH

HARLOW

HORNSEY & WOOD GREEN

CAMBRIDGE
17.21: Labour become largest party on the Local Government Association (LGA) since 2003. – CP
17.19: UKIP vote very strong across Barking & Dagenham, although Labour still on course for 51-0 win. – CP
17.13: Labour have got their first seat on Wokingham Council in more than ten years. Of course, they've celebrated with a selfie. Well done! – CP
17.05: It's a shame about Tories holding on in Trafford; it's one we would have hoped to gain. We add one seat to our tally there. – CP
16.59: I'm getting lazy now: I can't be bothered to even type out facts I'm reading on Twitter. Liveblog fatigue. – CP

16.54: Hounslow now: "Good news still pouring in from Hounslow, we're hopeful of ending the day with 49 of the 60 councillors, which would be a net gain of 14. Omens very good for Ruth Cadbury, in Brentford & Isleworth." Brentford & Isleworth constituency is currently held by the Tories, with a majority of 1,958. – CP
16.52: Someone just sent in this lovely fact about Manchester: "Manchester is now the biggest Labour group in the country, having overtaken County Durham who have 94 Labour councillors, although an upcoming by election could see Co Durham pull level again if they take a seat from the Indys." – CP
16.48: Labour have beaten the leader of the Lib Dem group in Sheffield Hallam. QUICK, SOMEONE TELL NICK CLEGG THERE'S A TANK ON HIS LAWN. – CP
16.45: Barking & Dagenham looking alright then. – CP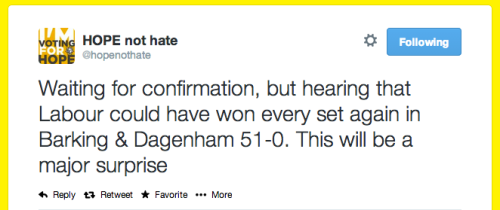 16.40: Labour gain three in Weymouth & Portland to become the largest party there once again. "Very good results" I'm told. UKIP gain one off Lib Dems. – CP
16.31: In Hyndburn, Labour make two gains and lose two – one to UKIP and one to the Tories. UKIP vote strong across the borough, but an easy Labour hold on the council overall. – CP
16.28: Stroud is Labour's number one target seat in the South West in 2015 and the only Labour council between Exeter and Birmingham. Three gains there today, no Lib Dems now, and no UKIP councillors. – CP
16.23: CORRECTION: Labour put West Lancs into No Overall Control. It is top of the Tory list of marginals. – CP
16.18: Labour take Harrow. Labour take West Lancashire from Tories – that's a really good result. – CP
16.16: Southwark is looking so bad for the Lib Dems that I could see Simon Hughes retiring rather than fighting it again. In his constituency of Bermondsey & Old Southwark, Labour have three councillors in the Chaucer ward for the first time since 1982. – CP
16.10: Pretty much confirmed now: Manchester is totally Labour, Lib Dems crumble into nothing.
Talking of Lib Dems crumbling into nothing, let's look at Southwark, where Simon Hughes will be mopping his brow. Labour have just won a seat off the Lib Dems in East Dulwich with "a paper candidate", my source tells me. – CP
15.59: Woah. 96-seat Manchester City Council could become a one-party local government: Labour could have it all. – CP
15.56: Labour have taken control of Bradford council. Hopefully they'll be kicking on to get rid of Gorgeous George Galloway next year. – CP
15.55: Just head national turnout about 31%. Can anyone confirm/deny/tell me it's too early to know? – CP
15.47: BBC projected share of vote: 31% Lab, 29% Con, 17% UKIP, 13% LDs. That's UKIP down 6 points on last year's council elections. However, there were more rural and Tory councils up last year (I think?). So while the UKIP vote is down, it is way way up for urban and Labour areas. – CP
15.45: Newham stays Labour. Robin Wales re-elected mayor. – CP
15.43: Things going well in Labour-controlled Oxford. Three gains, no losses. Smiles all aroound there. – CP
15.35: Labour have 48 seats on Blackburn with Darwen council – the joint highest it has ever been. In Hyndburn, UKIP have gained two, one from Labour. Will try and get more on that but Labour will be fine. – CP
15.29: Labour came within 1,000 votes of getting a councillor in Knightsbridge & Belgravia. A good base to work from – appealing to the aspirations of the ultra-rich. – CP
15.21: Got plenty of silly stories from Tower Hamlets, but Tower Hamlets is as Tower Hamlets does.
However, John Biggs is doing very very well on second preferences, and he should be mayor. We might lose a couple of councillors. – CP
15.17: Islington, Brent and Lambeth were all Lib Dem councils in 2006. Q: How many Lib Dem councillors are going to be in Islington, Brent and Lambeth by the end of today? A: One. – CP
15.06: Could be 18 out of 18 for Labour in Dagenham. – CP
15.00: Here's the number in Great Yarmouth:
Make up of GYBC's 39 seats is now Labour 20, Con 19, UKIP 10

Lab lose 5

Con lose 5
"Bollocks", says my source. Hmm. – CP
14.57: Verification took so long in Kensington and Chelsea because "the Euro ballots are so difficult to unfold". – CP
14.55: Verification took a wonderful five hours in the Royal Borough of Kensington and Chelsea, where they're now counting. Labour hoping to make gains. – CP
14.52: Great Yarmouth done. UKIP gain 10 and council goes into No Overall Control. I presume that means they took those last four seats that were up for grabs. – CP
14.39: Back to Great Yarmouth, where UKIP have gained 6, 2 off Labour. 4 wards left to go, 3 of them are Labour. – CP
14.34: Mixed messages in Tower Hamlets now. Less optimistic than yesterday. Biggs could still win, but Labour lose some council seats. – CP
14.30: We'll be getting the turnout for Tower Hamlets soon. Remember, Labour are confident that the higher it is, the better we'll do. Last time it was a measly 25%. – CP
14.25: More word that Harrow is going red. We look on course for a majority, with 'Independent Labour' vying with the Lib Dems "for crumbs" I'm told. At least a majority of three, could get higher. – CP
14.23: Labour take Crawley from the Conservatives – it is now 24 seats to 8. Another general election target there. – CP
14.20: News from the count in Great Yarmouth:
"UKIP from Con 4

UKIP from Lab 1

Con hold 1

Lab hold 1″
14.15: Sky News' latest projection for 2015 has Labour four short of a majority in the Commons. Thats up to 322 from 308 last night. – CP
14.14: Great Yarmouth now taking a turn for the worse for Labour. Waiting proper confirmation, but very bad indeed by the sounds of things. – CP
14.08: In Great Yarmouth, where UKIP have been tipped to do well for a long time now, UKIP have taken a couple from the Tories.
Harrow is looking pretty good for Labour, says one source. – CP
13.44: Labour hold Burnley, taking three more seats off the Lib Dems. We'll be expecting to win that back that seat, which went unexpectedly Lib Dem in 2010, next year.
Neighbouring Hyndburn reportedly have a big turnout – that will be an interesting one for the Tories, who have had problems with a grumpy local association there in recent years, as UKIP stand more candidates than before. An early rumour that turnout in Blackburn with Darwen was 48% now looks false, but could still be large as well. – CP
13.39: Lib Dems' London collapse not quite replicated nationwide: just heard they've held every seat they had in Gateshead with increased majorities. – CP
13.33: John Mann has been on the World At One to blast the "metropolitan elite running the Labour Party". – CP
13.12: Could Labour win every single seat in Islington? That'd be athe full 48 out of 48 and those rumours are circulating already. That's a council the Lib Dems were running until 2010, so in four years they'd have gone from 23 seats to zero. That's a position Labour never even managed in the 1980s. As the organiser there in 2010, I can tell you that'd be a massive acheivement, but since the Lib Dems were collapsing before they went into coalition (we won 35 seats in 2010) that's entirely possible.
12.51: The Lib Dem collapse in London continues. They could have no councillors in Lambeth by the end of the day – they ran the council until 2006.- MF
12.49: Crawley Tory leader seems to have thrown in the towel…that's a key Southern marginal Labour will want to draw attention to.- MF
12.29: Jackie Doyle-Price, Tory MP for Thurrock has attacked David Cameron, saying "I don't think actually David Cameron has ever had Essex man."- MF
12.25: Clegg's Chief of Staff Matt Hanney has been "smashed" by Labour in the elections in Vauxhall, apparently. – MF
12.04: GAIN. Labour have gained Amber Valley council off the Tories for the first time in fourteen years. Labour 23 seats, Tories 21. – CP
11.55: I wouldn't trust anyone who downplays UKIP's performance so far. It has had a huge affect on Labour's vote and we should be extremely worried.
I spoke to someone in a safe Labour area where we held the council late last night who said they were very concerned, despite UKIP not picking up seats there. They said that the result ending up masking the threat – Labour lost seats to the Tories because UKIP took votes off us, and we came within a hair's breadth of losing pretty much all of them. – CP
11.46: Things all quiet at the moment, while we wait for the rest of the councils to count. In the meantime, why not watch Mark Ferguson's take on the results so far? – CP
10.41: Last night's results so far, courtesy of Ampp3d… – CP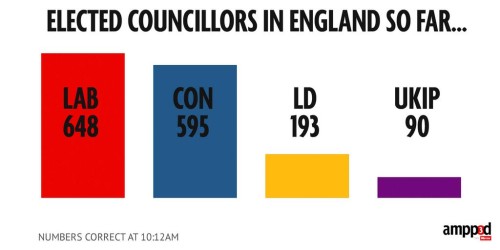 10.33: After a farcical near 12-hour count in Kingston, there is still no definitive result in the Labour target ward Norbiton, which will require a full recount on Sunday. We are confident that we'll win two seats, defeating the sitting Lib Dem Mayor and a council cabinet member , but the final vote came down to a one vote margin either way. – MF
10.23: Anthony Painter surprises us. He says Labour has a "London problem":
"This morning, I woke up to a Twitter timeline that sounded like it might be 1997 again. Hammersmith and Fulham, Merton, Redbridge, a trouncing for the Lib Dems in Hrringey, a red wave was washing across the capital. These are tremendous results and everyone who has worked so hard deserves enormous congratulations. 

Unfortunately, the national picture that it emerging seems to be very different. Labour's problem is that it is doing well in big urban seats but less well elsewhere. 

But what about Birmingham? The pattern is similar. Where there is a large young, liberal and/or BME vote, Labour seems to be performing reasonably well. As soon as we get into suburban or white working class areas, Labour begins to struggle. It's not a uniform picture. Of course, good organisation or strong candidates can mitigate or even reverse national trends (so don't worry about quoting exceptional cases). But the early trend seems to be becoming clear- Labour strongest in 'big urbania' but weakest in 'suburbia' and outside. If you want to understand the difference between the two, look at Cambridge versus Thurrock. 

If this early picture is confirmed, it leaves Labour with a huge strategic problem. Suburbia is not convinced that Labour is economically competent. And the cost of living crisis campaign (and the rent capping policy was again more focused on this London vote than anywhere else) is simply not cutting through to those working class voters who are as exercised by cultural as economic anxiety and do not trust the political classes. They won't vote Tory but they might vote UKIP or not at all. 

It's an exceedingly complex picture. The politics of fragmented pluralism is upon us. So it's easy for commentators to point out these strategic challenges but much more difficult to coherently respond to them. It's not much better for the Tories (though they are seen as more economically competent). And who'd be a Lib Dem? 

Unfortunately, it would appear that Labour's strength – the London type vote- is also its weakness. Labour may have a London problem. And it's going to be very difficult for it to win a majority – if not impossible – if this remains."
10.00: As promised, it's 10 o'clock and we're back up and running after a tremendous three and a half hour sleep.
Labour's excellent London performance is being replicated in Brent, where counting is well underway and we're looking at a "massive landslide/Lib Dem wipeout".
If you're at a count today, please send updates and impressions of how things are turning out to the email address above, or tweet me @Conorpope – after about midday we're expecting results to come in thick and fast and your help is absolutely vital if we are to keep on top of it all. – CP
09.41: Labour have just beaten the Lib Dem leader in Brent. That's three Lib Dem group leaders beaten in London now. Looks likely Lib Dems wiped out in Brent. – CP
08.55: Labour have won Redbridge and Croydon. That's now confirmed. More good news – but more of it in London.
08.00: Morning all. The liveblog won't start again properly until 10am, but we're hearing that Labour is on course for a majority in Redbridge, and things are looking good for Labour in Ilford North for 2015. We're also looking good in Croydon too, and in the Tower Hamlets Mayoral race.
Along with picking up Merton, and the remarkable result in Hammersmith and Fulham – seriously, I can barely believe that result  – that's a high point for Labour so far on an otherwise difficult night. However, great results in London shouldn't mask that Labour hasn't done as well as we'd have hoped outside London. So far, although there have been good gains in places like Bristol and Lincoln, the only council outside of London that appears to have swung decisively to Labour outside London is Cambridge.
However, with Labour now around the 100 mark on councillor gains, the 150 barrier the party set for itself should be surpassed (which seemed uncertain earlier this morning) albeit with a large number of gains in London – MF
05.44: Just when I thought I was out… Labour gain Cambridge council. Now bed. – CP
05.38: Right, Mark sloped off an hour ago and now I'm retiring too. He'll be on BBC News at 10:30, I'll be back running the liveblog from 10.
For the morning crowd, here's the main story so far. Across the country, UKIP are making incredible headway and stopping Labour gaining councils – the idea they only take votes off the Tories is simply not playing out. However, they are struggling in London, and Labour are taking full advantage – the gains across the capital are incredible so far: Hammersmith & Fulham, Merton, and Haringey are all councils gained, while a good performance has been put up in Wandsworth. Redbridge and Croydon could also be gains by breakfast. (Just been told Croydon is "almost a certain win.")
The Tories' torrid time is overshadowed by Labour's failure to capitalise. The Lib Dems even worse. See you in the morning.
It's all been London news for the past couple of hours, which puts a nice spin on things, but the truth is that it has not been a good night. Not by a long stretch – Conor Pope
05.23: Final scores in Hammersmith & Fulham: Labour 26 (+11) Conservatives 20 (-11). Labour sources chuffed, pointing out it's "Cameron's favourite council" and that he was there campaigning last week. – CP
05.21: Labour need one more for control of Haringey. – CP

05.11: Three more gains sees Labour gain Hammersmith & Fulham council! Here's what we said in mid-afternoon:
"This is interesting. A source in Tory flagship borough Hammersmith & Fulham tells me "things are looking tighter and tighter" there. Currently, the Conservatives hold 31 of the 46 seats and Labour have the remaining 15. Labour held the council up until 2006, but the Tories have won majorities in both elections since then."
When I relayed that to someone from London Labour regional office earlier, they were incredulous: "Far beyond our target for London." – CP
05.09: Labour gain three in Redbridge from the Tories. Lookin' good.
No UKIP councillors in Southampton.
05.08: Bristol remain No Overall Control, but Labour do make gains: LAB +4 (31), CON +1 (15), LD – 7 (160, UKIP +1 (1) IND -1 (1) Green +2 (6)
Once again, outside of London we've just not done enough. Incredibly frustrating. – CP
05.06: Don't think I've mentioned Birmingham Yardley yet. It's not good. – CP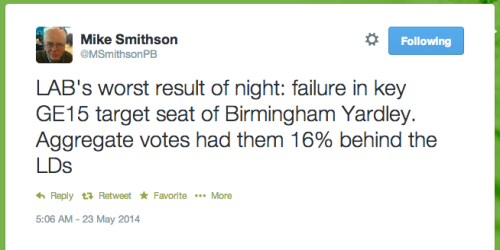 05.00: Well, at 02.19 I said we'd gain Merton, and now… well, it's still not been announced, but we've just gained two more there so it shouldn't be long now. – CP
04.58: "Hang on 20 mins and we might have some very good news for you" I'm told for Hammersmith & Fulham. – CP
04.57: Results coming through from Redbridge now. Labour want to take control there. All Labour hold so far. – CP
04.54: Labour have now gained 8 seats in Hammersmith & Fulham. – CP
04.52: LGiU have a round-up of how the councils are looking so far:
Conservatives hold 15, Labour hold 21, Lib Dems hold 1, and 11 councils are NOC (the majority formerly Tory)
04.44: Possible reasons for Labour's unexpected performance in H&F: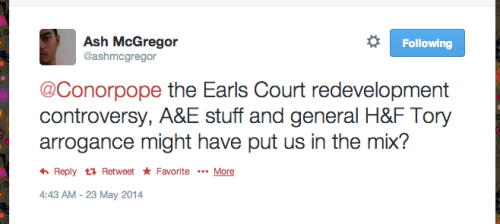 Also, based on size of Labour's majority in New Addington and how close some of the marginals are, we're expecting Labour to take Croydon council. – CP
04.42: Now expecting H&F soon. "Worth staying up for" I've been told. – CP
04.38: Turnout looking impressive across Hammersmith & Fulham and Labour looking strong, making six gains so far. As I said earlier, this is well beyond our London targets. – CP
04.30: Labour hold Southampton. – CP
04.27: Lincoln, another target for Labour, sees Labour make a couple of gains.
Labour gain New Addington ward, one of three we need to win in Croydon take control of the council. We're expecting nothing more from there for the next couple of hours.
Aaaaand Haringey is about to declare, where Lib Dems have suffered a fate worse than George RR Martin character – and that all seems to be happening in Lynne Featherstone's seat. – CP
04.22: Labour hold Carlisle – and no UKIP insurgence there at, as some predicted. Labour gain one off Lib Dems. – CP
04.19: Labour hold Rochdale, gaining seven seats: six off Conservatives and one off the Lib Dems. – CP
04.09: Turnout in Redbridge is 39%, according to Labour PPC for Ilford North West Streeting. We've been saying that turnout is key to Labour success in the several millennia since this liveblog started – and Redbridge is starting to look a safe bet for a much-needed Labour win. It's about to declare.
Despite the popular vote in Peterborough, we've not taken the council. – CP
03.59: Labour have topped the popular vote in Peterborough, a target seat, although only by 76 votes. It's currently held by Tory MP Stewar Jackson. – CP
03.34: Here's the popular vote in Rotherham, courtesy of Peter Gaffney:
UKIP: 30,084 (44.3%)
Labour: 27,793 (40.9%)
Conservative: 6,482 (9.5%)
Other: 3,611
03.30: These thoughts from Lewis Baston just before we got the latest news about gains in Wandsworth:
"Labour had a warning from the Bradford West by-election in 2012 about the risks of ignoring its core vote, and the results in some authorities such as Rotherham are another poorly understood punch in the gut for the party. This is what happens when local parties get complacent. The Birmingham case is a bit different – the results are patchy rather than disastrous and one or two wards have even swung slightly towards Labour since 2012 (e.g. Edgbaston), but in the peripheral white working class wards of Kingstanding and King's Norton the vote seems to have splintered to UKIP and let the Conservatives through.
There may be more cheerful news on the way from parts of London. The Labour-held Wandsworth ward of Graveney showed a fair-sized swing to Labour on the back of a collapsing Lib Dem vote. But tonight, who knows?"
03.27: UKIP look like they've performed well in the hyper-marginal seat of Thurrock, where they're taking seats off Labour and the Tories (including the Tory leader) and look to be throwing the council into NOC from Labour – MF
03.14: Plenty if good news coming in from London.
In Wandsworth it's a straight Labour v Tory fight, including one target seat for us (Battersea) and one for them (Tooting). Labour have five confirmed gains so far to make it our best night in the borough since 1986.
Keep an eye on Haringey, where we have a target seat in Hornsey & Wood Green (Lynne Featherstone), because Labour are looking at an excellent night there, at the Lib Dems' expense.
In Waltham Forest, Labour look to have defeated the leader of the Lib Dem group, who was council leader until 2010.
And in Essex, Eric Pickles' council has gone to No Overall Control. – CP
03.08: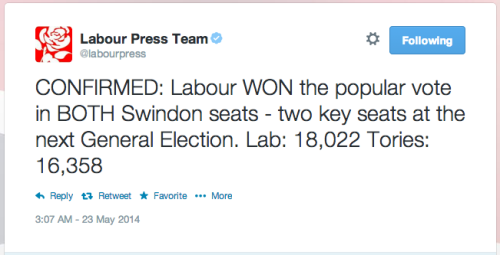 02.59: Hmm. UKIP said to have beaten Labour in popular vote in Rotherham. If that's the case, then it's very, very worrying. UKIP could be seriously looking at that for the general election next May. – CP
02.54: Labour source: hopeful of gains in key election battleground Reading and have held off UKIP in Hastings to get the biggest ever Labour group there. – CP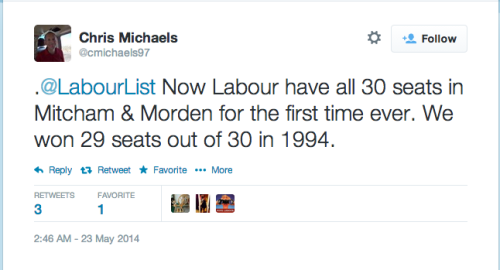 02.47: News in from Wandsworth that we're making a few good gains there, in Justine Greening's seat of Putney. But we wouldn't be expecting to take Wandsworth even on a very, very good night. Seems to be reflection of Labour vote holding up well across London so far.
02.43: Round-up of UKIP gains so far, courtesy of Nick Lowles at Hope Not Hate:
"Here's the UKIP gains that I can find. At 2am it stands at 30:
Castle Point (5)
Basildon (3)
Rotherham (10)
Peterborough (2)
Hull (1)
Southend (5)
Hartlepool (2)
Cannock Chase (6)
Broxbourne (1)
Thurrock (1)
Sandwell (1)"
02.41: London councils are taking longer than we expected to count – this might be due to a slightly higher turnout than expected (slightly). Still looking OK for Labour in target councils Redbridge and Croydon.
Stevenage could see Labour making gains.
In Swindon, Labour have won the popular vote, with a 4% lead over the Tories – that would see us win target seat Swindon South. – CP
02.38: This is the latest from the LGiU liveblog: 

10 Labour Holds, 5 Conservative Holds, 4 NOCs (all formerly Conservative)

Sunderland – Lab Hold
Broxbourne – Con Hold
Hull – Lab Hold
Birmingham – Lab Hold
S Tyneside – Lab Hold
Swindon – Con Hold
Cannock Chase – Lab Hold
Tandridge – Con Hold
Runnymede – Con Hold
Sandwell – Lab Hold
Hertsmere – Con Hold
Castlepoint – NOC
Hartlepool – Lab Hold
Basildon – NOC
Stevenage – Lab Hold
Rotherham – Lab Hold
Birmingham – Lab Hold
Southend on Sea – NOC
Peterborough – NOC
02.33: The fact that Labour are "cautiously optimistic" of a win in Merton is because Labour have gained all three seats in Lower Morden ward – two Tories and one from UKIP. Cause for cheer. – CP
02.19: GAIN? Sounds like Labour are taking control of Merton council. – CP
02.04: Labour appear to have lost two seats in Birmingham to the Tories. – MF
01.57: CORRECTION: BBC now reporting that Labour have NOT lost control of Hartlepool council. Not clear what current make-up there is – if anyone there can shed some light, please get in touch. – CP
01.53: Labour have lost two seats to UKIP in Hartlepool and overall control of the council. It's bad news. – CP
01.41: UKIP have made five gains from Labour on Rotherham council so far, including the leader and deputy leader of the council. CORRECTION: Leader Roger Stone was not up for election this year. – CP
01.28: Let me be your harbinger of doom. We're onto a third recount in a Hartlepool ward, where Labour lead UKIP by a single vote.
But in Rotherham, I've just heard that the leader of the Labour group has lost his seat to UKIP… – CP
01.25: Labour have won a by-election in Hartshill ward of Warwickshire County Council. The ward covers two constituencies (North Warks – Tory Maj 54 and Nuneaton). Meanwhile in one ward in Hartlepool, UKIP are just one vote behind Labour. Then again, they did once make a mascot their Mayor, so they have an independent streak…
01.20: Ace poll watcher Lewis Baston will be joining us periodically throughout the liveblog. Here's his thoughts so far:
"The Swindon results look (and are) disappointing, but it's important to note that there were ward boundary changes that meant that the whole council was elected in 2012, which was a pretty good Labour year, rather than 2010.
The first complete council declaration tonight is over and it will surprise nobody who has stayed up for an election before that it is Sunderland. From a Labour  point of view the results there are mediocre to grisly. While no seats were lost to UKIP, the party did poll 24.3 per cent of the vote and came second, while in 2012 they had polled only 5 per cent. Looking at change since 2012, Labour is down from 61.3 per cent to 46.3 per cent while the Tories slipped only marginally from 20.9 per cent to 19.4 per cent. Comparing with 2010 there is a sickly-looking 1.6 per cent swing to Labour from the Conservatives, and Labour made a net loss, trading one seat each way with the Tories and losing one to an Independent. MUST. DO. BETTER."
01.17: Graham Stringer's on the BBC criticising Labour's campaign. That won't rattle Labour too much though – he's been critical before (several times). He says things have been "unforgiveably unprofessional" though, which is cutting.
01.14: Looks like the Tories have held Swindon council.
00.57: Tories have gained a seat from Labour in Swindon – as was suggested earlier. That was somewhere we wanted to gain seats, not lose them… – MF
00.51: Stevenage are starting to count now – it's another southern marginal Labour need to keep an eye on yet. Their initial declaration time was predicted as 2am, but that's looking a bit optimistic now. Tory vote seems to be holding up in swing seat Swindon. – CP
00.37: It seems so far like Labour's performance in London is going to be better than in the country as a whole. Keep an eye on Redbridge, Croydon and Tower Hamlets for starters. Sadiq Khan will deserve credit if Labour make gains – especially as Labour actually did quite well in London when these councils were last up for grabs in 2010 – MF
00.27: Rumours (Hooray! More baseless speculation!) that Mike Hancock MP (the suspended Lib Dem in Portsmouth) has lost his council seat to UKIP. – CP
00.16: BBC reporting that Labour will lose Great Yarmouth council tomorrow. That's another important marginal for next year too…
00.10: As Conor has just pointed out, rumours are circulating that Labour might lose seats to the Tories in Swindon – where Ed Miliband had a bad radio interview this week. That's a Southern marginal where Labour want to win in 2015. – MF
00.08: BBC reporting that Labour might lose seats in marginal Swindon, where Tories have a majority of one. Result expected sometime after 2am. – CP
00.05: Labour haven't lost a seat to UKIP yet, but we have lost seats to the Independents in Sunderland. – MF
00.03: New YouGov general election poll has Labour and Tory tied on 34%, UKIP on 14%, Lib Dems 9%.
In Hull, where we're expecting an early result around 1am, word is going around that UKIP are doing much better than expected. – CP
23.46: Broxburne had been expected to announce first – around now in fact – but an unexpectedly high turnout has meant that it will be a while yet. Someone who grew up there tells me it has a "horribly right wing" council and by the sounds of it UKIP are smashing it there. – CP
23.35: It's not just Labour people who have barely waited for polls to close before mounting an offensive within their own party – here's Tory MP Douglas Carswell all but conceding his party have come 3rd in the Euros and calling for a UKIP/Tory pact.
23.25: So, there's a pretty ugly front page for Labour from the Times tomorrow.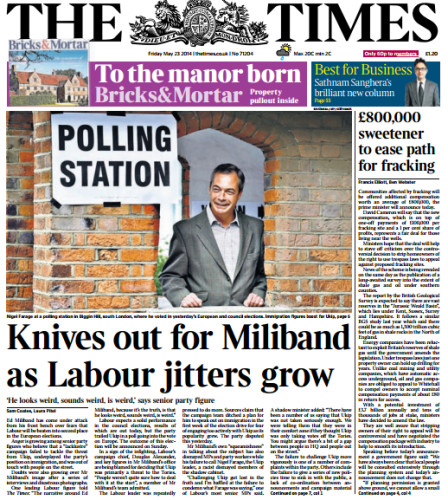 Highlights – if you can call them that – include a "Leading Labour figure" saying ""The narrative around Ed Miliband, because it's the truth, is that he looks weird, sounds weird, is weird", blame being hurled at Douglas Alexander and members of Miliband's team for the election campaign, and a "Senior MP" saying that "There's no firm person who is running organisation of the campaign". And all of this before the results have even come in. Now if the results are good for Labour all this will be forgotten as a blip or jitters. But if things go badly, this could be a tricky week. Let's see what the results are like first though. – MF
23.20: What can you learn from two council seats? Nothing! Well, almost. Two wards have been declared in Sunderland, and Labour have held both comfortably, as expected. But in both, UKIP have gone from not standing, to second place finish with over 30% of the vote. Not enough to scare Labour in such a safe area, but it shows them making real inroads to our heartlands – and Labour's vote has dropped by almost 25% in one of those seats. Broxbourne, meanwhile, is expected to be the first council to declare fully. It's safe Tory there, and UKIP have no councillors – but it sounds like Farage's party are doing very well indeed. – CP
22.45: I know what you're thinking – you're thinking "Mark and Conor, this liveblog is already almost 16 hours old. When do we get into the white heat of closely contested councils and marginal seats to look at for 2015?". That's a great question – however I'm afraid for the next coupld of hours it's slim pickings. Conor has crunched the numbers on the first few councils to announce, and it looks like Cannock Chase could be very interesting – and not just because everyone will be wondering what Aidan Burley is wearing. Croydon and Redbridge at 2ish are obviously worth keeping an eye on – marginal councils and marginal seats, so plenty on the line. – MF
22.29: Labour HQ predicting turnout in the mid to low thirties and are confident of making gains in "key marginal general election 2015 areas".
22.16: I can only speak from what I've seen and heard myself today, but where I was campaigning in Barnet the reception was positive (I got three whoops, two hugs and a handshake on the doorstep – which in a true blue Tory constituency was pretty nice). Elsewhere the issue seems to be turnout – if Labour got the vote out we'll do ok in these local elections. But win, lose or draw – I'm feeling very proud of lots of friends tonight – candidates and activists who have given their all. Wherever you campaigned, you'll have learned things and had conversations that will bear fruit in future, whatever the results tonight and tomorrow – I know I did. – MF
22.11: I've just been speaking to Labour sources inside Brewers Green to get their take on how today has gone. I'm told that early indications were good on turnout but rain later in the day made it hard to say for sure. Their focus – at least in the next 48 hours – will be on councils that map over to marginal seats (Cambridge and Redbridge were mentioned). Their line of attack will be that the Tories need to be winning seats, but instead they'll be losing them. And as for the Lib Dems – disaster. No talk of UKIp so far – that's because they want to keep the focus on the locals, because we won't know the European election results until Sunday. – MF
22.02: I know a few people have said it on LabourList in recent days – and elsewhere – but if you've been out there today knocking on doors, sitting on polling stations, driving people to vote, phonebanking or running a committee room. You. Are. Amazing. If you ahve a count to go to – good luck. If your count is tomorrow – or Sunday – have a sit down and relax, because you've done all you can. And whatever you've done today or in the weeks beforehand, stick with us throughout tonight and tomorrow for all of the Labour news and results. (And, by 2am, photographs of cans of red bull, I imagine) – MF.
22.00: POLLS HAVE CLOSED. How are we feeling? Send in results and any other information from your local area to [email protected] – AND LET THE COUNTING BEGIN. – MF
20.08: Well that self-imposed silence hasn't gone well, has it? This is just a small update to note a couple of things: 1. A couple of people have sent us this (thankyou!). Mike Smithson, of PoliticalBetting.com, has tweeted that turnout looks set to be the highest ever for a European election – it could even reach 40%. This is contrary to some (admittedly not very scientific) reports I've heard, but it could spell out good news for Labour nationally. 2. There won't be any exit polls tonight, even for the council elections. They are very expensive to carry out, and BBC and ITV do a shared one for general elections only. UK Polling Report has a good blog on it. – CP
19.02: Me and Mark have both spoken of the need for a big turnout today – it's the only way we have a chance against UKIP. But there's no point just wishing it to happen: he's been out on the doorstep all afternoon and for the final few hours I will be too. There's nothing more we can say on this liveblog until the polls close. We'll keep an eye on the inbox so if you have something to send us, please do, but other than that, we're done for now. So please, knock on a few doors tonight! See you on the other side. – CP
18.26: An interesting note from Stuart, who's canvassing in South Yorkshire today. He said he had a long chat on the doorstep with a currently unemployed ex-miner this morning who, after years of voting Labour, has cast his ballot for UKIP in these elections "as a protest". What is really interesting is that this man was unaware of UKIP's positions on the NHS, trade unions and tax – and was appalled at what he heard. Labour's recent strategy has been to depict UKIP as ultra-Thatcherite, but it seems that in a lot of places it simply hasn't cut through. Something to ponder. – CP  
17.50: Here is a picture of a cat. – CP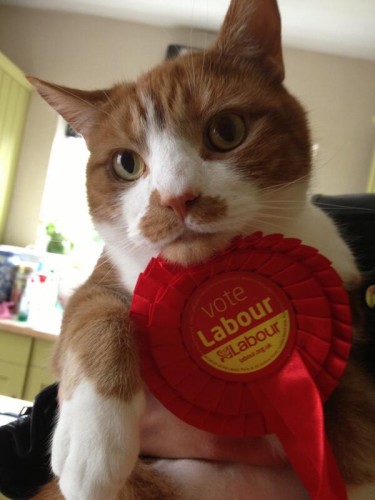 17.31: If you're out on the doorstep today and you're tired, you're soaked, you're flagging, you're losing motivation, and you're starting to wonder what the point of it all is, then let me recommend having a quick look at the #LabourDoorstep tag on Twitter. There's been thousands of tweets and photos across the country in the last twenty four hours alone, and they will be sure to spur you one. It's incredible being able to see people all over, from Southampton to Stirling, all taking the same message out: Vote Labour.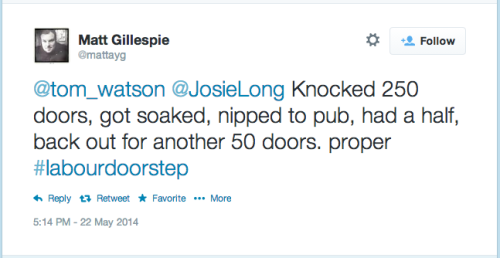 Matt Gillespie = doing it right. – CP
16.58: More from Tower Hamlets – sources confirm that Labour's election co-ordinator Douglas Alexander is currently on his way to do some GOTV with John Biggs. We're definitely taking it seriously then, and there'll be no let up this evening. They're going to squeeze every last Labour vote out of that borough. Hopefully we'll have an idea of how it's going when polls close, but the result isn't expected until teatime tomorrow. – CP
16.42: Tower Hamlets have got elections for their directly-elected mayor today. Last time, independent Lutfur Rahman won on a 25.6% turnout, finishing well ahead of the Labour candidates Helal Abbas. I've just got wind that turnout has already far surpassed the number for 2010 – and there's still five and a half hours left of voting. What does this mean for Labour? Well, it's supposedly good news. The theory goes that Lutfur Rahman only has a certain level of support in the borough, and they all went out to vote for him last time. On a low turnout, this gave him a resounding victory. Labour should have a much broader bank of support, and more votes cast suggests that a much better job has been done of getting our supporters to cast their ballots for Labour's John Biggs. The local party will by no means be resting on their laurels – especially with a 12,000 majority to overcome. But it's clear now that this is in play, so if you can get down there to help at all this evening, you should, because it's one that could go down to the wire. – CP
16.25: It just wouldn't be polling day if we didn't have a misleading Lib Dem leaflet to share! This effort in Camden Town with Primrose Hill ward (Camden Council) is not only a dodgy bar chart – it's giving the results for a completely different ward. The figures on show are actually the 2010 results from St. Pancras and Somers Town. – CP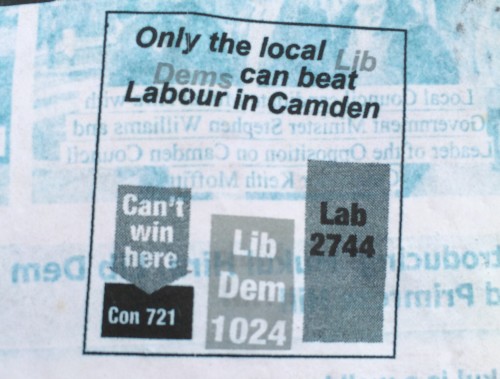 15.51: This is interesting. A source in Tory flagship borough Hammersmith & Fulham tells me "things are looking tighter and tighter" there. Currently, the Conservatives hold 31 of the 46 seats and Labour have the remaining 15. Labour held the council up until 2006, but the Tories have won majorities in both elections since then. The result for H&F is expected at the totally unreasonable time of 9am tomorrow morning, which falls slap in the middle of our intended nap time. We'll make sure one of us is up if a big swing is on the cards. Any other councils we should be keeping an eye on tonight? Drop us an email to the address above. – CP
15.15: Good to see that, 114 years after it was founded, the Labour Party has totally nailed the idea of Get Out The Vote. – CP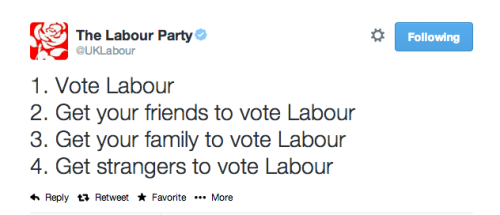 15.01: Soggy candidates, we salute you. – CP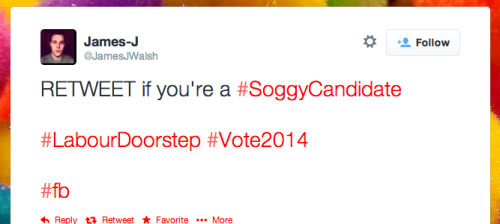 14.56: I know, I know, weather updates are incredibly dull. But wow! The storm has just hit here in South London, where it has been sunny and warm up until now. I know a few people who would scold me for suggesting that such a climate exists, but it is totally uncanvassable in.
The workers at the polling station I voted in earlier told me that they had been "very, very, very busy", but it's hard to see how this weather won't affect turnout – bad news for Labour. Ryland Doyle from Swansea East tells me they've been having trouble motivating people to leave the house all day, while LabourList columnist Amy Lamé says: "We're currently lost in a bizarrely numbered 1960s block of flats. The heavens have opened and there's a massive thunder and lightning storm here in Bloomsbury. Getting the vote out? *groan*"
I have total sympathy for Amy. Getting lost on in a bizzarely numbered 1960s block of flats as the heavens open is surely a polling day rite of passage? Anyone got any others? – CP
14.30: My inbox is creaking with stuff coming in, so please bear with me if you've sent something and it's not gone up. Do keep them coming in! I'm a big fan fan of homemade signs. Here we have Lancaster University Labour Club's effort for the University ward by-election: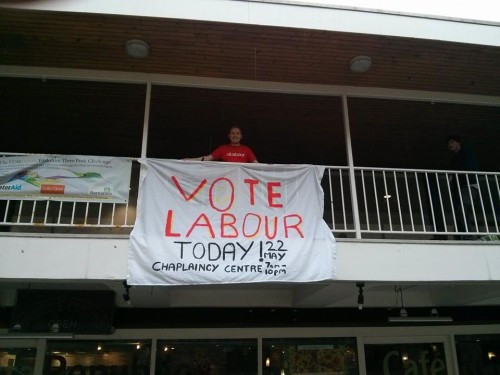 While in Fulham they've managed to fit a policy on!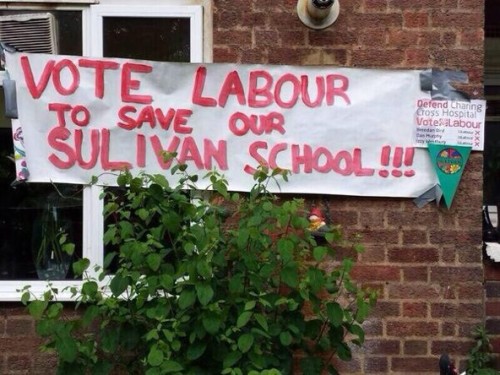 14.09: I'd like to give a special shoutout to "paper candidates" today. There will always be places where the chances of Labour being voted in are incredibly slim, but I have nothing but respect for those who stand anyway. Spending hours upon hours campaigning can be (how can I put this?) not the most fun, and even less so when you're not expecting anything to come of it. But people should have the chance to vote Labour, and when there's this many seats up for grabs, there's always going to be an upset somewhere…
So, in what is so often a thankless task, I want to take this opportunity to say: thankyou – you are brilliant.
On a completely unrelated note, I've been enjoying the campaign run by the three candidates running for Westminster City Council in the Knightsbridge and Belgravia ward (described by the council as an "ultra-expensive residential area"). When I spoke to one of the candidates yesterday, he told me there were "No no-go areas for Labour". Some of their posters have brought a smile to my face: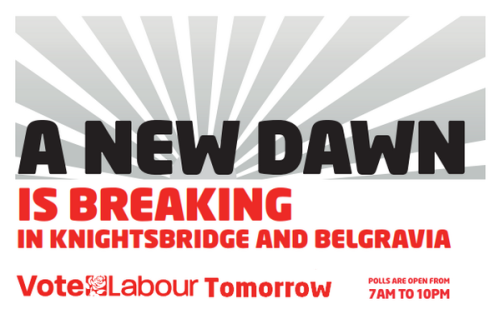 Good luck to Joseph Blenkinsop, Rosalyn Buckland and Tom Williams there today. – CP
13.29: Here we go! I've been and voted, bought a packet of biscuits and brewed a Labour Win cup of tea, so I'm all ready to be here until around the time polls close – send any photos or stories you want to share through to the email above or tweet me and I'll do my best to get through them all. To get us going, here's a Drake/Ed Miliband mash up video. If that doesn't give you a smile on the doorstep, I just don't know what will. – CP
13.15: I'm handing over liveblog duties to Conor Pope for the next few hours – he'll be taking you through this afternoon and into this evening. I'll be back by close of polls to take you into the early hours. But first – I've got doors to knock on. Good luck everyone. – MF
13.11: South Basildon and East Thurrock is a target seat for Labour – the reg flag is flying there this afternoon:
12.59: Meanwhile, it seems that UKIP are unhappy with the way the ballots are folded… – MF
12.51: The most "rock and roll" experience on election day so far is probably being had by Crouch End Labour candidate Natan Doron – he's already had Bernard Butler (of Suede) and Gem Archer (of Oasis and Beady Eye) tell them they're voting for him. Here's Natan and Gem earlier today – MF:
12.35: In London, there positive noises from across the city so far, but it's far too early to mean much at this stage.
12.25: Standard polling day shenanigans in Tower Hamlets? There are now police officers on every polling station in the borough, where former-Labour Independent Lutfur Rahman is up against Labour's John Biggs.
12.15: So as my Twitter and Facebook timelines begin to fill up with more wet looking candidates and activists, it's important to note that the weather today – and the impact on turnout – is likely to be even more pronounced because of postal voting. I don't know much about the party's postal vote operation at a national level, but I do know from experience that it's patchy across the country. Rumours are circulating amongst activists in several different parts of the country that UKIP are doing well on postal votes (mostly outside London). If that's correct, and it's raining all day today, postal votes could be vital in terms of final results. – MF
11.50: Here's the weather in the UK at the moment (via the BBC). Rain heading eastwards. Oh dear… – MF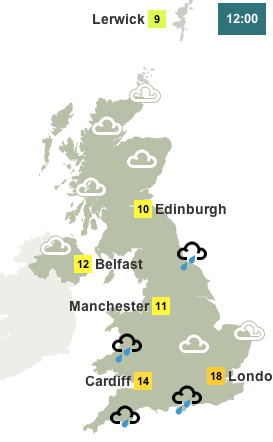 11.34: What about the weather? Always a good question to ask when turnout is in question. In Chester for example, whilst it was blazing sunshine yesterday, today it's in Chester it's steady drizzle predicted to get heavier over the day with possible thunder. When 2 or 3% can make the difference between a seat, will the rain have an influence on turnout and the final result? No-one should ever be allowed to get away with using the weather as a reason for losing on election day – because it looks dreadful. But no-one who has ever done an election day in the rain would deny it's a factor, however small. – MF
10.32: It shouldn't need saying, but if today is a turnout election, then you need to make sure you vote. Frankly if you're reading a LabourList liveblog then you're almost certainly voting and voting Labour. But what the party also needs today are activists out on the doorsteps, on polling stations and helping in committee rooms. If you can get out and campaign today, please do – this election really matters. And if you need convincing/rousing – this video always helps for me – MF:
10.05: If today is all about turnout, then we may get some variable results across the country. So far I've had activists and candidates describe the turnout in their areas one of three ways – brisk, steady or slow – obviously turnout will be higher in areas with local elections. Will that be enough for Labour to topple UKIP in the European elections too? Don't forget you can email us and let us know how things are going where you are – MF 10.03: If you get a chance today, read Emma Burnell's "Thank You" post to Labour activists, candidates and staff. – MF 09.45: Ok – so via both Twitter and your emails – here's some of our favourite photos from election day so far. Here's Slough councillor Pavitar Mann "dressed to impress" – MF:
09.40: And Miliband ally Peter Hain has criticised the way Labour has campaigned against UKIP:
Several senior MPs believe Labour has not taken the threat from Nigel Farage's party seriously enough. Canvassing in their constituencies has convinced them that many traditional Labour supporters will split their vote by backing Ukip in the Euro elections and Labour in the council elections in England. There are no local elections in Scotland and Wales. Peter Hain, the former Cabinet minister, told The Independent: "I don't think we had a sufficiently robust strategy towards Ukip. It's not about whether some of their members are racist. "The problem is that there is a seriously alienated – mostly white working class, often male – vote out there that was traditionally Labour's. They are not voting any more." – Independent
09.37: Nick Clegg has attacked Labour and suggested he wouldn't want a Lab/Lib coalition (Subtle timing there Nick):
Nick Clegg has significantly raised the bar to a power-sharing deal with Labour with a forthright attack on Ed Miliband's "regressive" policies. The deputy prime minister said last night that it "might not be possible" to enter a coalition with Mr Miliband next year, even if the parliamentary arithmetic allowed. He was speaking on the eve of elections that could result in the Lib Dems being driven into fifth place. – 
The Times(£)
09.30: Let's round up a few of the election day news stories – first up, let's take a look at Nigel Farage's vile approach to women – and his "common fronts" with Le Pen:
Nigel Farage explained his party's attitude to women by bragging about the number who he had made pregnant, Political Scrapbook can reveal. Speaking to an obscure (and now defunct) Belgian magazine, the UKIP leader claimed that the four children from his two marriages were merely the "official list" before adding: "maybe it's because I've got so many women pregnant over the years that I have a different view" – Political Scrapbook
Nigel Farage has said Ukip may have enough "common fronts" with France's Front National to vote with the party and other Eurosceptic groups to block legislation in Brussels. In advance of this week's European elections, the Ukip leader said there was a possibility that anti-EU parties of "varying shades" from left to right will have more than a third of the seats in the European parliament, which would allow them to form a "blocking minority". – 
Guardian
09.06: UKIP expectations They need to win the Euro elections – it's as simple as that. If they win today it's the biggest day in their history. If they come second, they look like a busted flush. However, the unknown factor is the local elections – UKIP will want to win a sizeable number of council seats and challenge Labour and the Tories across the country to prove they're not a one trick pony.
09.02: Lib Dem expectations This one won't take long – the Lib Dems will be spinning that anything short of annihilation is a good result for them. They could lose all of their MPs and will get an almighty kicking in council elections. Success for them probably looks like avoiding a 5th place finish behind the Green Party – MF
09.00: Tory Expectations The Tory expectations can be explained quite simply – they're braced to place 3rd in this election behind Labour and UKIP. That would be an undoubtedly bad result, especially as the Tory vote looks set to collapse in the areas of the country (Scotland, Wales, the North) that they need to make inroads into next year if they want to gain a majority. As for the council elections, they'll be hoping to keep the losses to a minimum, but will lose councils to Labour. – MF
08.55: Now let's have a look at the expectations of each of the four main parties in this election – starting with Labour. Labour expectations Press reports this morning suggest that the have been briefing that 25% would be a good result for Labour in the European elections, although there seems some resignation that UKIP are most likely to win, which would be a troubling result (although the polls suggest it's not necessarily a foregone conclusion – see 08.45). As for the local elections, Labour will want to see 150-200 council seats gained to consider this a good night. That's lower than the expectations of some experts – but that's how the expectations game works, of course. – MF
08.45: Let's have a quick look at the final polls that came out last night – as they show us what's in play today. YouGov has UKIP leader Labour by a single point – considering that factors in likelihood to vote (and UKIP voters are more likely to vote) that means (as I wrote earlier this week) that Labour can still win today if our turnout operation works well. Also, as Mike Smithson notes over at Political Betting, the confusion of having "An Independence from Europe" at the top of the ballot paper could cost UKIP votes, as could other anti-EU parties like No2EU. If you YouGov poll is correct, and Labour activists manage to turn out the Labour vote today, 1st place in the European elections is still possible. However, ComRes have a poll out suggesting that UKIP are 7 points ahead of Labour. If that's right, that's not a lead that can be overturned on election day. Only one of these final polls can be right, but YouGov's poll had a sample of 6,000 – so here's hoping that one is more accurate… – MF
08.30: Ok – so I'm back from my stint as a teller at my local polling station, and I can confirm that people are voting…I promise the updates will become more enlightening as the day proceeds… – MF
07.00: It's election day and the polls have opened in the European elections (and local elections across many metropolitan areas). Our liveblog will be taking you through the whole of election day and on through the night until tomorrow afternoon's results. And then – because we know you can't get enough – we'll be back on Sunday evening to liveblog the European election results too. The liveblog will be run at various points by me (Mark Ferguson) and Conor Pope – so posts will either be marked as MF or CP depending on who's running the liveblog at any point. Crucially – we want to hear from you, and hear how things are going in your area.
Got a big campaign team out?
Got a leaflet you want to share?
Want to let us know results from your local count?
You can email us on [email protected] throughout the liveblog to take part in what promises to be a long and interesting day for Labour and British politics. As for me – I'll be back in an hour – I've got a polling station to go to. Keep checking back through the day (and tomorrow) for updates), and don't forget to vote (Labour) – MF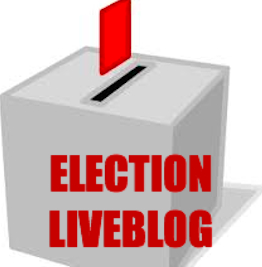 Value our free and unique service?
LabourList has more readers than ever before - but we need your support. Our dedicated coverage of Labour's policies and personalities, internal debates, selections and elections relies on donations from our readers.
If you can support LabourList's unique and free service then please click here.