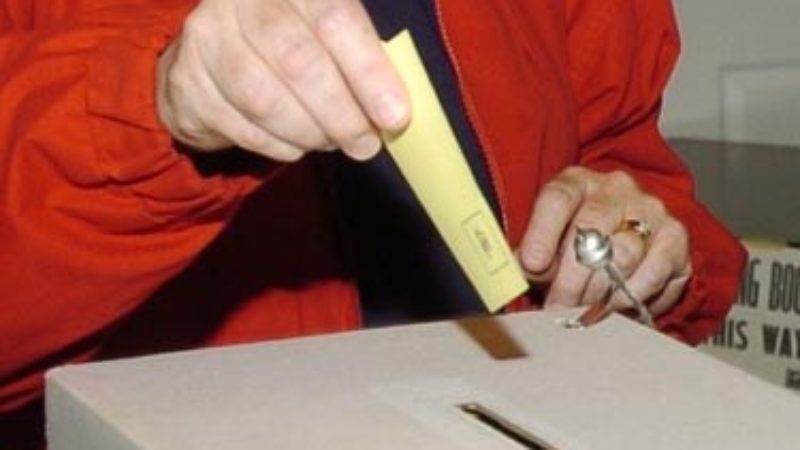 There's a mood in the Labour Party at the moment that's not entirely helpful two days from election day. If you were being positive you'd call it stoic – if you were being negative you'd call it resigned. Many people in the party – including MPs – appear to have resigned themselves to Labour finishing behind UKIP on Thursday. Indeed the European election polls seem to have been headed that way for a while, although there's a more positive one from YouGov today that has Labour coming out on top by 4 points.
Yet looking more closely at the polls, and it's clear that whether Labour wins or loses in 48 hours time is almost entirely down to turnout. How the party is organised, where our volunteers are and how well drilled each local party is on election day will be key – and the work the central party campaign have put in for months (and years) will be tested. Lets look at three recent polls (as identified by Anthony Wells at the excellent UK Polling Report) and see Labour's lead over UKIP when only those certain to vote are counted vs all voters who express a preference (purple denotes UKIP lead, red denotes Labour lead);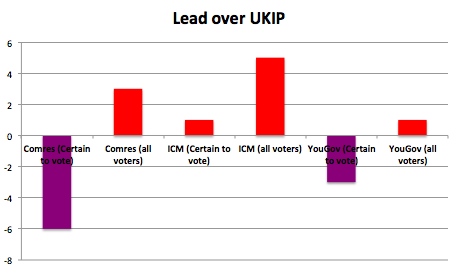 Where only those who are certain to vote are counted, UKIP are more likely to be in the lead. When all voters are counted, Labour are far more likely to be in the lead. Winning this election then – at this late stage – is almost entirely a question of differential turnout. That's great, because it means that Labour activists can still do something about the result (following Luke Akehurst's 10 point plan would be a good start).
However, needing to turn out Labour voters in a low turnout election is also incredibly tough. Turning Labour voters out for a general election when the future of the country is at stake is a hard enough job, nevermind for European elections where they are often disinterested or don't really know what they're being asked to vote for. UKIP voters, in contrast, do believe that the future of the country is at stake this Thursday, and have a very clear idea of what they're being asked to vote for. That makes turning people out to vote for UKIP comparatively easier this week.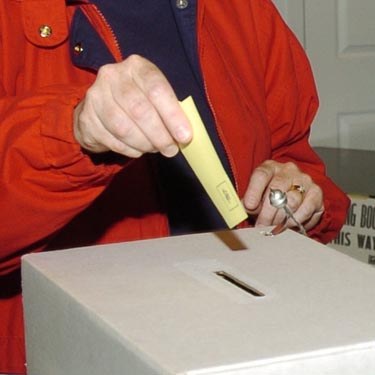 Another hurdle for Labour when it comes to turnout is postal votes. UKIP's polling peak appears to have coincided with many people casting their postal votes in this election – meaning they already have a chunk of votes in the bank before the more recent sustained scrutiny of them in the media and the corresponding decline in their polling. Labour meanwhile – judging by the date of the party's freepost (which came out later than UKIP's) seem to be focussed more on election day itself, by which time we may already be behind.
Potentially though, Thursday's result (and Sunday's result – that's when the official Euro election result comes in) is still up for grabs. The final 48 hours of the campaign will be crucial, as will election day itself. If the party performs badly, then there will be a reckoning over the weekend. But the ability to deliver a positive result for Labour is still in our hands – or to put it another way, it's the turnout – stupid.
UPDATE: Today's YouGov polling seems to exist solely to prove my point. Their voting intention for the European elections shows a four point lead for Labour over UKIP (28% to 24%) – but when you only include people certain to vote on Thursday it switches to give UKIP a four point lead over Labour (29% to 25%). More worryingly, Labour suffers the biggest drop – so getting our voters out is even more important.
More from LabourList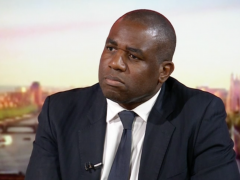 News
Sunday Morning Shadow Foreign Secretary David Lammy rejected the suggestion that Labour would enter into an electoral pact…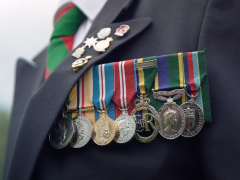 Comment
The first duty of any government in the UK is to protect our nation and its citizens. Whether…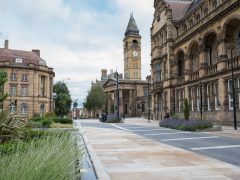 Comment
Labour won a historic by-election in Wakefield, our first such victory since winning Corby in 2012. This success…