Lord Ashcroft has released his latest polling of marginal Conservative-held seats where Labour are in second place – in other words, Labour's top target seats. He last polled these fourteen seats in late May, and the results suggested that Labour would win thirteen of them.
The latest fieldwork, however, shows a greater swing to UKIP, and not just from the Tories: they're taking plenty of Labour votes too.
Labour are now on course to win just eleven of the seats, with the Tories holding Great Yarmouth, and UKIP taking Thanet South and Thurrock. The results are here (click to enlarge):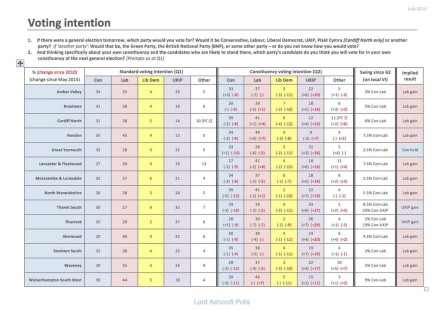 Not only would this see UKIP taking Thurrock, one of Labour's main target seats – where we currently trail the sitting Tory MP by only 92 votes – but are taking so many votes away from Labour in Great Yarmouth that they hand the seat to the Tories. Thanet South, UKIP's other implied gain here, comes at the expense of the Tories rather than Labour, but this in itself is worrying: with Labour in third and trailing UKIP by 5%, it suggests there are some target seats where we are simply failing to cut through. In all of these three seats, Labour fail to reach 30%.
There are positives however: if we exclude those three problem seats, the Labour vote is still holding up strong. In no others do we poll below 35% (which is, roughly, our current national polling average) and in three (Wolverhampton South West, Sherwood and Hendon) we poll above 40%. This means that even if the trend of UKIP eating into our vote continues, we should be able to hold off strong challenges from incumbent Tory MPs. Ashcroft says that:
This would be enough for Labour to win 53 Conservative seats if repeated across the board at the general election – which, combined with the 17 seats my recent polling suggested they could gain from the Lib Dems, would be enough for a small overall majority.
At the moment, Miliband would probably take that – but it's down from 82 in May…
More from LabourList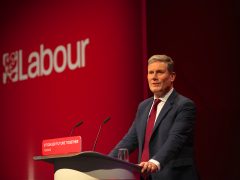 Daily email
Boris Johnson has finally agreed to go. Following an unprecedented number of resignations over the past few days, a…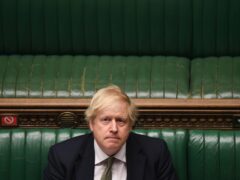 News
Boris Johnson has agreed to stand down as Prime Minister following an unprecedented number of ministerial resignations from…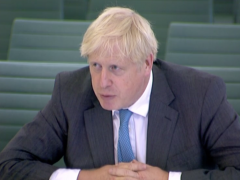 News
Labour MPs have grilled Boris Johnson during his appearance in front of the liaison committee of select committee…