The latest batch of Lord Ashcroft's polling in marginal constituencies has been published this morning. His previous marginals polls have been generally good news for Labour, showing heavy gains from both the Tories and Lib Dems, although more recently they have shown that UKIP pose a threat to to Labour's success.
With Labour having previously shown comfortable leads in most of the the marginals we hold, and many of our main target seats, Ashcroft this time concentrated on four of our smallest leads and eight Tory seats a little further down Labour's target list.
The good news is that we are on course to win every single one of the Tory-held seats polled. Across those eight, there is a swing towards Labour of around 6%. In Bedford, Stroud and Carlisle this seems to be largely down to a collapse of the Tory vote, while Dewsbury and Plymouth Sutton & Davenport see the biggest increases in the Labour vote.
(People were asked to consider how they'd vote in a national and local basis – I'll use the local figures here, although only Stroud shows a big discrepancy.)
Largely, it seems that the UKIP vote is way up on 2010 and is hitting the Tories harder than Labour. However, there does not appear to be a uniform behaviour for UKIP votes: while their 21% polling in the Plymouth seat sees a 13% Labour lead over the Tories, a similarly high 17% in Lincoln only delivers a 4% Labour lead.
It should be troubling for us that while the Tory and Lib Dem vote is well down across the board, this is not replicated in a big boost for Labour support. There are only two target seats (Lincoln and Dewsbury) where the Labour increase is equal or greater than the Tory decrease. Of those seats, there is not a single constituency where the increase in the Labour vote matches the loss of Lib Dem votes.
The full table is here (click to enlarge):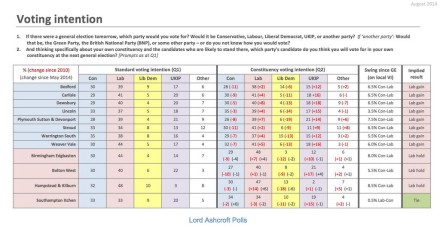 Of the four Labour seats, we seem to be improving our chances comfortably in three. Both Birmingham Edgbaston and Hampstead & Kilburn took minor miracles to remain Labour in 2010 but look like safe bets as Labour holds next year. In Edgbaston, Gisela Stuart's personal vote lifts Labour from a very appealing 14% lead over the Tories to an unassailable looking 19%, very nearly touching 50%. In Hampstead, many attributed our victory last time around to Glenda Jackson's popularity. With Jackson standing down, there were some worries that the Tories might be eyeing it up. However, the Labour vote is up by 14% and when local politics is considered, the Labour vote barely changes.
In Bolton West, a strong Labour vote from 2010 remains, as we poll 40%. In contrast, the Tories drop ten points to 27% and UKIP appear to take all former Conservative and Lib Dem votes (a not uncommon trend). It feels like no coincidence that where UKIP struggles most (Hampstead & Kilburn) is where Labour are making the most gains.
UKIP's vote is also well up in Southampton Itchen, the only seat polled that does not show a Labour victory. John Denham kept it Labour in 2010 with a majority of just 192, but today's polling shows drops for both Labour and the Tories from the last election, drawing at 34%. It is worth noting here that the Labour vote has in fact dropped by 2% since the last time the constituency was polled in May (when a swing towards Labour was noted) – raising the possibility that the student vote (at the University of Southampton and Southampton Solent) who are away during the summer months could be a deciding factor. I'm not sure what else could explain  six point boost for the Conservatives in the space of a couple of months.
Overall, this paints a healthy picture for Labour going into 2015 – an average polling in the marginals of high-30s would do very well for us next year. But a word of warning: our vote has not dramatically changed in a number of these seats, while the Conservative vote has. If they start to claw back some of their 2010 voters, almost all of these seats could be back in play.
More from LabourList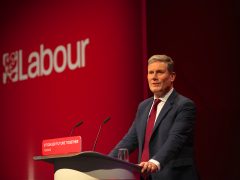 Daily email
Boris Johnson has finally agreed to go. Following an unprecedented number of resignations over the past few days, a…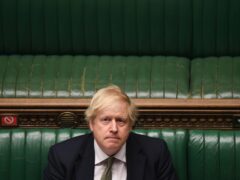 News
Boris Johnson has agreed to stand down as Prime Minister following an unprecedented number of ministerial resignations from…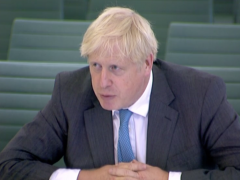 News
Labour MPs have grilled Boris Johnson during his appearance in front of the liaison committee of select committee…