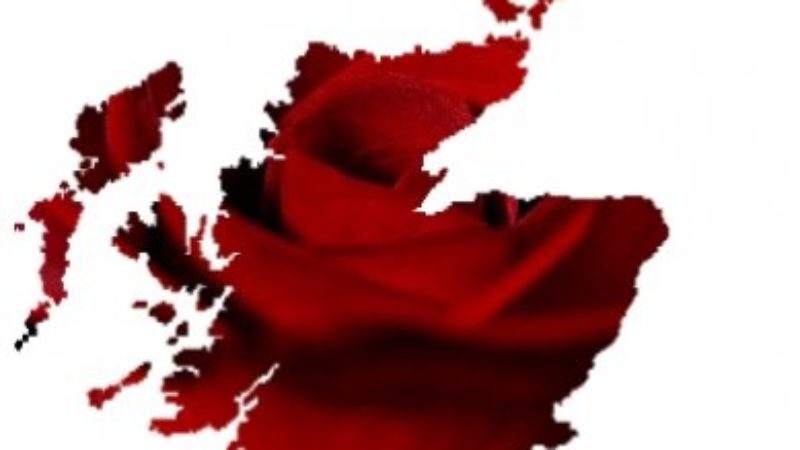 Tomorrow morning the new leader of the Scottish Labour Party will be announced (we'll be reporting the result as soon as it's announced at 10.00am). With Scottish Labour faring badly in polls of late, this decision is an important. Mark Ferguson outlined the scale of the problems facing Scottish Labour and said that the two main contenders in the leadership race were Jim Murphy and Neil Findlay. As he noted, most in the political sphere think Murphy will win but with Findlay getting backing from the Unions and the left within the party the result is far from clear cut.
In light of this, we wanted to know who LabourList readers thought would win.
Murphy came out on top with a majority of 56%, with Findlay in second place – 37% thinking he'd be the next Scottish leader. Boyack, however, only received 2% of the vote – most clearly think it's a foregone conclusion that she won't be Lamont's successor. What's also interesting about this (particularly when compared with the deputy leadership results below) is that only 5% said they didn't know who would win. What this suggests is that LabourList readers are relatively sure that Murphy will be announced as leader tomorrow – but that Findlay (if readers are right, and doesn't win) has clearly put up a good fight.
Remember to check LabourList tomorrow for the result.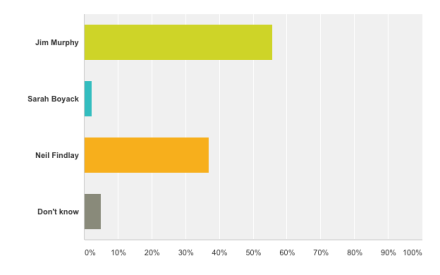 The picture isn't as clear cut for the title of deputy leader. This is a two-person race – with only Katy Clark and Kezia Dugdale competing. 40% of LabourList readers think that Kezia Dugdale will become deputy leader – but there's only 5% separating her and Katy Clark, who got 35% of the vote. Meanwhile a significant number of our readers – 26% – said they didn't know who the winner would be: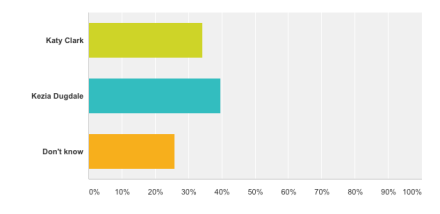 Once the results are announced and the new leader and deputy leader take up their posts, the main task of the Scottish Labour Party will be to focus on the general election.
Considering the scale of the problem facing Scottish Labour – it's been estimated that they would lose up to 20 seats to the SNP – we asked LabourList readers how many seats they thought Labour would win in Scotland next year.
Labour currently have 41 seats North of the border, and most think we'll win either slightly fewer than this (which in normal circumstances would be a poor result) or a similar amount in 2015. 34% of people think we'll win 21-30 seats, while 32% think we'll win 31-40.  Only 6% think we'll gain more seats than we currently have – with 5% of people saying they think we'll win 41-50 seats and 1% saying 51-59. Not everyone is so optimistic though 17% think we'll only win 11-20 seats and 6% saying 1-10.
Either way, the result is clear, Scottish Labour have a lot of work to do.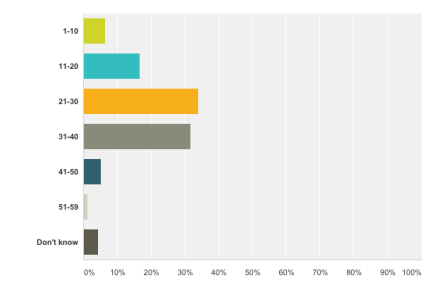 750 people voted in our survey this week – thank you to everyone who took part.
More from LabourList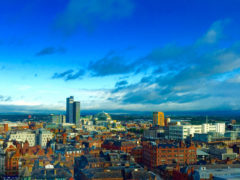 Comment
Demand for cycling and active travel is booming across the UK. A trend that developed during the pandemic…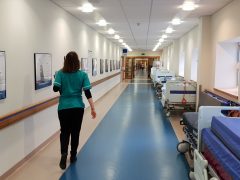 Comment
As a nation, we're getting sick in all kinds of ways. Life expectancy gains have stalled, people are…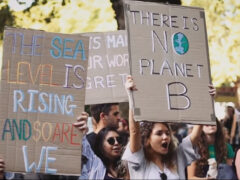 Comment
A few weeks ago, as local election results poured in, Keir Starmer claimed that "we are on course…