Miliband today announced the second of Labour's five election pledges – it will be on immigration.
At a speech in Great Yarmouth, Miliband outlined how Labour would address peoples' concerns over immigration. He reiterated Labour's proposed policy that migrants will not be able to claim benefits for at least two years, and as we reported earlier this morning, he said that Labour would make it illegal for employers to exploit migrant workers through low pay and poor working conditions.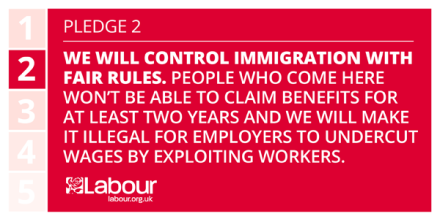 This comes after a leaked strategy document suggested, among other points, that on the doorstep activists should move the conversation away from immigration. However, the emphasis on immigration as the second of Labour's pledges (the first was a commitment to reducing the deficit) indicates that the leadership are not avoiding the subject.
The full text of the speech is here:
It is great to be here in Great Yarmouth.
And it is great to be here with Lara Norris, our brilliant parliamentary candidate.
She calls herself a "Mum on a mission".
And Lara, I am proud to support you.
Now we have people here today from different backgrounds, different parties, including people who aren't Labour.
That's because we're trying to do politics in a different way and this is mainly your chance to ask me questions.
But I want to say a few words at the start about how I want to change the country.
Above all, how we make Britain a country that works for everyday people again, and not just a privileged few, the richest in our country.
And today, I want to talk about how our approach to immigration fits into this.
I know how big an issue this is in Great Yarmouth.
So on this issue, let me say something about me, something about Labour and something about the changes I will bring. 
I am the son of immigrants, parents who came here as refugees fleeing from the Nazis.
I am incredibly grateful and proud that Britain enabled my parents to build a home here and have a family.
They worked hard and made their contribution to this country.
And I am proud of the contribution that immigrants of all origins, races and faiths have made to Britain over the years. 
But for that contribution to benefit all our citizens and not just some, immigration has got to be properly managed and there have to be the right rules in place. 
That's why I have been determined to change Labour's approach to immigration since we lost the General Election in 2010. 
When people worry about the real impact immigration has, this Labour Party will always respond to those concerns, not dismiss them.
It isn't prejudiced to worry about immigration, it is understandable.
So let me say how we will act to address peoples' concerns.
People want there to be control of immigration. 
And I agree. 
That means strengthening our borders, with proper entry and exit checks.
And we will introduce those checks.
It means longer controls when new countries enter the European Union: we got it wrong in the past and we've learnt from it.
And my point today is also that control doesn't stop at the borders.
It is also about fair rules when people get here. 
Fair rules means people integrating into communities and learning English. 
It's what my parents did.
Fair rules means that entitlement to benefits needs to be earned. 
You should contribute before you claim.
So when people come here they won't be able to claim benefits for at least two years. 
But it isn't just the benefits system that needs to be fair. 
I think for too long, we've ignored what's been happening at work: to people's jobs and wages.
We know that so many workplaces are so far from being fair today. 
And that is especially true in some workplaces with a large number of workers who have come from overseas.
There are truly shocking stories of people in Britain today having their wages stolen and having to live in the most appalling conditions: exploited because they come here from abroad.
When people can be exploited for low wages or endangered at work, it drags the whole system down, undercutting the pay and conditions of local workers.
We must end the epidemic of exploitation.
We must stop people's living standards being undermined by scandalous undercutting.
And we have a plan to do it. 
We will increase the fines for firms who avoid the National Minimum Wage. 
We will stop agency contracts being used to undercut permanent staff. 
We will ban recruitment agencies from hiring only from abroad.
And today, I am announcing that the next Labour government will go further still: 
We are serving notice on employers who bring workers here under duress or on false terms and pay them significantly lower wages, with worse terms and conditions. 
We will make it a criminal offence to undercut pay or conditions by exploiting migrant workers.
Only Labour has a plan to deal with all this.
Today we are announcing our pledge on immigration for what a Labour government will do:
We will control immigration with fair rules.
People who come here won't be able to claim benefits for at least two years.
And we will make it illegal for employers to undercut wages by exploiting workers.
This is what I promise to do.
What I won't do is make false promises to you.
David Cameron promised that immigration would be cut to the "tens of thousands".
People may have heard on the news recently that he's broken that promise.
Net migration is now in fact higher than it was in 2010.
We won't make false promises and we won't offer you false solutions either.
Like leaving the European Union.
I just don't think that's the right thing to do.
Great Yarmouth has always relied on trade. 
I've got to tell you, I believe leaving the EU would be a disaster for jobs, business and families here.
Instead of false promises or false solutions, we will seek to offer clear, credible and concrete solutions which help build a country that works for you.
And what we are doing on immigration is part of a plan for working people.
Dealing with our debts, but never slashing and burning public services.
A sensible approach on immigration, not false promises or false solutions.
Putting the NHS first, not privatising it.
Doing right by the next generation, not destroying the promise of a better future for our young people.
And tackling the cost-of-living crisis, with a higher minimum wage, freezing energy bills and creating good jobs.
I am fighting at this election for a Britain that works for you and your family.
I believe that we can make it happen. 
And I look forward to doing it together. 
More from LabourList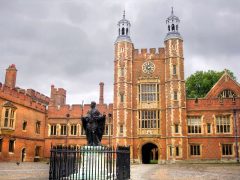 Daily email
No turn? Good morning. The i reported last night that Labour would ditch plans to remove charitable status from…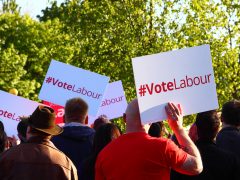 News
This year's Labour Party conference in Liverpool is one of the most hotly anticipated yet under Keir Starmer's…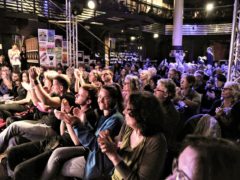 Comment
The rollback of Labour Party democracy continued this week with activists and unions now blocked from using conference…