This week has been all about TV debates. With David Cameron refusing to commit to debates, Ed Miliband, Nick Clegg and Nigel Farage formed an unlikely coalition and each set the PM an identical letter, telling him the debates would go ahead, even if he refused to take part.
As the debates about debates continue, we wanted to know who LabourList readers wanted to be in the pre-election debates. 90% of people said they wanted to see Ed Miliband in the debates, compared to the 88% who want to also see David Cameron. Presumably the thinking here is that if Cameron doesn't want to take part, some readers would be happy for the debates to go ahead anyway.
13% behind Miliband is Nick Clegg with 77%.
Interestingly, Nigel Farage and Natalie Bennett are relatively close percentage-wise on 59% and 51% respectively. This comes after (more) debates over whether the Greens should be included in the debates, following broadcasters' proposals that include Farage but not Bennett.
There's far less support for SNP and Plaid Cymru leaders Nicola Sturgeon and Leanne Wood who come in at 30% and 21%.
Given the ongoing tensions over these debates – and the fact that it looks like they could only be between white men – it's not that surprising 11% said they didn't want TV debates. While 2% wanted to see others included.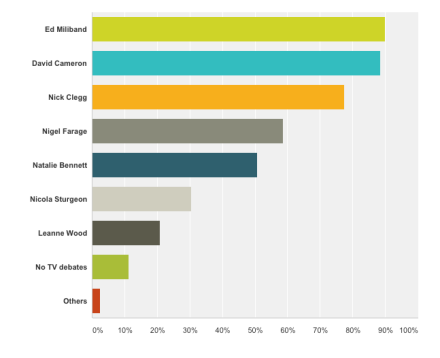 One of the questions that we'll be asking more regularly over the coming months is what you think of each of the members of the Shadow Cabinet. This time round we asked you to rate them on a scale of 1 to 5, with 1 being the lowest and 5 the highest – as opposed to simply rating each of them positively or negatively (with a 'don't know' option). From this, we've calculated an average score for each.
Here are the results:
| | |
| --- | --- |
| Answer Options | Rating Average |
| Andy Burnham | 4.1 |
| Yvette Cooper | 3.5 |
| Chuka Umunna | 3.4 |
| Hilary Benn | 3.3 |
| Sadiq Khan | 3.3 |
| Harriet Harman | 3.3 |
| Angela Eagle | 3.3 |
| Jon Cruddas | 3.2 |
| Maria Eagle | 3.2 |
| Caroline Flint | 3.1 |
| Rachel Reeves | 3.1 |
| Ed Balls | 3.1 |
| Gloria de Piero | 3.1 |
| Mary Creagh | 3 |
| Liz Kendall | 3 |
| Douglas Alexander | 3 |
| Chris Leslie | 2.9 |
| Lucy Powell | 2.9 |
| Michael Dugher | 2.8 |
| Tristram Hunt | 2.8 |
| Vernon Coaker | 2.7 |
| Emma Reynolds | 2.7 |
| Owen Smith | 2.6 |
| John Trickett | 2.6 |
| Margaret Curran | 2.6 |
| Ivan Lewis | 2.5 |
| Rosie Winterton | 2.5 |
| Lord Willy Bach | 2.2 |
Just behind him are Yvette Cooper (3.5) and Chuka Umunna (3.4). Followed by Hilary Benn, Sadiq Khan, Harriet Harman and Angela Eagle who are all level pegging on 3.3.As has become a trend, Andy Burnham Shadow Health Secretary, came out as the most liked, with an average score rating of 4.1. This is most likely because the NHS is one of the top election issues, and Labour's to protect the health service are widely supported.
At the other end of the scale, are the bottom three – Ivan Lewis (2.5) , Rosie Winterton (2.5) and Lord Willy Bach (2.2). These three aren't as well known as many of the other members of the Shadow Cabinet which probably accounts for their low rating.
Interestingly, when we've done these rankings before – on a positive/negative rating as opposed to a score – Ivan Lewis, Ed Balls and Tristram Hunt have scored negatively. However, this time round, now that we've allowed for more nuance, Balls (3.1) and Hunt (2.8) are doing comparatively well. This suggests that many people may have previously chosen don't know for these two because they had mixed feelings about them, particularly as on a numbered scale they fall almost bang in the middle.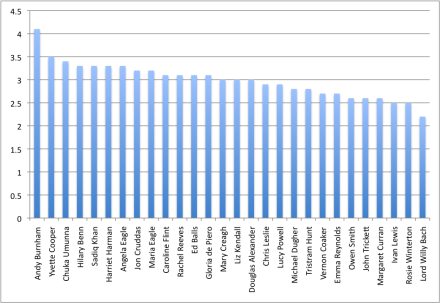 Another debate taking place is this – particularly on LabourList – is whether  Ed Miliband should rule out a coalition with the SNP before the election. Mark Ferguson was adamant that this would be a bad idea, at all costs. But Conor Pope said that given divides throughout the country, Miliband should keep an open mind for post-May plans.
What do LabourList readers think?
58% agree with Conor, that Miliband shouldn't rule out a SNP pact. Perhaps this is because, as last week's survey showed, an increasing number of people think that Labour won't win an outright majority come May.
Meanwhile, 34% have come down, as Mark did earlier in the week, firmly against any kind of deal with the SNP. This could be because they realise that in the long-term this might do significant damage to Labour in Scotland.
Yet, 8% aren't sure. With the outcome of the general election so unsure, perhaps these people think it's best to wait and see what happens before any decisions are made…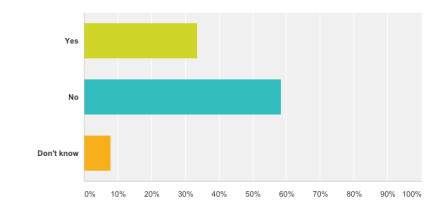 824 people voted in this week's survey. Thankyou to everyone who took part. 
More from LabourList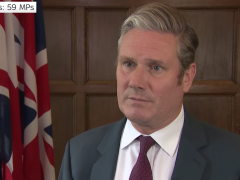 Video
Keir Starmer has declared that replacing Boris Johnson as Prime Minister with another Conservative MP is "not the…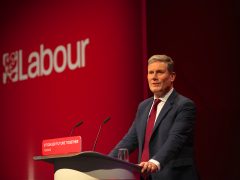 Daily email
Boris Johnson has finally agreed to go. Following an unprecedented number of resignations over the past few days, a…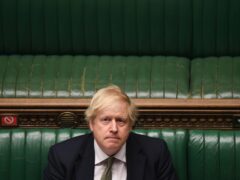 News
Boris Johnson has agreed to stand down as Prime Minister following an unprecedented number of ministerial resignations from…