This week Labour are continuing to walk down the path on which they first tread last week: they're focussing on young people.  First, it came in the form of policies that will affect primary school aged children (with a cap on class sizes, paired with a pledge to increase real terms education spending). Now, it's school leavers.
You might assume a focus on post-school education would mean a policy on higher education funding but that one is still making it's way through the central party machine. It's rumoured it'll enter the public domain later this week. Instead, Labour is turning our attention to equally important, all too often neglected area of vocational education.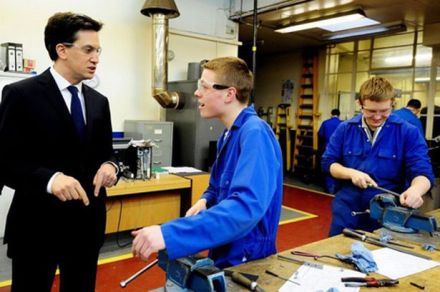 Yesterday Ed Miliband announced that Labour will create 80,000 'high quality' apprenticeships by 2020. Although an aim to create more apprenticeships than this by the end of new parliament would be welcome, the importance of this policy shouldn't be underestimated. It would help deal with long term unemployment, which, despite what the Tories would have you believe, many young people face when they leave school. You'll find evidence of the positive effects of these kind of further education initiatives in the north east, where the Northumbria Health Trust set itself the aim of introducing 300 apprenticeships by this year.
Labour's policy is also significant shift away from what has in many ways become the norm in the UK's education system; emphasising the academic route as superior to all others. Miliband's commitment to improving vocational education and guaranteeing an increased in the number of apprenticeships available to young people underlines Labour's belief that academia isn't the only (or best) way forward.
However, one area of this plan that Labour have so far been silent is pay.
As it stands, it's legal to pay apprentices between the age of 16 and 18 £2.73 an hour. For those over the age of 19, the legal rate is the same as this for the first year of an apprenticeship and wages then jump up to the national minimum wage (either £5.13 or £6.50, depending on an apprentices' age).
All of this means that for one year, or over two if you start an apprenticeship at the age of 16, it's legal to pay an apprentice a weekly wage of just over £100. Twelve months might seem like a small amount of time to be paid so little, but this wage speaks to the same cost of living crisis that Labour have spoken about time and again.
Last year in Liverpool, where the number of employers legally paying such low wages was particularly high, a local newspaper found that some on apprenticeships were forced to rely on foodbanks because they couldn't survive to live on what they were paid. Factor in travel, rent (for those who can't live at home), plus the general cost of living and it's easy to see how living on an hourly wage of £2.73 would be a struggle.
Yet the problem with this initial low pay for apprenticeships isn't just about practicalities, but also what it signifies. Accepting that apprentices are legally allowed to be paid £2.73 an hour, sends a message that for this time – even if only a year – new apprentices are worth less than other employees. Although they are learning on the job, often with one day a week spent on training, in most ways new apprentices tend to be treated the same as any other employee (particularly when it comes to holiday entitlement and working hours). Logic dictates, then, that they should be paid the same.
At a time when so many young people leave school and have few positive options available to them, Labour's Apprenticeship Guarantee is a good, clear move forward. Yet when the party have rightly criticised the coalition's neglect of low pay throughout this parliament (the phrase 'race to the bottom' comes to mind), it would do them good to remember that raising apprentice starting salary needs to be part of their plan as well.
Value our free and unique service?
LabourList has more readers than ever before - but we need your support. Our dedicated coverage of Labour's policies and personalities, internal debates, selections and elections relies on donations from our readers.
If you can support LabourList's unique and free service then please click here.