One Nation Labour is at it's very core as it must be: a project of modernisation. To fit Britain for the future.  To help our country win in a world changing at the light speed of the digital economy. And most important of all, to help hard working families win a fair share of the prizes that trade, technology and science are making possible.
As Charlie Leadbeater has argued we now live in a 'whirlpool economy' where runaway innovation on the one hand comes with stagnating wages, on the other. In the modern world there is one inescapable truth for national strategy: unless we grow smarter we'll grow poorer.
But look at the fundamentals. Thanks to the Tory-led government we have an economy that is too unproductive, too unbalanced and too insecure. According to the TUC, 80% of the jobs created in the last few years have been low paid. Our productivity gap with our competitors is gigantic. What the rest of the G7 finishes making on a Thursday evening takes us till the end of Friday to get done. Research and development spending has fallen by over  £1 billion under this government; its now the lowest share of our economy since the mid-1990s. Of the jobs created in the 'knowledge economy', 85% have been in London and the South East. We now have a million fewer adults in training – but we've imported 300,000 people over the course of this parliament to plug skills shortages.
We face the future in weak shape – and it's not a mistake our competitors are making, from Berlin to Beijing. China is rapidly becoming one of the world's great science powers; its already overtaken the EU on R&D spending and is set to outpace even America by 2019 [OCED – Nov 2014]. Technically, Sina Weibo is a match for Twitter. Alibaba was one of the biggest tech companies to float on Nasdaq this year. And closer to home, Germany now spends 3% of GDP on R&D – that's almost twice as much as us [1.7%].
In the global race of which Cameron once spoke, we are quite simply losing the future.
Liz Kendall and I began our guest edit of LabourList with Harold Wilson's vision of a Labour government with a powerful, hopeful story for the future. Back in 1964, Harold Wilson used to attack Tory PM Alec Douglas Home as epitomising 'the grouse moor conception of national leadership'; 'We are living in the jet age' said Wilson 'but we are governed by an Edwardian Establishment mentality.' Frankly he could have been talking about David Cameron. Yet our predicament is even worse: for today's Tories combine the diffidence of Cameron with the dogma of Osborne. A Chancellor determined, not to reinvent the state, but to shred the state with a roller-coaster of cuts in the next parliament.
This is a disaster for Britain in the digital age. They're prepared to watch to our university system go bust; jeopardise our relationship with Europe, which funds a £1 billion of British science; cut us off from the world's best talent by racing UKIP to the bottom on immigration policy – and worst of all slash the budget for the department for business so hard, they'll destroy the nation's pipeline of skills.
The new necessities of the digital age demand a national strategy. Writers like Tyler Cowan now recognise that tech does indeed risk being a job killer unless we adapt. But it also holds vast new potential to revolutionise and democratise access to enterprise, 21st century health care and world class education.
Think of how crowd funding could transform the supply of start up funding or access to markets for young people or mums battling to start a business in deprived communities like mine in East Birmingham. Think of how digital medicine could transform the way we monitor the health condition of the chronically ill via their smart phone. Or give a talented youngster on a deprived estate access to the world's best teachers through a tablet.
Today we have within our power the ability to destroy inequalities of the past, where access to the world's best capital, education, healthcare and culture were prizes locked up by the privileged few.
Most important for Labour in the digital age is a new state of mind. The digital age requires us to think anew about new ways to harness the zeitgeist to collaborate; think of the way people now come together to share everything from raising money to start a new business on platforms like Kickstarter, to sharing advice on how to raise children with autism. On Facebook, we no longer even click 'send' but 'share'. For a party that believes we achieve more together than we achieve alone, this the politics of the collaborative society is an extraordinary opportunity.
Nye Bevan in the only book he ever wrote once defined our challenge well. 'Progress is not the elimination of struggle', he wrote, 'but rather a change its terms'. The terms of Britain's challenge has changed. That's why we've changed – to win the future. And Labour's fight for the future has been the core of every great victory we've won. Think of 1945, 1964 and 1997; 'winning the peace'; 'the white heat of the technological revolution'; 'education, education, education'. We win when we show the future is not a place of fear but a place of hope – where families can do well backed by a government on their side, prepared to make the difficult choices needed to modernise the land we love – not conserve the worst of the past and the market run riot.
We're fighting for that future at this election. Only a Labour government can ensure that it's a fight that we win.
More from LabourList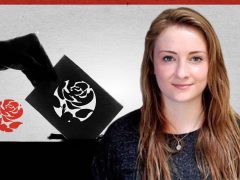 Comment
As a junior doctor working in the coronavirus wards, I have witnessed socialism in action. Health workers of…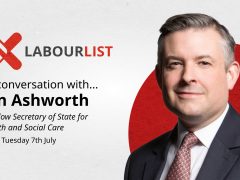 Video
Join us at 6pm on Tuesday, July 7th, for our latest "In conversation with…" online event featuring LabourList…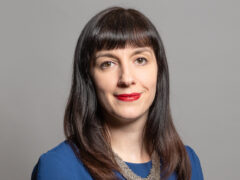 Comment
Rishi Sunak will deliver a statement in the Commons on Wednesday. Detail has been thin on the ground,…