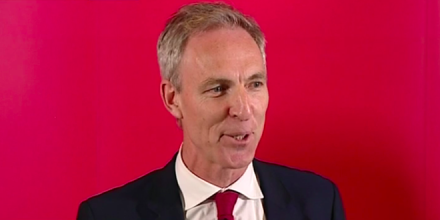 Today the Scottish Labour SEC met to discuss the party's future after the near wipeout last week. Leader Jim Murphy faced a no-confidence vote, after several MSPs and affiliated unions called for him to go.
Murphy won the vote – but only narrowly – by 17-14.
Update: Despite winning the confidence vote, Murphy has resigned.
UPDATE II: Watch Murphy's statement below:
And here's the text of the speech:
"As I said at the Scottish Labour Executive this morning after our terrible defeat, both north and south of the border, I am under no illusion as to how big our defeat was, or how big our challenges are. But I believe a leader of this party has a bigger responsibility to party members than to leave without a plan for those who follow in the future.
It would be wrong to leave behind division and the same problems that have dogged the party for a decade, or arguably more.
That is why it was important to have the backing of the Executive today. And I am glad to have their backing, the backing of two thirds of MSPs and of all but a handful of the forty defeated Labour MPs from last week.
I wanted today's vote of confidence, not out of personal pride or political ambition for me. I want to ensure stability and make sure that there is a plan for rebuilding, rather than the poisoned legacy for the next generation, as has happened far too often in the recent past.
We need that sort of plan to build on the residual strengths and support we got from hundreds of thousands of Scots last week.
The Executive of the Scottish Labour Party will meet again next month.
For that meeting I will work with colleagues to prepare a comprehensive report covering:
A plan for earning back the trust of Scottish voters. A strategic overview of the voters we need to win back, and the challenges we face as a party on the ground ahead of the next two sets of Scottish Elections.  A clear understanding of Scottish voters' concerns and aspirations.
A plan for reshaping the Scottish Labour Party, using all of our talents, widening our membership and ensuring the best possible range of talents from our membership and beyond. And above all, defending the rights of Labour party members and putting them back at the heart of our organisation. We should have a system of one member one vote as the UK party has, has for the election of leaders.
A fresh assessment of our policy platform, preparing for using new powers and then bringing them closer to voters and out of Holyrood. Looking at also how we defend solidarity across the UK in the face of rising nationalisms, both north and south of the border. And the challenges of mitigating the threats from a Tory Government, and the challenges of poverty, poor educational attainment, and ill health.
I am clear that the answer to the Scottish Labour Party will not be found in tinkering with our constitution. We need to think far more deeply than that.
No option in the report I will produce for next month's meeting of the Scottish Labour Party Executive will be off the table…except the status quo.
It is clear that the small minority who didn't accept my election as party leader by the majority 5 months ago also won't accept the vote of the Executive today and will continue to divide the party if I remain.
Today I received more support from the Scottish Executive members that when I stood for election five months ago.
So when I table that report at next month's meeting of the Scottish Labour Party Executive, I will also table my resignation as Leader of Scottish Labour.
It will be for the party executive to decide whether they accepts the reforms proposed, but a party in such urgent need of reform blocks those changes at its further peril.
I want my successor in place over the summer and to be able to start campaigning for 2016 and beyond, with a party that has clear a clear purpose and platform, and where the leader knows that he, or she, will be able to lead with an authority that can never be challenged, into 2016 and beyond that election because it is an authority gained by a one member, one vote arrangement.
I know that in the past few days, and I have become used to this over the last few years, I have been at the centre of a campaign by the London leadership of the Unite union in blaming myself and the Scottish Labour party for the defeat of the UK Labour party in the general election. That is a grotesque insult to the Scottish Labour party.
It is a grotesque insult to our thousands of volunteers, from someone who pays occasional fleeting visits to our great country.
The trade union movement, and individual trade unionists, is a source of enormous strength and moral purpose for our party.
There will always be those who criticise the links and the precise relationship between the trade unions and our party but I am clear, the Labour Party's problem is not the link with the trade unions, or even the relationship with Unite members, far from it.
It is the destructive behavior of one, high profile, trade unionist.
One of the things about stepping down is that you can say things in public that so many people in the Labour Party only say in private.
Whether in Scotland, or in the contest to come across the UK, we cannot have our leaders selected or deselected by the grudges and grievances of one prominent man.
The leader of the Scottish Labour Party doesn't serve at the grace of Len McCluskey and the next leader of the UK Labour Party should not be picked by Len McCluskey.
The Labour Party has been, and always will be, a second family to me. I've met many of my best friends, I've laughed and cried – this week. Won and lost, with Labour people and they are the best people I've ever stood with.
But far more than the immense pride I've felt in standing with the remarkable people in our party is the pride in our values.
That feeling of being part of a great cause. And the knowledge that the work you do is not for yourself but for the betterment of people whose names you don't know and whose faces you will never look upon.
That is what it means for me to be Labour. To commit yourself to a cause that was there long before any of us were born, and that will outlive any election defeat or one person's leadership.
A society and economy where the strong use their strength to look after the weak.
A community where strangers look after each other as if they were family.
A home for everyone where children are safe, and their minds and mouths are nourished.
Scotland needs a strong Labour party; Scotland needs a united Labour party.
We have been the greatest force for change in our nation's remarkable history.
The Scottish Labour party will rise again. It will be under someone else's leadership and I am confident about my party's future."
Meanwhile, this is how Unite responded to Murphy's resignation:
"Jim has done the decent thing.  Scottish Labour needs to recover, re-engage and reform.  It can now begin that process."
Value our free and unique service?
LabourList has more readers than ever before - but we need your support. Our dedicated coverage of Labour's policies and personalities, internal debates, selections and elections relies on donations from our readers.
If you can support LabourList's unique and free service then please click here.