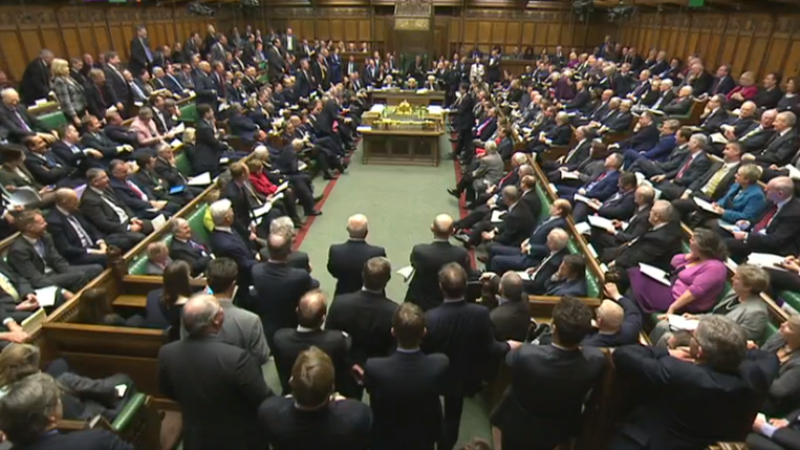 Should Labour's policy to be abolish Trident? To support its renewal? Or should it be something in between? Labour's new leader Jeremy Corbyn is opposed to Trident (Jeremy Corbyn has been a member of CND since he was 15) we wanted to find out LabourList readers' thoughts on the subject
The majority of people that voted – 53% – agree with Corbyn, they think that Trident should be abolished altogether. In contrast 19% believe Labour should support Trident renewal and 15% say don't renew it but keep the current system. A smaller amount – 10% – would rather Tridents' capabilities were reduced and 4% don't know.
Labour's current policy is to support Trident renewal but with a new leader who was elected on a huge mandate, there is likely to be discussion on Trident. This week Corbyn said he plans to "persuade" people to back scrapping Trident, he doesn't have too much work cut out for him with our readers but the same isn't necessarily true with the PLP and the wider party members.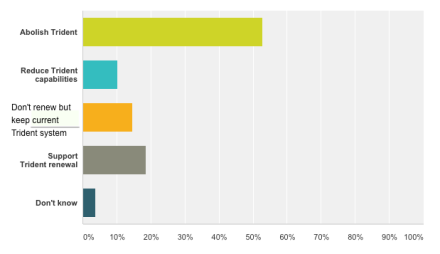 The start of this week we watched a shadow cabinet reshuffle overseen by Corbyn – Labour now have a brand new frontbench team. Corbyn's  changes include making John McDonnell Shadow Chancellor, appointing Angela Eagle as Shadow Business Secretary and moving Andy Burnham from Shadow Health Secretary to Shadow Home Secretary. Do LabourList readers think this is better or worse that the previous shadow cabinet?
A sizeable majority – 61% – say it's better than the last shadow cabinet but 22% say it's worse.  4% said it's the same and 13% said they didn't know how the two compared. Given that this new shadow cabinet has existed for under a week this could all change but for the moment LabourList readers are broadly happy with Corbyn's decisions.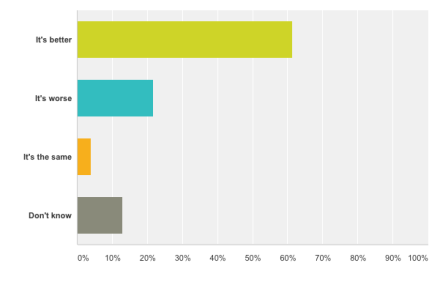 On Wednesday Jeremy Corbyn reformed PMQs by soliciting questions from Labour party members and putting them to the Prime Minister. We asked readers what they thought of this plan and most thought it was a positive move. 63% said they agreed with this idea, some commentators have since praised it for changing the nature of PMQs.
However 21% said that while they liked this plan, they would also like a rotation of MPs to be at the Despatch Box. Under this proposal, originally floated by Corbyn during the leadership contest, different MPs would question Cameron every week.
But not everyone is impressed with these changes 14% said that disagreed with the plan to put members' questions to Cameron. On Wednesday there were some concerns that this style of PMQs gave Cameron didn't properly hold him to account in the way that some would like. 2% also seem to share concerns over this format – they'd rather Corbyn created a rotation system so other MPs would also be in the driving seat on Wednesday lunchtimes.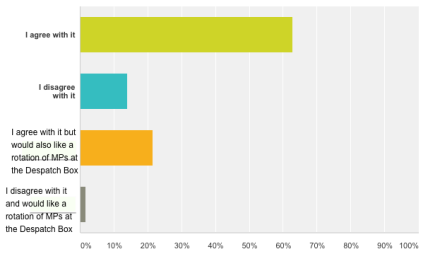 3,381 people voted in this week's survey. Thankyou to everyone who took part.
More from LabourList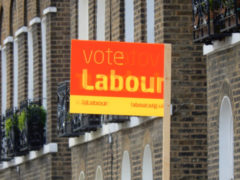 News
The frontrunner in the race to be the next BAME rep on Labour's ruling body has become the…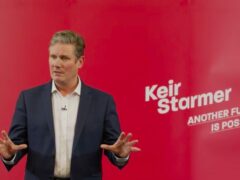 News
Labour leadership frontrunner candidate Keir Starmer has pledged to offer his two rivals in the contest, Rebecca Long-Bailey…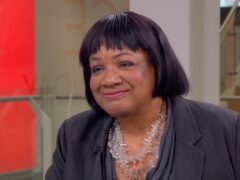 Video
Ridge on Sunday Labour leadership candidate Lisa Nandy talked about "Britney and buses", the future of the BBC and…