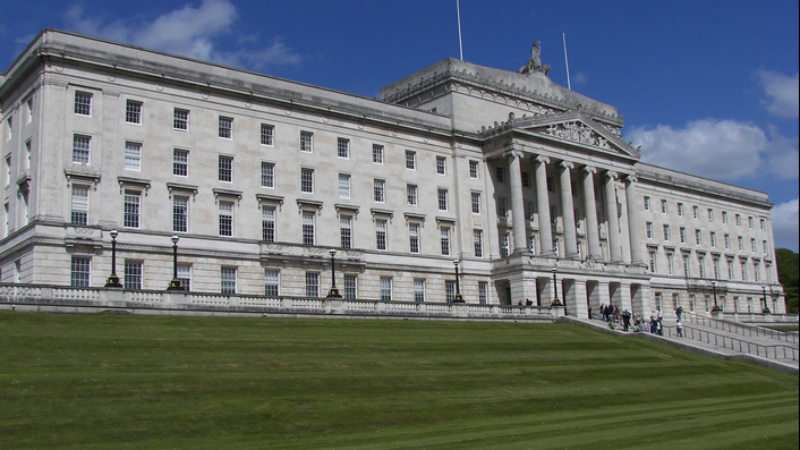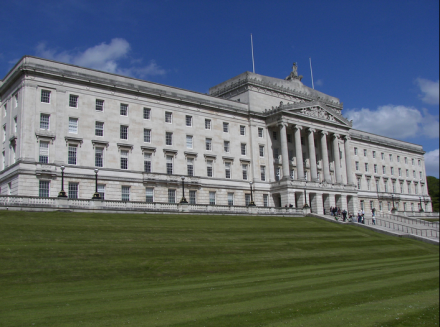 A group of Labour Party members could risk expulsion after confirming they will stand as candidates in next month's Northern Irish Assembly election.
Eight members of the Labour Party in Northern Ireland (LPNI) will stand under the name 'Northern Ireland Labour Representation Committee' (NILRC), a reference to the founding name of the Labour Party, despite the party's official stance not to field candidates in Northern Ireland.
Kathryn Johnston, Peter Dynes, Brigitte Anton, Emma Hutchinson, Maria Lourenco, Abdo Thabeth, Erskine Holmes and Damien Harris will stand as the Labour Representation Candidates, after final confirmation last month that the UK party would not change its position in time for the Stormont elections.
While Labour would not publicly comment on whether this would constitute a breach of the rules, two separate sources indicated to LabourList that standing in a UK election as a non-Labour candidate is against party rules – with one suggesting that both candidates and those signing their nomination papers could face expulsion.
But Johnston, the NILRC leader who also acts as vice-chair of the LPNI constituency party, claims that they are "not breaking any rule" by standing. The official Twitter account of the LPNI also appears to have adopted a pro-NILRC position
There have been growing calls for the UK Labour Party to stand candidates in Northern Ireland, especially following a rapid rise in membership over the past year.
The NILRC – which is not connected to the John McDonnell-affiliated Labour Representation Committee group – has been registered as a new party in Northern Ireland. In its constitution, it argues that "Northern Ireland is unique within the United Kingdom and within the European Union in being the only region in which the electorate is denied the option of voting for a Labour or non-sectarian democratic socialist party." It also commits to disbanding itself if UK Labour begins standing candidates in Northern Ireland elections. You can read the full constitution below.
In a strongly-worded Facebook post, the NILRC claims that the SDLP is not a true sister party of Labour, citing the party's anti-abortion and pro-nationalist stances:
"In today's politics of Northern Ireland, there is a strong public demand for non-sectarian politics that take Northern Ireland forward on a progressive path, away from bigotry and small-minded antics. This is why people join The Labour Party headed by Jeremy Corbyn."
Currently, Labour has an agreement with the Northern Irish Social Democratic and Labour Party (SDLP) and the Irish Labour Party (ILP) not to run in Northern Ireland elections, instead supporting its official sister party the SDLP. The SDLP currently has 12 Assembly Members in Stormont and three MPs in Westminster, where they nominally take the Labour whip.
This arrangement is reviewed by Labour once each UK parliamentary term. The last review, in 2013, found that while there was support among members for the party to play a more active role in Northern Ireland elections, "both the ILP and the SDLP are opposed to such a move, and have legitimate and significant reasons for their opposition."
It concluded: "In light of these discussions, it is the view of the NEC Review Panel that it is not advisable for the Labour Party to start organising electorally in Northern Ireland."
A spokesperson for UK Labour yesterday said:
"The Labour Party does not currently stand candidates in Northern Ireland. The NEC has committed to conducting a review of our current position in Northern Ireland once every Parliament, and that review is ongoing."
The full constitution for the Northern Ireland Labour Representation Committee can be read here (click to enlarge):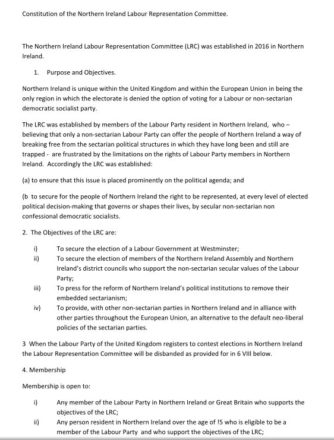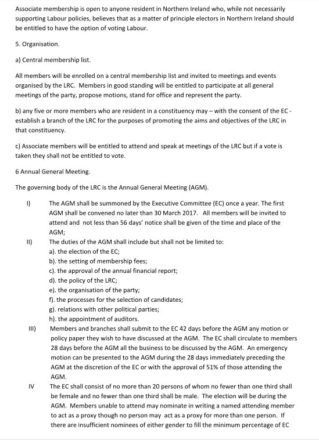 More from LabourList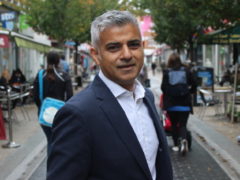 Comment
Below is the speech delivered by Sadiq Khan at the state of London debate. Thank you, James. It's…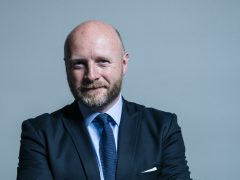 Comment
It is now time to bring Labour's security message into focus. As Keir Starmer signalled at the weekend,…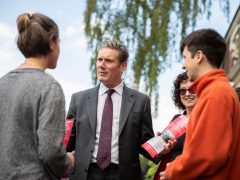 News
Keir Starmer has said Labour has "put to one side" the 2019 general election manifesto and declared that…