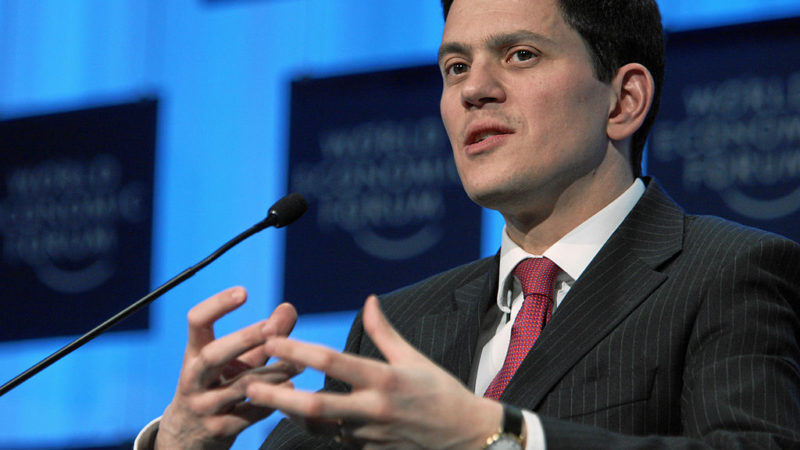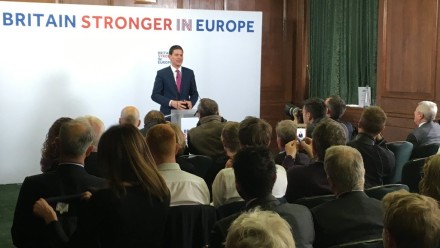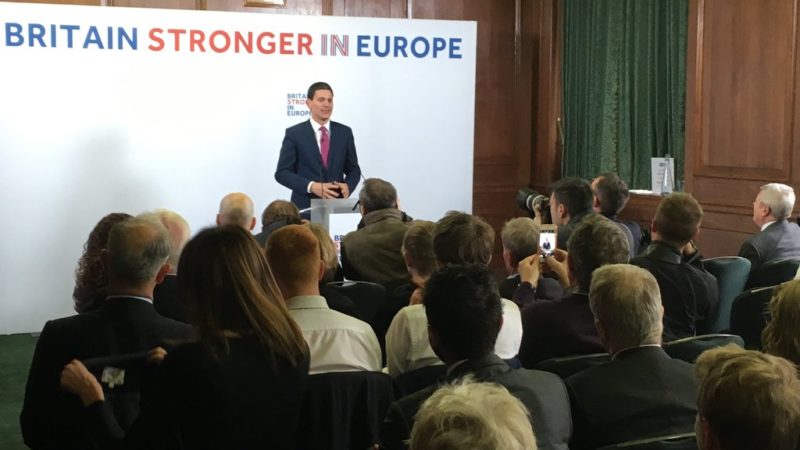 Jobs and investment in Britain's "world-leading" financial services would take a hit from Brexit, David Miliband will warn today.
The former Foreign Secretary returns to the Labour In campaign trail today alongside Alan Johnson to spell out how membership of the EU creates almost 200 jobs a week in the sector.
But in what will be seen as a coded message to Jeremy Corbyn, he has also sounded out against Labour appearing "half-hearted" in its support for the EU, and made the case for sharing platforms with Conservatives in order to make the case for Remain.
Speaking at the new HSBC development in Birmingham, he will talk about the importance of foreign investment – as the bank warns that lost revenue from an Out vote could mean relocating jobs to Paris.
"The UK is a fantastic place to invest. Our success at attracting investment from around the world is boosting growth and creating jobs," Miliband will say. "International investment, is testimony to the importance of foreign investment.  It's clear that investment is encouraged, enhanced and emboldened by the UK's membership of the European Union."
"Furthermore, the EU, as the world's largest single market, offers the chances to protect citizens from the risk of market excess, including in the financial sector.
"That's why Labour is campaigning to stay in the EU; to keep Britain's world-leading position in attracting international investment, to protect our economy and to protect the prosperity of British families."
But writing for The Times Red Box this morning, the former leadership candidate also had a message for the way the Labour Party approaches the final weeks of the campaign.
He writes that Labour has a history of taking a lukewarm attitude to EU membership, and it cannot afford to indulge such a mindset in the run-up to June 23. "Labour's trap… is to be half-hearted about Europe," he said, adding: "There is no room for such hesitation today."
London Mayor Sadiq Khan caused some controversy earlier this week when he campaigned with David Cameron on a pro-EU campaign stop. Other senior Labour figures, such as Jeremy Corbyn, John McDonnell and Hilary Benn have refused to campaign with Tories during the referendum – and on Monday, McDonnell said that sharing platforms with Tory politicians "discredits" the party.
However, Miliband says that it is more honest for politicians to be upfront about when they agree: "I have been happy to share a platform with the Prime Minister to make the case for Britain's membership of the EU. Where centre-right and centre-left agree, we should say so."
More from LabourList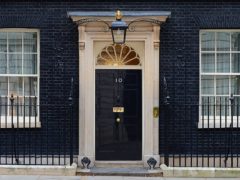 News
Labour MP Barry Gardiner has written to the Metropolitan Police commissioner urging her to investigate reports that Christmas…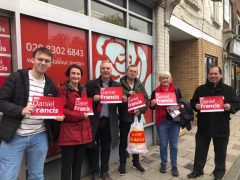 Daily email
The Old Bexley and Sidcup by-election result is in: the Tories held the seat. This should not be a surprise to…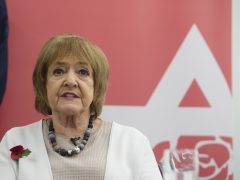 News
Below is a rolling list of Labour MPs who have announced that they will not be seeking reselection…