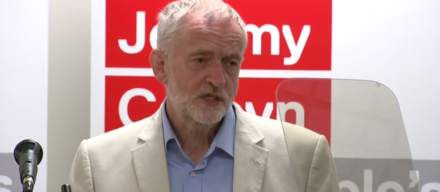 This is the speech given by Jeremy Corbyn on Saturday at the launch of his "public campaign" for the Labour leadership at the Lowry Theatre in Salford. There were simultaneous events in Cardiff, Hull, Leeds, Newcastle, Nottingham, Birmingham, Bristol, Cambridge and London.
Thank you for that introduction. I want to say a few words about the terrible events in Munich last night where a lone gunman brought death to the city. My thoughts are with the families of those killed and injured in that deadly attack. I would like to praise the efforts of the emergency services saved the lives of many others, at the risk of their own. The aim such attacks is to drive a wedge between communities. They did not succeed in London or Nice and they will not succeed in Munich – which less than a year ago showed the world its humanity as people lined the streets to welcome Syrian refugees.
A city that can show such compassion will never allow the events of last night to tear it apart. It's great to be here in the North West, in another community full of compassion and solidarity. Speaking to 2,000 people here in Salford, Greater Manchester – and to hundreds of activists in London, Bristol, Brighton, Nottingham, Birmingham, Liverpool, Hull, Glasgow and Cambridge. And it's wonderful to be at the Lowry Theatre, among the great works of LS Lowry – a tremendous artist who documented working class industry and life. Lowry's work is part of the rich tapestry of working class culture and history.
Walter Greenwood, also from Salford wrote Love on the Dole. his description of pawnbrokers and interest on debt being charged as yet more interest is little different from the pay day loan industry of today.
We are here, Labour is here, to empower people.
As our constitution says, to create a society "… in which power, wealth and opportunity are in the hands of the many, not the few".
And I am proud, so proud to be part of this movement … with Labour Party membership now surging beyond half a million to over 540,000.… more than all the other political parties in Britain combined and we have well over 3 million affiliated trade unionists and over 180,000 registered supporters in just 48 hours.
We are a social movement … and we will win the next general election only as a social movement
Some people don't get this yet … they think a movement is something instead of parliamentary politics.
It's not … It's what will make a Labour government possible. We have lost the last two general elections … we cannot carry on as before.
I was elected last year because our members, affiliates and supporters wanted change … they knew we couldn't go on as before.
We have begun to show the difference a mass party can make:
As well as winning the mayoral contest here in Salford … and in Liverpool … we also won in London for the first time since 2004 … and the Mayor of Bristol for the first time ever … and re-took Bristol Council for the first time since 2003

And on Thursday night – only 36 hours ago – we won a town council seat from UKIP in Ramsgate.
No one underestimates the scale of the task in front of us …
We have a mountain to climb to win a general election … and that's why we have to change how we do things.
Labour is a mass movement … with nearly three times as many members now as we had last year.
We are all leaders … you are the leaders in your community … in your workplace … at your college or university … at your church, mosque, synagogue, gurdwara or temple.
We are the messengers … the media won't do it for us.
Let's not delude ourselves that our socialist values will ever get a fair hearing in the press … dominated by multi-millionaire owners based in tax havens.
So we have to do it ourselves … we have the power … we have that power because we work together … the members, the trade unions, other affiliates and our councillors, MPs, MEPs, mayors, and others.
We have to be disciplined … I make it clear today as I have made it clear many times before: "I don't do personal abuse … I don't respond to personal abuse … I condemn any abuse from others … it has no place in our party".
I know some people are angry at the actions of some MPs … but where we disagreement in the Labour Party we settle it through democratic means … Not coups, not intimidation, and not abuse.
So, whatever the result on 24 September … we are united as a movement that will take on the Tories …
As we have been doing already … forcing them back on cuts to working families' tax credits … forcing them back on cuts to Personal Independence Payments for disabled people … and making them abandon their plans to force every school to become an academy.
And there are many more injustices … many more campaigns to wage…
against young people being burdened with student debt …

against the rising tide of homelessness in this country …

against the demonisation of disabled people … and the scandal of the Work Capability Assessment

And as I set out yesterday … against the scandal of women being paid 20% less than men.            

Less than two weeks ago Theresa May stood on the steps of Downing Street and expressed deep concern about the state of society….conveniently forgetting that she had been a member of the Cabinet for six years that has presided over rising poverty and personal debt.
This week her Government introduced a Higher Education Bill that will encourage yet more privatisation and saddle our students with even deeper debt and make a degree unaffordable for many.
Victories are not won in Parliament alone … they are won because of public outrage … that outrage being organised by you … party members, trade unionists … and it is only when we come together… and campaign … we win.
So I want to thank you – all of you – for all that you do … as party members and activists … as trade unionists … as campaigners for social and environmental justice … and as activists in your community.
This Party is changing … politics is changing … and it needed to … You are that change, you are the ones who will change politics … and I want to make sure that you are empowered to do that …
… And then together we can oust this Tory government … and start building the fairer decent society we all want.
Tackling the five ills of our society: … Inequality … Insecurity … Prejudice … Discrimination … and Neglect.
To build A society in which No one is left behind … and no community is left behind.
That's our vision … and together we can achieve it. Thank you.
More from LabourList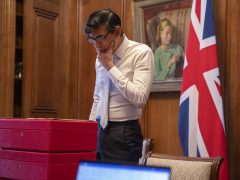 Comment
Rishi Sunak delivered a Budget that many will say was difficult for Labour. With a corporation tax rise…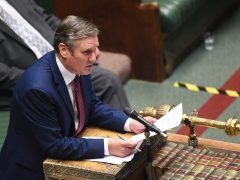 Comment
Below is the full text of the speech given by Labour leader Keir Starmer in response to the…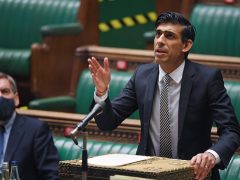 News
Keir Starmer has criticised the Budget today, saying it "barely mentioned inequality let alone tried to address it",…