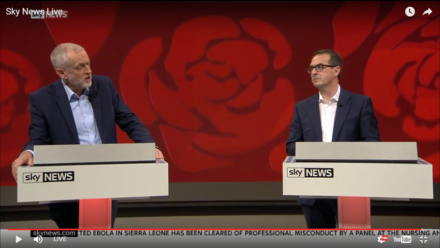 Well, did you change your mind tonight? This face-off, late in the long hot summer of Labour leadership debates, was unlikely to switch many votes but the argument was, at times as hot as the red backdrop against which the two men stood.
Just at the moment it seemed party members and the voting public might switch off completely, this marathon contest swung back into life.
That it did owed much to some very familiar themes on which the party is divided – Jeremy Corbyn's relationship with Labour MPs, the handling of anti-Semitism and the legacy of Tony Blair – as well as a recognition, perhaps, that the close of balloting is in sight.
At times, the energy appeared to be going out of the battle. Corbyn and Owen Smith have been doing this for months and Labour members have been listening all the way along. Many of the lines deployed by each side now sound familiar rather than fierce.
The head-to-head recovered, however, towards the end. Whether prompted by excitement or fear, or the frustration exhibited by the audience, Smith and Corbyn suddenly seemed to revive.
"How many times do you think an election should be re-run if you don't like the result?", asked one studio guest, affronted by Smith's demand for another say on Brexit. Of course, the proposal to give the public a vote on the final terms of Theresa May's deal is popular among many Labour members, but it is a hugely risky approach with the rest of the British people who have only just voted to get out of the EU.
Working class people do not support free movement of Labour, one man told the politicians. "You are finished, Labour, if you don't accept this."
These felt like bouncers for Smith but they were just a test of what might come if he were to tour suburban England as Labour leader demanding another referendum.
It was, however, just as tough for Corbyn at times – and you could have predicted when that would be. Claims of a failure to tackle anti-Semitism with sufficient strength have dogged the leader for a year and he was put on the spot tonight.
It led to a moment of real drama. An audience member, wearing a skull cap, appeared to shout that Jews felt "not welcome" in the Labour Party anymore.
Corbyn issued a full condemnation of anti-Semitism and said he wants the party to be "welcome to all faiths and all groups". Quite right, but he still has more to do persuade many people in Labour and in the Jewish community.
These two interventions from members of the audience, over support for the EU and action on anti-Semitism, summed up their frustration. And, perhaps, that of the country. After months of Corbyn and Smith taking on each other it seemed tonight was the moment the crowd took on the Labour Party. The people in the studio – made up of supporters of each man, as well as some of the few remaining undecideds, know that Labour isn't doing a good enough job of tackling the Tories. May's ministers are emboldened by their new leader, and appreciate it will take months for the Opposition to move on from the events of this summer.
It wasn't all a slog. Corbyn and Smith both had moments of real dynamism. The leader was provoked into a peroration against Donald Trump – "absolute anathema to everything I think, want and believe in society" – while the challenger hit his stride when he declared, in a swipe against the Corbynistas: "We are not just one man – we are a movement".
Smith even went on to list some of Blair's achievements, like the minimum wage and peace in Northern Ireland. That's always a controversial move in today's Labour Party – but it shouldn't be. The former prime minister delivered some changes that are now supported across British politics.
Blair's legacy often seems to dominate Labour discussion above almost all else. His view of Corbyn is well known. His opinion on Smith apparently less so. Labour's members have, I suspect, largely made up their mind about both candidates in this contest. What tonight showed was, whoever the winner, just how far they have to go to restore our party to power.
More from LabourList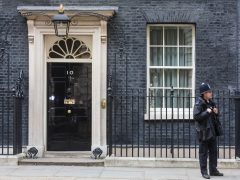 Comment
Low-paid cleaners in East London came together in 2001 with their churches, mosques and community institutions and began…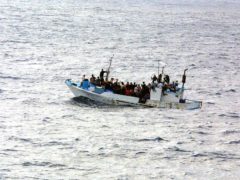 News
Civil service union leader Mark Serwotka has said union members are "sick of clearing up the mess" caused…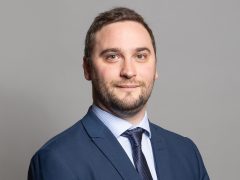 News
Former Conservative MP Christian Wakeford, who defected from the Tory Party earlier this year, has joined Labour's frontbench…