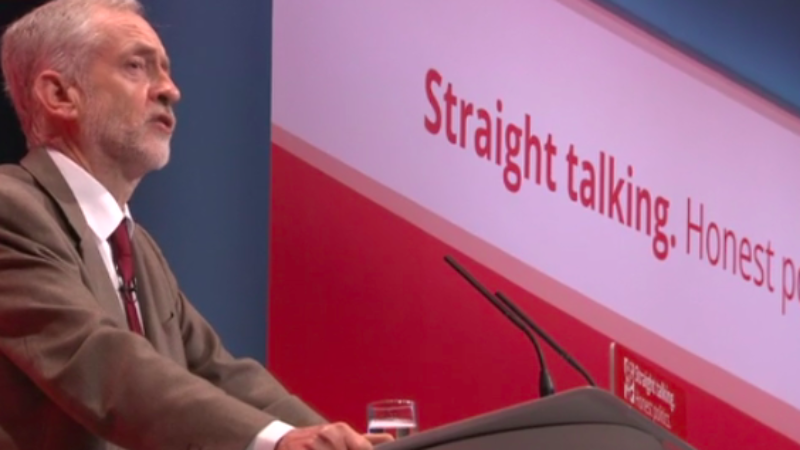 Below is the full text of Labour leader Jeremy Corbyn's speech to Class conference today:

Thank you for that welcome … and thank you to Dr Faiza Shaheen for that introduction.
Every one of us here today … is motivated by the gap between what our country is … and what it could be.
We are a country brimming with potential … But we are being held back … held back by inequality, by neglect, and by prejudice … And Labour is laying the ground to unleash that potential … with comprehensive plans for the kind of country we all want Britain to be.
Our conference today has a very timely theme … Britain at the crossroads
In terms of wages, Britain has been stalled at a crossroads for years…
Wages are lower today than their pre-crash peak in 2008, according to the ONS…
Andy Haldane, the Chief Economist at the Bank of England … talks about "a lost decade" in terms of pay.
But those statistics and rhetoric hide the very real and large-scale problems that people face in today's jobs market.
We meet at the end of Living Wage Week … a chance to celebrate that … thanks to unions and other campaigners … nearly 3,000 employers are signed up to the living wage …
But it's also a chance to remember that the number of people in work and in poverty has never been higher …
Over six million workers earn less than the living wage … more than one in five.
Nearly one million workers are on zero hours contracts …
Over a million people are on insecure temporary contracts … without full rights.
And the earnings of the growing army of self-employed people … are no higher today than they were in the mid-1990s …
The gender pay gap is locked in at nearly 20 pence in the pound.
If you're a working age disabled person, you're nearly three times as likely to not be in work.
For too many families in Britain … increasingly insecure work means they have no possibility to plan their lives …
They cannot plan for their future … plan a holiday … even plan how to pay the bills and the rent.
And into that hand-to-mouth world step payday loan companies … so those families end up working even more to service debts …
Their children miss out … parents work longer hours … a rising number of night shifts …  having to take a second job to make ends meet …
It mean parents are barely seeing their children … just to try to keep clothes on their backs and food on the table.
And low pay and high rents mean they struggle to do that … over one million emergency food parcels were handed out last year.
People for whom work doesn't pay … because wages are low, hours are insecure and rents are too high.
This is what happens when government fails … and does nothing when markets don't work for people.
This government went into the election promising 30 hours of free childcare to parents … so far they have reduced the number who will be eligible … and delayed its implementation.
Now … thanks to our shadow childcare minister Tulip Siddiq … we discover that nurseries are closing down because government has cut their funding … and many others are saying they do not have the places to deliver the government's pledge.
This month Labour is establishing the Childcare Commission that we announced at conference … it will be led by Unison's Liz Snape … and it will look at how we reform childcare to deliver for working parents.
We have a clear choice in front of us … Britain is indeed at the crossroads ….
We can follow Theresa May rightwards into a mean-minded backward-looking world, dressed up in fake progressive language and phoney social concern… This is the leader of the self-proclaimed 'party of the workers', remember … No, I don't believe it either …
They are the party that forced through the Trade Union Act…
That opposed the minimum wage … introduced employment tribunal fees … and that tried to cut working tax credits…
And that just this week … decided to oppose a public inquiry into Orgreave … having already rejected an inquiry into blacklisting…
Theresa May might have said the words on the steps of Downing Street … but who seriously believes that the Tories could ever stand up to the privileged few?
They are the party of the privileged few… funded by the privileged few … for the benefit of the privileged few….
The Tories remain stuck in a Thatcherite grammar school time-warp, unable to meet the challenges of our time…
… where, behind the rhetoric, greed is still good
… a la-la land where trickle-down economics still hasn't been debunked as the gobbledegook it is
… where deregulation never crashed the economy
… and where  selling off our collective assets to a wealthy few really lead us to a more equal shareholding democracy.
You can see which way the Tories will turn … because it's been their policy for the last six wasted years … a low investment … low pay … low productivity economy.
A workforce with fewer protections … fewer rights … and lower pay …
Labour offers a very different way forward … that meets the needs and aspirations of our people in 2016, not a 1980s …. or even 1950s … never-never land…
During the summer … I set out ten pledges as the basis of the platform for Labour programme at the next election …which were endorsed by our party conference in September.
They lay out the scale of the change we need to see in this country … for full employment … a homes guarantee … security at work … a strong public NHS and social care … a National Education Service for all …. action on climate change … public ownership and control of our services … a cut in inequality of income and wealth … action to secure an equal society … and peace and justice at the heart of our foreign policy.
That's the shape of the transformation Labour is committed to for Britain … And as we set out in the months to come … the policies that will put that vision into practice …I'd like to draw on the expertise and creativity … of the whole labour and progressive movement…
Crucial parts of that work have already been done …. So, when it comes to insecure, agency working, gig economy Britain … we're already committed to ensuring all workers have full and equal rights from day one of their employment … and end zero hours contracts.
Secondly, we will raise the minimum wage to the level of the living wage … estimated to be in excess of £10 per hour by 2020.
The Low Pay Commission, the Fawcett Society and the Resolution Foundation all agree … that increasing the minimum wage is one of the most effective ways to reduce the gender pay gap.
Thirdly, we will review conditions for self-employed people … respecting their freedom and increasing their security …
And we will end the exploitation of workers through bogus self-employment … as the GMB has helped to do at Uber.
Finally, we will invest in skills and in a new industrial strategy … to create high skill, high pay and high productivity jobs.
We will do through our National Investment Bank … and a National Education Service.
The Tories are the party of cuts and short-termism … Labour is the party of investing for the future.
With the same level of investment as other major economies … we could be so much more … unlock so much skill, ingenuity and wealth.
We'll establish a National Investment Bank … with a network of regional investment banks … at the heart of our plan to rebuild and transform Britain … every part of Britain … so that no community is left behind.
And we will borrow to invest … at historically low interest rates … to generate far greater returns
It would be foolish not to … because that investment will expand the economy … providing a platform from stronger and more sustainable growth … shared more equally within and across the communities of Britain.
The Tories are content to accept second-class broadband … creaking railways … to see Britain lag behind on renewables … and to allow the housing crisis to fester.
But even this government … after six wasted years of austerity and savage cuts to services and investment … is starting to change its rhetoric.
The Autumn Statement will be the test … of whether they can back up their new rhetoric with meaningful change.
We have set out proposals for a National Investment Bank … and for more capital spending … £500 billion of investment over a decade … to bring our broadband, our railways, our housing and our energy infrastructure up to scratch.
A country that doesn't invest … is a country that has given up … that has taken the path of managed decline.  A Labour government will manage a renaissance … in investment … in infrastructure … and in industry.
***
Britain now spends less on research as a share of national income than France, Germany, the US and China … A Labour Government will bring research and development up to 3% of GDP.
We are a wealthy country – and not just in terms of money … We are rich in talent, rich in potential
That's why we've proposed a comprehensive National Education Service at the heart of our programme for government … to deliver high quality education for all throughout our lives.
Education has always been a core Labour value … And a National Education Service will become an increasingly important part of the 21st century welfare state …
In a rapidly changing economy … people need to re-train … or upgrade their skills … without falling into debt.
Britain already lags behind others on productivity.
Partly that's about investing in technology and infrastructure …
And partly it's about investing in people and their skills …
How can we possibly build and expand the sectors of the future … without a skilled workforce?
Again the Conservatives are heading in the wrong direction …
They are allowing a rise in untrained teachers … and in rising class sizes … while teachers leave the profession at an unprecedented rate.
They have slashed adult education budgets … taking away opportunities for people to develop their skills … and leaving businesses struggling to find the skilled workforce they need to succeed.
Labour is offering business a new settlement … A new deal for Rebuilding Britain.
Labour is committed to provide the investment to rebuild Britain's infrastructure…
We will fund that investment because it will lead to a more productive economy … providing the basis on which our economy and our businesses can thrive … helping to provide over a million good jobs … and opportunities for businesses.
But investment in capital must include investment in human capital … the skilled workers needed to make our economy a success.
So this is the deal Labour will offer to business …
To help pay for a National Education Service … we will ask employers to pay a little more in tax.
We've already started to set out some of this … pledging to raise corporation tax by less than 1.5% to give an Education Maintenance Allowance to college students … and grants to university students … so that every young learner can afford to support themselves as they develop skills and get qualifications.
We waste talent … we impede growth … when talent is priced out … when potential remains untapped.
Business shares in economic success … and it must contribute to it too.
And good businesses deserve a level playing field …
So Labour has also made this commitment to business … that we will clamp down those that dodge their taxes … we can't allow good employers to be undercut by those that don't play by the rules.
There is nothing more unpatriotic than not paying your taxes … it is an act of vandalism … against those waiting for an operation … against the elderly suffering inadequate social care … against young people in over-sized classes
This is a message to the tax dodgers: a Labour government will come for you … no more turning a blind eye … no more shabby deals.
And just like on tax … we can't have secret deals on Brexit … company by company …
All our businesses need the kind of assurances that Nissan has had … about the shape of the government's Brexit plans … to make the right investment decisions.
Thursday's High Court decision underlines the necessity … that the Prime Minister brings the government's negotiating terms for Brexit to parliament without delay …
Labour accepts and respects the decision of the British people … to leave the European Union … But there must be transparency and accountability … to parliament about the government's plans…
I suspect the government opposes democratic scrutiny of its plans because, frankly … there aren't any plans … beyond the hollow rhetoric of "Brexit means Brexit".
Labour will be making the case for a Brexit that works for Britain … putting jobs, living standards and the economy first …
We will be pressing for full access to the European single market as part of the Brexit negotiations …
We won't offer false promises on immigration targets or sow divisions by scapegoating migrants …
Instead we will tackle the real issues of immigration … support fair rules on migration …and take decisive action to end the undercutting of workers' pay and conditions … through the exploitation of migrant labour.
Above all, we know many of the problems we face are shared … across the European Union … and in negotiating a new relationship with the EU … we can make common cause with the growing numbers across the EU … who are convinced another Europe is possible …
Because Labour is about giving power to people … we want a more democratic society.
We have always stood for the redistribution of wealth … AND power.
So as well as investment … we want empowerment.
So that we devolve power to
… empower councils to borrow to build the council housing their communities need … and to be entrepreneurial when the market fails them
… empower communities to setup their energy companies and take back control from the Big Six
… empower workers to have first refusal to take their employer into co-operative ownership
There is no point in taking back control from Brussels … if we leave it in the hands of the unaccountable boardrooms that dominate Britain.
We want to give people control … in their community … in their workplace … through their local council … and through regional decisions over investment.
***
This government has no answers to the problems facing Britain …
Their reheated Thatcherism … combined with their shambolic, secretive Brexit bumbling … risks deepening all the problems we have:
… inequality … neglect of communities … and prejudice.
And prejudice is a real risk … because when governments fail … they don't admit it … they find scapegoats.
It might be migrants or refugees … it might be the unemployed or disabled people …
In the vacuum left by failed politics … prejudice and hate fester …
Labour can't let that happen … we cannot pander or give an inch to the nasty divisive rhetoric of the Tories … We can't because we have principles … and we can't because we know the consequences … like the ugly rise in racist incidents and disability hate crime.
So let us unite against hate … and work together to turn public support for our policies … into votes for Labour …  and put into practice … our common sense case for a fairer, better  Britain.
More from LabourList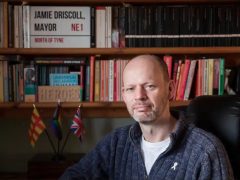 News
The Labour mayor for the North of Tyne region Jamie Driscoll has been blocked by the party from…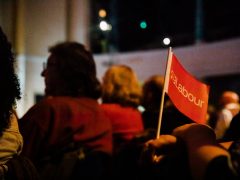 News
Labour Party membership has fallen by almost 170,000 since 2018 and by approximately 19,000 since last summer, despite…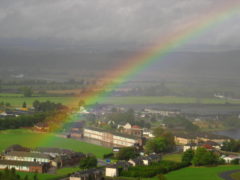 Daily email
Good morning. Parliamentary recess continues, so we thought we'd turn our attention to an under-reported story following the…