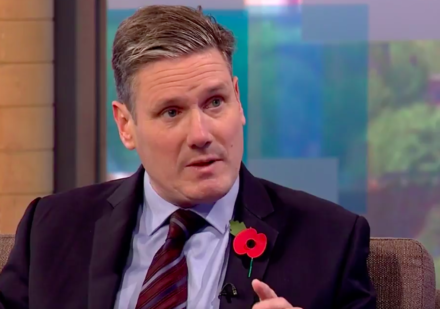 This is the letter that Sir Keir Starmer has sent to David Davis today over the resignation of Sir Ivan Rogers, Britain's ambassador to the EU.
Dear David,
Following the resignation of Sir Ivan Rogers as the UK's Permanent Representative to the EU, I am writing to seek further clarity about the Government's preparedness for the Brexit negotiations.
As you know, Sir Ivan is held in the highest regard by HM Opposition as well as across Westminster and Brussels. He has served successive Prime Ministers with distinction and his departure at this crucial time in the Brexit process is likely to be a significant loss for the UK.
The nature of Sir Ivan's departure also raises a number of serious questions about the Government's approach to Brexit negotiations.
For several months, Labour has been pressing the Government to set out the basic terms of its negotiating stance for Brexit. Following a vote on an Opposition motion in the House of Commons on 7 December, the Government committed to publish a plan outlining the basic terms of Brexit before Article 50 is invoked.
The Prime Minister has very clearly set a deadline of 31 March for the triggering of Article 50. But given that there is an EU Council meeting on 8-10 March and the EU 60th Celebration of the Treaty of Rome is scheduled for 25 March, it seems increasingly likely that Article 50 will in fact be triggered at some point in the next 10 to 11 weeks.
Since the UK Permanent Representation to the EU (UKRep) should be central to the negotiations that will then ensue, it is frankly astonishing that in his resignation letter to his colleagues, Sir Ivan says:
"We do not yet know what the government will set as negotiating objectives for the UK's relationship with the EU after exit".
Time is running out. It is now vital that the Government demonstrates not only that it has a plan but also that it has a clear timetable for publication. As Labour has repeatedly made clear that timetable must allow for proper scrutiny of the plan by the House of Commons, the Devolved Administrations and relevant Select Committees.
Sir Ivan's resignation also raises questions about the readiness of the UK's Brexit negotiating team.
This is the most complex and difficult set of negotiations this country has faced since WWII and, after more than six months has elapsed since the referendum, it is deeply concerning that Sir Ivan writes:
"… the structure of the UK's negotiating team and the allocation of roles and responsibilities to support that team needs rapid resolution. The working methods which enable the team in London and Brussels to function seamlessly need also to be strengthened".
Please outline what urgent steps the Government is taking to address this very pointed and serious concern.
Similarly, can you clarify what role UKRep will have in the Brexit negotiations? It is clear from Sir Ivan's resignation that there are profound concerns that all parts of UKRep may not be "centrally involved in the negotiations" and that this could lead to the loss of vital expertise and diplomatic heft precisely at a time when this is most needed.
It is – as I know you agree – a crucial part of our system of government that our civil service remains independent of the Executive and able to give detailed, objective advice to Ministers. There are obvious concerns – underlined by Sir Ivan's insistence that UKRep staff continue to "challenge ill-founded arguments and muddled thinking and…never be afraid to speak the truth to those in power" – that this principle is being undermined by the Government's current approach to Brexit negotiations.
It is crucial that the Government remain open, transparent and accountable throughout this process and I hope you will provide reassurance that this will be the case.
Finally, I would be grateful if you could clarify the likely timetable and appointment process for a new UK Permanent Representative to the EU. This is no time for the UK to be lacking authority, seniority and experience in such a vital position.
I believe the best way to clarify these points and wider concerns many people have about this matter would be to make a statement to the House of Commons when Parliament returns on Monday. This would underline a willingness to hear and answer questions put by the House on this and the wider Brexit process. I trust that you will therefore make a statement in Parliament on Monday.
Yours sincerely,
Keir Starmer QC MP
Shadow Secretary of State for Exiting the EU
MP for Holborn & St Pancras
Value our free and unique service?
LabourList has more readers than ever before - but we need your support. Our dedicated coverage of Labour's policies and personalities, internal debates, selections and elections relies on donations from our readers.
If you can support LabourList's unique and free service then please click here.