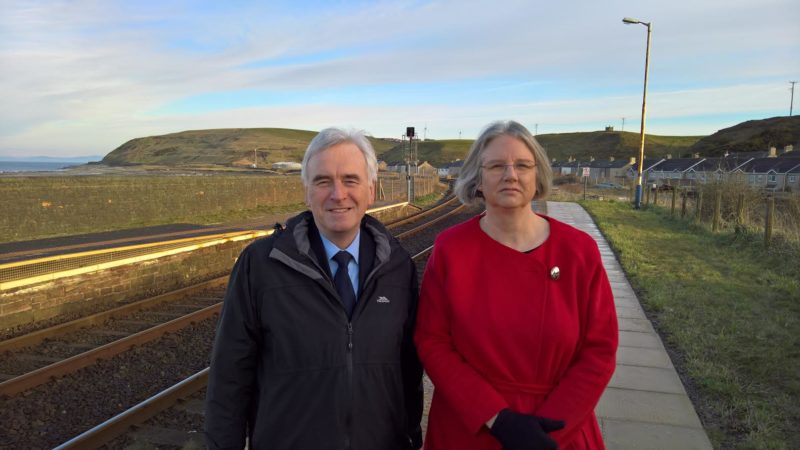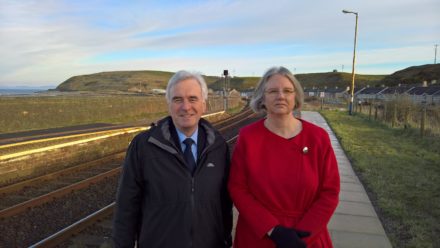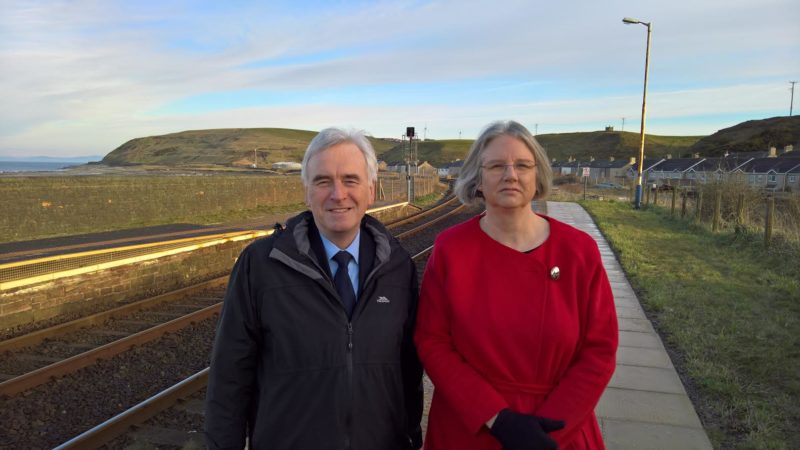 John McDonnell has promised a Labour government would invest in Cumbria's struggling infrastructure as part of a planned £500bn spending pledge across Britain.
The shadow chancellor highlighted the short-changing of the north when he visited the Copeland by-election campaign yesterday.
McDonnell said he had seen at first "how bad the local rail service is" when he met Gillian Troughton, Labour's candidate in the West Cumbria seat, above.
He is the latest in a series of big-name visitors to Copeland with former cabinet minister Caroline Flint and deputy leader Tom Watson to have joined activists on the doorstep in recent days.
Labour would tackle years of neglect in the infrastructure of the North, McDonnell said.
"The north is not getting the investment it deserves. I've seen first-hand here today how bad the local rail service is," he said.
"The trains don't run very often and are almost non-existent on a Sunday. When a train does arrive it is old and out of date. It's just not fair and the people of Copeland deserve better. Labour is committed to increasing infrastructure investment and for that investment to be shared more fairly around the country."
Troughton, an ambulance driver and former junior doctor, was selected last month after an intense battle between her and a candidate favoured by aides to Jeremy Corbyn.
The county councillor backed McDonnell's to spend more on northern England and highlighted the two bids for transport funding by the Cumbria local enterprise partnership (LEP) which were rejected by Tory ministers last year.
"I know from my own experience that our roads and rail service need significant investment to bring them up to scratch. People are also telling me on the doorstep when I talk to them that it's a major problem. If we want to see economic growth then we need a road and rail network that can support it."
Troughton is seeking to defend the 2,564 majority achieved by Jamie Reed in the general election. Reed announced his intention to resign in the run-up to Christmas and is leaving parliament to take up a job at the Sellafield nuclear plant.
McDonnell's spending pledge was at the heart of his argument over the autumn but prompted dismay among some on the centre-left who pointed to research showing Labour lost the last two elections in part because of public fears over the level of borrowing.
More from LabourList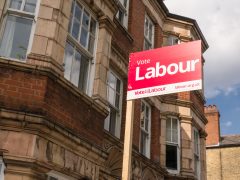 Comment
A decade ago, the writer Julian Baggini used demographic data to pinpoint the heart of England, before moving…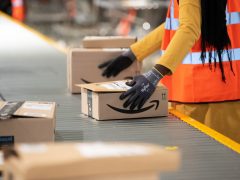 Comment
Our brilliant NHS and GP staff, scientists, lab technicians, nurses and volunteers are giving the whole country some…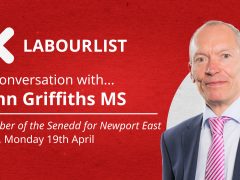 Video
Join us at 5pm on Monday, April 19th, for our latest 'In conversation with…' online event with LabourList…