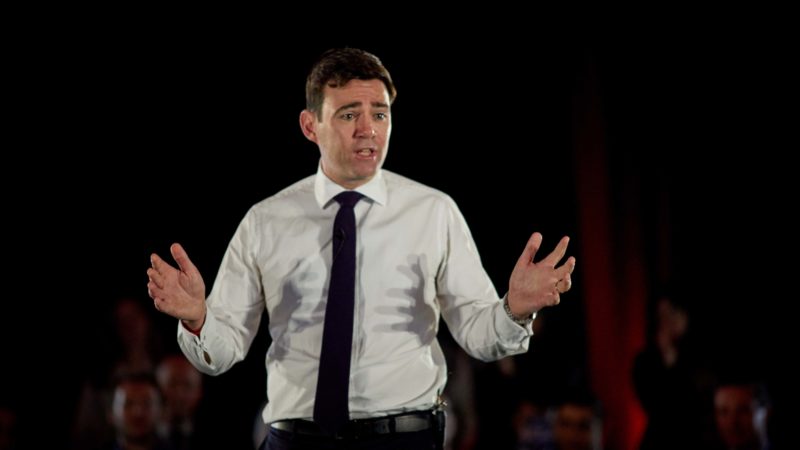 "The first job is to excite people. It is a new beginning for Greater Manchester – we're on the verge of a great era here."
Andy Burnham was looking to the future when he met LabourList after speaking at a think tank event on healthcare integration in Greater Manchester. The former health secretary is as passionate and knowledgeable about these reforms as you would expect and the mood of people around him – as well as from outside the labour movement – is positive.
Of course, a victory for Burnham on May 4 is expected, and whilst he is clear he is not complacent, the focus seems to be how to transform his bold policy pledges into results.
"I want to build that sense of excitement, build that sense of involvement – devolution is there to be shaped by everybody, not just the top-down politics in the old way," he says.
On specific policies, Burnham said he wants to begin with "getting to grips with re-regulating the busses, setting the new direction for the NHS as a fully integrated service… to refocus housing policy here to more affordable housing."
"I've a job to set out the new agenda, particularly build a mood of excitement" around all the new possibilities, and potential, for Manchester as a result of their new devolution deal.
I asked him why he thinks the Tories introduced the new wave of metro mayors, likely as they are to benefit Labour politicians with victories expected in major urban areas, given the way the map has been split around city regions.
"I think, George Osborne, saw it as his one nation thing. And to be fair, and I am fair to him actually, he did talk about the North, more than any previous Tory chancellor had ever done."
"I think that was part of his long term bid, to think of himself as a successor to Cameron."
"I think he'd been struck by mayors around the world, and I think he probably thought that the Tories could win the West Midlands, possibly Yorkshire depending on how it was carved up, and potentially Bristol."
"So I think he probably thought that in time" it could work out well for them, although "maybe it creates a thorn in their side now, hopefully," he adds.
"I certainly see devolution as a journey, like it was in Scotland. Where we show we can make a success of what we've been given, then build a case to ask for more."
"This deal that we've got now – I don't think that will be the end."
I ask him whether he'd like to see greater controls over taxation in the Greater Manchester city region, like they have in Scotland where they can differ on various aspects of fiscal policy.
"Devolution in England is a different beast to devolution to a nation… so I personally go first to the big policy areas that are not covered in our devolution deal: DWP [pensions] policy, schools policy. If I'm thinking of a devolution journey I'd go first to those two things."
"More borrowing freedom, not necessarily tax raising freedom, is something we would seek, but I wouldn't rule out that you'd get to that [tax-raising powers]." He suggests perhaps vehicle excise duty or hotel taxes in the city centre could be a fiscal area that the region could benefit from greater control.
"I'm not in anyway shape or form proposing these things, they are considerations for five, ten years down the track – they come after the other things – but I think the growing debate about Manchester's fiscal situation is appropriate."
There certainly isn't a limit for Burnham's ambition for the city region, but there's a question of how this fits into a country where Labour is lagging behind in the polls.
I ask him, a former cabinet minister who has run for the leadership twice before serving in the Corbyn shadow cabinet, how far he feels Labour is from government in light of this.
"The polls would say we're some distance, wouldn't they? That's got to be a concern for anybody, obviously, [no matter] where they see themselves in the party and who they align themselves with in the party."
"If I'd have been leader, if I'd won the 2015 leadership election, I would have expected people to hold me to account, on our levels of readiness for government."
"We need a Labour government, as soon as we possibly can [get one]. I'm not saying this to be read in anyway… if you look at the history of this parliament, things have not settled down until quite recently, there's been two leadership elections and therefor a period of turbulence until late autumn last year. So finally there's a period of relative stability now, which is right in my view, but in return for that stability, the party leadership needs to demonstrate progress in the polls."
The question is of course, can the metro mayoralties – and Labour successes in these city regions – be used to show people what a Labour government could look like today?
"Completely, I do. I don't take it for granted by the way – I don't take a single vote as being in the bag, we are working hard in this campaign."
"I've long criticised the party for being too London-centric, people have taken the mickey out of me for maybe going on about it too much, I don't care because it has been too London-centric. We've got to do things differently, to come back in a different way, particularly in our strongest areas."
"I'm unashamed in saying that I want to create Northern Labour, we want Labour to speak with a much stronger Northern voice, deal with the issues that matter to people here. For instance, be more focussed on affordable homes to rent, not owner occupation; focussed on technical education rather than the university route; be more focussed on the manufacturing industry not just the service industry."
Scottish devolution was not always matched with prominent national Labour figures participating in it, whereas Burnham – who is undoubtedly one of the more known Labour voices – going to be a probably regional leader, seems to be going for a different approach. Many suggested that it was a mistake for Scottish Labour to not persuade more heavyweight figures from Westminster to Holyrood. Burnham agrees with this theory.
"When Donald Dewar died, no one left Westminster to pick up the torch, and consequently Labour left a great hole. We looked as though we didn't care about our own creation."
"Sadiq has left Westminster and really boosted Labour in London, I hope to do the same here."
Greater Manchester is not so clearly Labour as some might think, and whilst the city of Manchester and some other component authorities are Labour dominated, there's also some where views are more mixed – like Trafford and Stockport. Indeed, the Tory Trafford council leader is Burnham's opponent. Could mayoral success here help us stretch out across the broader region?
"You could look at it through political party affiliations, even going back 20 years ago Manchester was more mixed politically, but rather than looking at it through that affiliation – look at it through the referendum."
"Six hundred thousand remain, 700,000 leave – there's a difference of political perspective there, on life, and where life is taking them and is it being fair to them. And I think in Greater Manchester you've some areas that have noticeably moved forwards in the last 20 years, but some areas that feel they've not."
"It's that social divide we've got to have a close look at, and make sure that the communities that voted leave, who feel that they are not progressing, [they] need to now feel the benefit of devolution – and move forward with devolution."
More from LabourList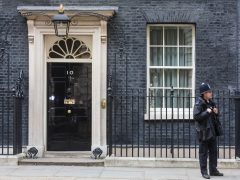 Comment
Low-paid cleaners in East London came together in 2001 with their churches, mosques and community institutions and began…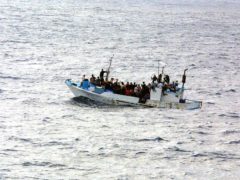 News
Civil service union leader Mark Serwotka has said union members are "sick of clearing up the mess" caused…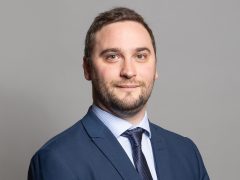 News
Former Conservative MP Christian Wakeford, who defected from the Tory Party earlier this year, has joined Labour's frontbench…