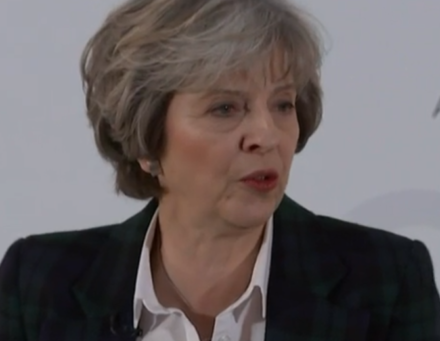 Figures from across the labour movement, including Jeremy Corbyn and trade union leaders, have given their take on the publication of the Tory manifesto, which axed free school lunches, downgraded pension incomes and cleared the way for tax rises by dumping David Cameron's "tax lock".
Theresa May also said she would run a budget deficit for another eight years – meaning the revised 2025 target to balance the books is now a decade later than that first set out by George Osborne.
Jeremy Corbyn, Labour leader: "Millions of pensioners are betrayed by Theresa May's manifesto. She is hitting older people with a classic Nasty Party triple whammy:  Scrapping the triple lock on pensions, removing the winter fuel allowance and forcing those who need social care to pay for it with their homes.
"The Conservatives' record is one of broken promises and failure. They promised to raise living standards, but working families are set to be on average over £1,400 a year worse off. They promised to improve all standards of NHS care, but A&Es are in crisis. They promised to protect school spending, but schools are facing crippling cuts and class sizes are soaring. You can't trust a word Theresa May says.
"Despite Theresa May's warm words, she leads a party that has created a rigged economy that only works for the super-rich. The Conservatives have not changed. While the Labour Party has promised to protect low and middle earners from any tax rises, all Theresa May has promised is a cut to Corporation Tax for their big business friends. Unlike the Conservatives, Labour is standing up for the many, not the few."
John McDonnell, shadow chancellor: "The Tories' numbers don't add up. They have published an 84 page blank cheque that provides a tax giveaway guarantee for big business, while offering a roll of the dice for working families with no commitments to rule out rises in income tax and National Insurance. 
"Now we can see why Theresa May is running scared of debating Jeremy Corbyn, when she publishes a document like this that contains more questions than answers. It also further shows how her party has managed to add £700bn to the national debt since 2010, as they won't be straight with the British people on how much their plans for a wealthy few truly cost. 
"One of the few revenue raisers they identified was withdrawing free school meals from children and withdrawing support for pensioners struggling to heat their homes – this just sums up the Tory approach.
"This is the equivalent of the Prime Minister going to the shops with the nation's cheque book and not checking the price of the goods as she puts them in the trolley."
Andrew Gwynne, Labour's national election co-ordinator:"Behind the rhetoric, this is a manifesto that offers the majority of working people and pensioners insecurity with a huge question mark over their living standards.
"The tax guarantee they previously made is gone. While they'll guarantee corporation tax falls to 17p they're dropping their promise not to raise income tax and national insurance contributions, raising the spectre of tax rises on lower and middle incomes. No wonder they've dropped their previous promise to raising living standards and the phrase "living standards" doesn't appear at all.
"This manifesto is proof the Tories are ditching any claim to stand up for older people. Pensioners stand to lose the pension guarantee in the next parliament, the winter fuel allowance is being hacked away at and their social care plans could see those who need care forced to pay for it with their homes.
"For our public services – slashed back by the Tories – there's nothing but insecurity in these plans. They've failed to match Labour's commitment on education and there's no detail other than a vague promise on giving the NHS funding – a promise they made in the past and broke."
James Kelly, Scottish Labour general election campaign manager: "There's a gaping hole in the Tory manifesto – an apology for the mess they have made of our country.
"The Tories' ideological obsession with a hard Brexit allowed the SNP to kick-start its campaign to divide Scotland again with a second independence referendum.
"This Tory manifesto means every Conservative candidate in Scotland is standing on a platform endorsing the abhorrent rape clause, the bedroom tax and swingeing cuts to social security payments."
Frances O'Grady, TUC general secretary: "The prime minister has said repeatedly that she wants to protect and enhance workers' rights after Brexit. But today her manifesto reveals that Parliament will be able to water down hard-won workers' rights that came from EU law.
"She's also done nothing to help hard-pressed public servants who're facing more years of real-terms pay cuts.
"And, at a time when the UK is facing huge challenges, she's picking an unnecessary fight with trade unions, by undermining the basic right to strike. That will make it harder for ordinary transport workers to protect their jobs, pay and working conditions."
Len McCluskey, general secretary of Unite: "Over the past seven years the Tories have systematically attacked workers' rights. They have starved our NHS of the funds it needs and presided over a collapse in living standards. They have failed in their duty to this country to get their friends in big business to pay their taxes and with Theresa May dead set on pursuing a hard Brexit, workers' jobs and communities will suffer further.
"Theresa May and her Tories should be apologising for the crisis in our public services and the income misery they caused for millions, not threatening the country with more of the same – more cuts, more people struggling, our public services crumbling further into ruin.
"The truth is that life for working people is always tougher under the Tories – and will get worse."
Tim Roache, GMB general secretary: "It's all well and good talking up a great meritocracy, but in reality the Conservatives are proposing a great swindle.
"Many families already feeling the pinch face shouldering the burden for the social care they desperately need. I fail to see how scrapping hot school meals for hungry kids will help them get on in life.
"Theresa May has promised the biggest expansion of workers' rights by any Conservative government but there's precious little here to tackle insecure work or make the richest pay their fair share.
"I'm afraid this prime minister is attempting to lead us down the garden path.
"Theresa May's social care shake up won't encourage greater stability in the sector, raise standards, or improve conditions for care workers so they can provide the best support It will leave working people shouldering the cost of care.
"These means testing plans would push up the cost of care overall, and do nothing to address the more than £2 billion funding gap expected by 2020."
Value our free and unique service?
LabourList has more readers than ever before - but we need your support. Our dedicated coverage of Labour's policies and personalities, internal debates, selections and elections relies on donations from our readers.
If you can support LabourList's unique and free service then please click here.