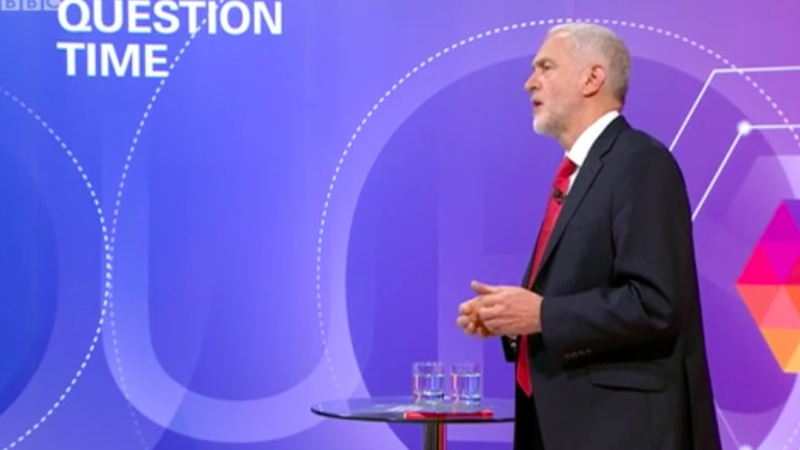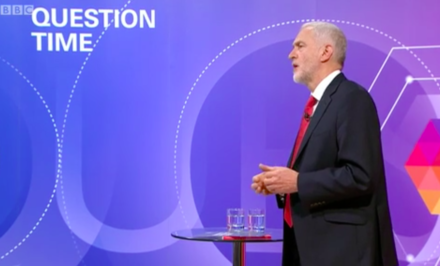 "Why do you care less about children than Labour?"
Theresa May couldn't hide tonight – much as she has tried to do throughout this campaign.
That was one education worker's question to the prime minister, and it left her floundering. Platitudes about diversity of education, and choices for parents could not hide the fact that her government's record on education is shocking – and it is only going to get worse in our schools should the Tories get another five years in power.
Tonight's edition of special electoral programs saw first Theresa May, and then Jeremy Corbyn put to the test under the microscopic lens of David Dimbleby and a studio audience, Question Time style. Whilst not a head to head debate, as Theresa's too weak and wobbly for that, it was an opportunity to see how they would each fare under the focus of intense questioning both from Dimbleby and ordinary voters.
The audience were certainly fired up, and politically aware.
May was attacked for her politics of austerity, and particularly around mental health care and disability assessments. Her disastrous dementia tax u-turn also came in for a hammering, and there was a distressing exchange between May and a young woman who felt she had been treated appallingly in an assessment. May did not handle this deftly, and struggled to get away from the fact that whilst she has said nice words in stage managed events on mental health and helping people, her speeches are detached from the reality on the ground.
Whilst the lady wasn't for turning up earlier in the week, she might have left wishing she hadn't today – and one nurse's question on public sector pay freezes left the prime minister only with her soundbite about Corbyn's "magic money trees". Yawn.
.@Theresa_May tells a nurse who says she earns the same as they did in 2009 that sadly there 'isn't a magic money tree' #bbcqt pic.twitter.com/yuUpFtTM8f

— BBC Question Time (@bbcquestiontime) June 2, 2017
One person on the Labour front bench that seemed to be mentioned quite a lot by May was Diane Abbott.
It is interesting that Abbott is singled out for attack particularly by the Tories, and there is nothing spontaneous about this. Indeed, whenever we, on a pro-Labour site, publish articles by or about on the shadow home secretary, she attracts some vitriolic comments. Whilst of course she erred on the radio recently, was that so awful that this alone would make her the main focus for Tory attacks?
Abbott herself tweeted after May's mentions of her:
Desperate stuff by May. Claims I want to wipe DNA database clean. Never said that. Curious that she is singling me out for attack #BBCQT

— Diane Abbott (@HackneyAbbott) June 2, 2017
Nuclear weapons and Trident were the trickiest topic for the Labour leader, and he came in for repeated questioning on whether he would ever consider using the bomb. This has always been a thorny topic for Corbyn, his views are somewhat detached from official party policy, and perhaps also a good chunk of the public. However, he maintained his composure throughout and also to his position. There's no u-turning under the weight of public scrutiny here.
Corbyn gave an impassioned defence of the need to invest in young people and public services, as an evangelist for redistribution there are few better. And the combative arena of public scrutiny in a debate like this is something he does find a lot easier than May. Some posit that the two leadership contests have helped him in this, but whatever the reason, he is simply more personable and relaxed under scrutiny than the prime minister.
.@jeremycorbyn says that poverty and lack of education hurts everyone in society pic.twitter.com/pxvouLQYBa

— BBC Question Time (@bbcquestiontime) June 2, 2017
If this election is fought on the turf of Brexit, then I fear that the Tories may come off the better for it. But if the focus is austerity, and the government's callous disregard for functional public services and social justice – then these narrowing polls just might be an indicator that Corbyn will be in number 10 next week.
More from LabourList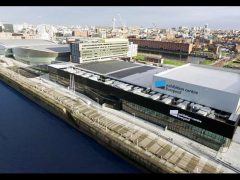 Uncategorized
Help us help you at conference Labour conference is just around the corner, and the LabourList team are…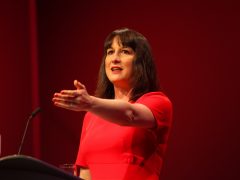 Comment
On August 25th, Colne Valley Constituency Labour Party agreed to send the following motion forward to national conference:…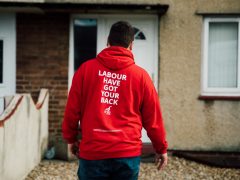 Comment
At a time when technology is transforming every aspect of our lives, politics turns out to be no…