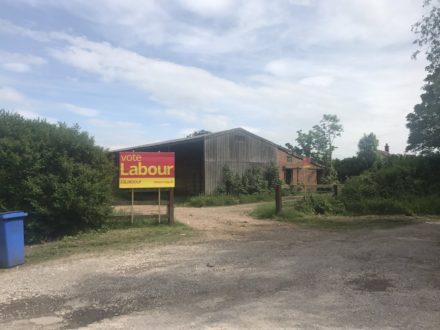 In the aftermath of a general election that produced an odious right-wing coalition of the DUP and the Tories there is a growing feeling that another national vote could be just around the corner.
There is no doubt that last Thursday was a good result for the party – but the vision we presented for Britain did not wash with every demographic – and in a few places we lost seats. What does Labour need to do to improve and where do we need to build up our support to win next time around? Only by looking critically at our results can we hope to build upon them.
Rural Britain
Labour is never going to win majority support from farmers, and nor is it necessary for us to win an election. However, we should look at why we had to battle to hang on in places like Bishop Auckland – a seat we have held since the end of the first world war, barring one odd election when the National Liberals got in.
A claim was made in 1997 that Labour was the party of the countryside. It was a bold claim but one withstood scrutiny 20 years ago. Cumbrian seats like Barrow, Copeland and Workington were – in order – held narrowly, not regained and held narrowly, and this difficulty repeats itself across the countryside.
It might be argued that Barrow is a special case. It is hard to quantify if John Woodcock's bold move to disassociate himself from Corbyn's leadership helped or hindered him. But what is clear is that Labour's offer to Britain is more appealing in Croydon than Copeland. We must ask why.
The Fabians have been working on Labour's countryside problem, with their research due to conclude at the end of the summer, and the party needs to work on this area. There are poor people in the country, and as Cat Smith said to me in this campaign – austerity is felt even more keenly in rural areas. We need to make the party more than just a voice for the cities.
Scotland
We had some phenomenal wins in Scotland – with six new Westminster colleagues to join Edinburgh South's Ian Murray. However, we missed out in East Renfrewshire, where former Better Together campaign chief Blair McDougall was a very strong candidate, as the anti-SNP vote coalesced around the Tory candidate.
There are now multiple seats where Scottish Labour is the second place candidate to the SNP and we will be able to better target resources as a result. It is no coincidence that Rutherglen and Hamilton West was our first gain of the night – the location for Scottish Labour's campaign launch.
In fairness, few predicted the scale of the comeback in Scotland, and whilst various people were predicting some gains north of the border, no one expected so many – or indeed was able to accurately predict where they would happen. Now that we are confirmed as the second place in certain seats, the anti-nationalist vote will know who to vote for so as to stop the SNP and their planned second referendum. The nationalists made gains in election after election as the anti-establishment choice – but after a decade of failures in government, the game is up.
There are five seats in Scotland where the SNP's lead over Labour was less than 400 votes – with the knowledge of where to concentrate our energies, all of these could be taken.
Barnet and Jewish Britain
There is one London borough that bucked the trend towards Labour across the capital. Barnet, a council area that is the most Jewish in Britain, with 15.5 per cent of the borough defining themselves as Jewish in the 2011 census. It seems hard to not link Labour's failure to gain Hendon, as well as Finchley and Golders Green – both in the borough and held under the last Labour government – to instances of anti-Semitism in the party.
In a poll before the general election, just 13 per cent of British Jews said they were planning on voting Labour. First and foremost, if an ethnic minority does not feel they can trust our party – which is built on the idea of empowering people – then we are failing. The fact that it hurt us in these key seats matters, but less than this – it undermines our stance as an anti-racist party.
The link between these Barnet seats and East Renfrewshire, where Blair McDougall lost out, is also clear – East Renfrewshire has around half of Scotland's Jewish population.
The suggestion that British Jews do not trust Labour is deeply troubling. We must change this.
Why was our internal data so off?
Talk to anyone in a seat regarded as marginal before the election campaign begun and they will tell you they did not see the result coming. Speaking to organisers in seats across the country – in the Wirral, inner London and the south east and few saw coming what turned out to be phenomenal majorities.
The conspiracy theory that somehow Labour HQ wanted to keep the successes as small as possible seems just that – lacking in evidence. It is worth looking, however, at why voter ID forms and our records did not seem to predict vote shares more accurately. For instance, were people to have known that Tooting, Ealing Central and Acton, Ilford North and Hove and Portslade were actually on track for very strong majorities, then activists could have been diverted to marginals. I went to a lot of these places – and elsewhere – where organisers, candidates and activists were feeling very uncertain – and I didn't believe the only accurate pollsters, YouGov. In fact, were you to have asked me about the exit poll, I would have rubbished it – not because of a lack of information, but as a result of the best information available.
These heavy majorities tell us we don't need to swarm canvassers in certain seats – and then allow us redirect activists to the places we narrowly missed out and those in need of shoring up. A better spread of activists could have a big impact in another general election.
Is the Labour vote soft? 
A good part of Labour's coalition of voters seems a bit soft – and only put the cross in the local candidate's box because they thought Jeremy Corbyn could not become prime minister. Lots of canvassers and candidates – particularly outside of the cities – were urging a vote for the local MP because of their hard work in the area, and the frequency with which the word "independent" featured on Labour campaign leaflets cannot be forgotten. Fast forward a few months and, with a hung parliament, these voters no longer exist. Of course, there are many who went to the polling station because they were enthused by Corbyn's leadership – but we cannot ignore those who felt the opposite.
The question for the party is, what proportion of the vote is soft? A thorough examination of data should give us some idea. We need to look at this support base and harden it if we are to go forwards in the next election.
Value our free and unique service?
LabourList has more readers than ever before - but we need your support. Our dedicated coverage of Labour's policies and personalities, internal debates, selections and elections relies on donations from our readers.
If you can support LabourList's unique and free service then please click here.