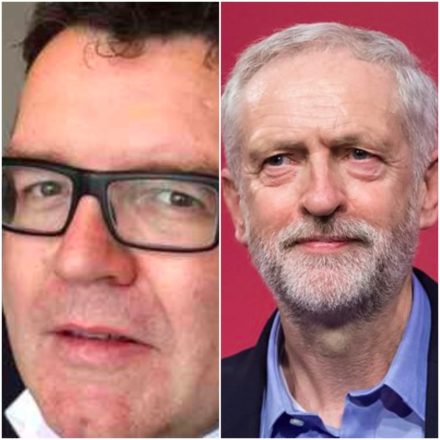 Peace has broken out across Labour – or some of it.
After another election defeat, despite a campaign and result far stronger than many expected, most Corbyn supporters and sceptics are at one in the belief that the party leader will remain in post for several more years.
So it is all the more curious that attention has shifted the role of Tom Watson. Hard left in plot to oust Labour No 2, roared The Times splash on Saturday. The story detailed an activist plan to either replace him with Emily Thornberry or, alternatively, install the shadow foreign secretary as an additional deputy as part of an effort to clip Watson's wings.
Watson's political relations with Jeremy Corbyn have variously been described as cool, downright frosty or worse over the last 18 months – despite a more cordial personal relationship than some might assume – but what's clear is that some on the left of the party now want to try to lever out the deputy leader.
As a strategy for building on the election result this would be something close to disaster. Set aside the fact that Watson is a heavyweight figure in his own right – a key consigliere of Gordon Brown with his own support base in parliament, the grassroots, the unions and across the British regions – and even then it seems both bad tactics and bad strategy.
It is unwise in the short term because Labour has notched up a string of opinion poll leads in recent months and, as Theresa May fastens her walking boots again this summer recess, it is uncertain whether she will even make it to party conference let alone the completion of Brexit. Labour, as Corbyn has frequently told us, remains on an election footing. The old adage that Britons don't vote for divided parties was shattered at the last election – with all three of Britain's main parties fractured ideologically – but they rarely vote for them in sufficient numbers to put them in power. Labour needs to keep its troops together if Corbyn is to march on Downing Street.
And any move to move out Watson would, of course, undermine Corbyn's own aims of transforming the make-up and policies of the Labour Party over the long-term while completing his own turnaround from derided backbencher to father-of-the-nation prime minister.
As such, Corbyn would be highly unlikely to support any plan to oust Watson, because he knows it would damage him, his party and his style of politics. "Vote for me – I'm so tough I even fell out with my own deputy" would not be a good look.
The fact that Labour's top two have disagreed, sometimes publicly, is hardly new in the history of political one-two duos. Leaders often have a deputy who comes from a different tradition of the party – just look at the two most electorally successful politicians of the last two years. Tony Blair and John Prescott could not have been further apart in their backgrounds yet the warmth between them and commitment to work together got them through a decade in power together. And there is a spirit of something similar in the Tories – the Yorkshire grit of Thatcher-era minister William Hague, who later held the title of first secretary of state, was the obvious contrast to the smoothness of old Etonian public relations executive David Cameron.
So the political differences between Watson and Corbyn are not insurmountable. Of course, the hostility of some on the Labour left to Watson is well-known. He memorably described Momentum as "a bit of a rabble" but what his allies point out is that he has also offered some praise for their efforts to engage young people in politics. They say that at the time of his comments to The Guardian in December 2015 he was merely stating the truth about the Momentum membership: that amid the thousands of passionate and mainly young people devoted to Corbynism there are a small number of older apparatchiks who were – or still are – part of the Alliance for Worker's Liberty, a group which is often described as Trotskyite.
As for Thornberry, she is increasingly confident and her good-humoured approach has served her well as she navigated various controversies surround Corbyn, her Islington neighbour, over the last year. She is a good campaigner and doesn't stand on ceremony. It is conceivable she could take on a different party facing role while Labour's failure to promote enough women to prominent positions over the last 30 years must be tackled urgently – but the chances of ousting Watson are close to zero and that's where they should stay. The prospects of changing party rules, to create the post of a second deputy and showcase more of Labour's brilliant women MPs could be hindered by the complexity of getting such a reform through conference.
Yes, some on the grassroots left are angry with the deputy leader, just as some in the centre remain opposed to the leader – but Watson, like Corbyn, is going nowhere.
Value our free and unique service?
LabourList has more readers than ever before - but we need your support. Our dedicated coverage of Labour's policies and personalities, internal debates, selections and elections relies on donations from our readers.
If you can support LabourList's unique and free service then please click here.