Labour MPs appearing on the media have recently experienced a welcome change. Rather than being asked about divisions in the Labour Party, it is splits in the Conservative Party that the media want to talk about.
The narrative now places Labour and the Conservatives in opposite places to where they were before the general election. Back then it was Labour that was divided, with a leader under threat and problems in the polls. Now that is the Tories' problem.
Theresa's May's speech at Conservative Party conference was supposed to kickstart a turnaround in their fortunes. Instead, it was an utter disaster. It is easy to feel sympathy for May. None of the disruptions to her speech – Boris Johnson's manoeuvring, her coughing fit, letters falling off the Conservative's slogan and the prankster's presentation of a P45 – were her fault. But politics can be cruel. Neil Kinnock knows that from his fall on Brighton beach.
Once a politician loses credibility with the public it can be difficult, if not impossible, to rebuild it. When Gordon Brown marched the country to the top of the hill with the prospect of an early election and then backed out of it, the image that had been painstakingly built up over decades was destroyed. Labour MPs allowed him to limp on to general election defeat but Tory MPs have a history of being more ruthless with unpopular leaders.
May's fate seems to be sealed. It is not a matter of if but when she will be removed by Tory MPs. There is an argument amongst the PM's defenders that she should be allowed to see the Brexit negotiations through. The problem is that she does not have the authority and credibility to negotiate with the EU27 successfully. The stories of splits and divisions in the Conservative party will run and run until she is gone. They are already hopelessly divided over Brexit, so how could someone as weakened as May get a Brexit deal through parliament?  
Before May's speech, there was  one word that summed up Conservative party conference: flat. It was as flat as a pancake. Transport secretary Chris Grayling tried to put a positive gloss on the conference by calling it "business-like". This is one of the Conservatives' underlying problems: like many governments before them they have run out of ideas. Momentum in politics is difficult to bottle, but it is clear when one party has it and another does not. The political wind is in Labour's sails while the Tories are simply out of breath.
Only one man has a hope of turning the Tories' fortunes around. Much as many Tories will not like it, that man is Boris Johnson. The strongest alternative, Ruth Davidson, has ruled herself out until at least the Scottish Parliament elections in 2021, and getting into the Westminster parliament is probably impractical for her before the next general election in any case. The other potential candidates are mostly bland and uninspiring. David Davis may be capable of managing the further decline of the Tories but he does not seem the type to bring about a Tory renaissance.
In contrast, whatever you say about him, Johnson is not bland. He is someone who could get the electorate's attention and woo them back to the Tories. After all, he has a track record of electoral success, having won the London mayoralty twice for the Tories. The first time his candidacy was perceived as a joke, but he got the last laugh. Indeed, he ended up with the third-largest direct personal mandate in Europe, after the presidents of France and Portugal. He may not have made a great job of it, but that does not seem to have tarnished his brand.
And then there was the EU referendum during which it seemed unlikely that the deceitful Leave campaign could have won without his leadership. Johnson simply has the ability to connect with the public like no other politician in the land. Amber Rudd, once seen as a potential Conservative party leader, has seemingly recognised this by apparently throwing her lot in with Johnson.
Of course, the PM spot is already occupied and May will not go easily. It will not be as simple as Johnson just slipping into his spandex and flying to the rescue of the Conservative Party. And he knows that he who wields the knife never inherits the crowd. So he is walking a tightrope, on the one hand playing to his Brexit base and on the other avoiding committing an obvious sacking offence. A case in point was when, in her Florence speech, May said that there should be a transitional deal with the EU of "around two years". Johnson then came out a few days later to say that the Brexit transition must last "not a second more" than two years. He avoided committing a sackable offence but slipped a cigarette paper between May's and his position.
The prospect of Johnson facing off against Jeremy Corbyn across the despatch box might humour or worry Labour. It would certainly make for a contrast. On the one hand you would have the eccentric but establishment Johnson, schooled at Eton and Oxford. On the other hand you would have the decidedly anti-establishment Corbyn. The old refrain from voters that "they're all the same" might be heard less often. Labour would face a quandary though of whether to attack Johnson as a bumbling buffoon or as a hard-right Brexiteer. We would probably opt for a combination of the two.
Much as Johnson may be the person who could save the Conservative Party this does not mean he will do so. He has shown himself to be an erratic unreliable offensive liar. He is also hated by sections of the Conservative Party. Indeed Michael Heseltine recently called on him to be sent to Mongolia.
Johnson could divide the Tories like no other Tory leader since Sir John Major. There is also the risk that while a plurality of the electorate may be happy to see him as London mayor or even foreign secretary, they would see him in No 10 as a step too far. So here is the Conservative dilemma: they can take a gamble on Johnson to save the Conservative Party but he could instead destroy it. The choice is theirs. Desperate times call for desperate measures.
Omar Salem is a Labour Party member in Hackney South & Shoreditch.
More from LabourList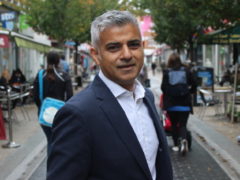 Comment
Below is the speech delivered by Sadiq Khan at the state of London debate. Thank you, James. It's…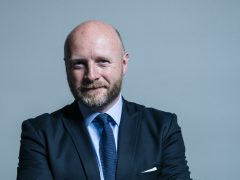 Comment
It is now time to bring Labour's security message into focus. As Keir Starmer signalled at the weekend,…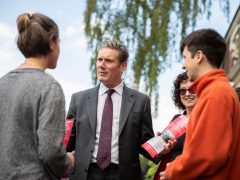 News
Keir Starmer has said Labour has "put to one side" the 2019 general election manifesto and declared that…