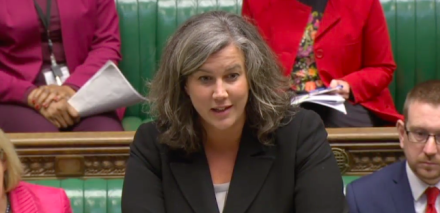 I have been a Labour Party member for most of my adult life and there is one thing I know for sure: this party has never shirked away from the most important challenges facing our country. On the contrary, we are the ones who drive the national conversation forward. Our party leads, other parties follow.
Yet this weekend, when Labour Party delegates to the National Policy Forum (NPF) convene in Leeds, they will effectively talk about Brexit for just two hours and then put it back in the 'too difficult' box. This is because, as things stand, the NPF is not tasked with looking at Brexit. It is organised into eight policy commissions, each of which is running a public consultation on a key issue in the lead-up to party conference – but none of the commissions are inviting submissions on the biggest issue we face as a country. That's just not right.
The International Policy Commission, the only commission that even makes a fleeting reference to the fact that we are due to leave the EU next year, has focussed its 2018 consultation on the Sustainable Development Goals. These are enormously important but so too is the viability and competitiveness of British industry, the future arrangements at the Northern Ireland border and the ability of the next generation to pursue opportunities beyond our shores.
Poverty eradication in the poorest countries of the world is an issue that all Labour members care about but so too are the jobs of thousands upon thousands of British citizens who work in our car industry, in chemicals and pharmaceuticals, in food and drink and retail – all of which, as the recent leaked Government analysis shows, are at the greatest risk with Theresa May's extreme Brexit. We can't pretend this isn't happening – we need to work out what we are going to do.
That's why Open Britain and the Labour Campaign for the Single Market have been urging our supporters to write to the party directly and let their views be known. Since last Friday, over 17,000 people have emailed to demand the party establishes a dedicated Brexit policy commission.
Brexit is an issue that simply cannot be ducked. Now is the time for Labour to step forward and present a different vision. The days of brushing this under the carpet must come to an end.
At conference last year, there was a concerted effort, orchestrated by some in the party, to stop Brexit being chosen as a priority issue for discussion and debate. This meant that whilst there were a couple of superficial sessions on it in the conference hall, there was no vote on a motion that would have been based on the ideas submitted by constituency parties and affiliated organisations from across the Labour movement. The views of thousands of party members – on the single market, freedom of movement, Northern Ireland – were effectively junked.
The current leadership of our party have historically been in the vanguard of campaigning for a party that is led by the grassroots, where ordinary Labour members up and down the country are the ones who influence the party's policy direction. That's why it's astonishing to most members and supporters that there isn't a proper process for debating the most pressing issue facing the country: Brexit.
When the NPF meets in Leeds this weekend, the Labour leadership must listen to the thousands of members who have spoken out this week and set up a dedicated Brexit commission so that we can discuss this vital issue openly, honestly and transparently.
Just like we've led on every other major issue, we can lead on Brexit and chart a different, progressive path forwards. But to do that, we cannot be afraid to have difficult conversations.
Heidi Alexander is the Labour MP for Lewisham East, co-Chair of the Labour Campaign for the Single Market and a leading supporter of Open Britain.
Value our free and unique service?
LabourList has more readers than ever before - but we need your support. Our dedicated coverage of Labour's policies and personalities, internal debates, selections and elections relies on donations from our readers.
If you can support LabourList's unique and free service then please click here.