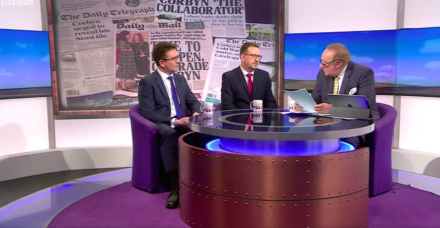 Today Andrew Neil used Tory MP Steve Baker's spot on the BBC's Daily Politics to slam the claims of Conservative MPs that Jeremy Corbyn "sold British secrets" and "betrayed his country".
Following the Sun's "Commie Corbyn" story, which claimed the Labour leader met with a communist spy in the 1980s and suggested he briefed them on British politics and matters of state security, defence secretary Gavin Williamson said Corbyn "cannot be trusted" and accused him of "betrayal of this country".
Neil repeatedly asked Steve Baker, "do you think he has betrayed his country?". Steve Baker repeatedly refused to answer the question.
Tory vice-chair Ben Bradley was forced to delete his tweet stating "Corbyn sold British secrets to communist spies" after the leader of the opposition threatened legal action. On Twitter security minister Ben Wallace compared Corbyn to Soviet spy Kim Philby.
"Your security minister has compared Mr Corbyn to Kim Philby. Kim Philby was a traitor – at the time if he'd been found guilty he would have been hanged! That's an outrageous smear to say of the leader of the opposition," said Neil.
He concluded: "The real scandal, Mr Baker, isn't what Mr Corbyn has supposedly done or not done. It's the outright lies and disinformation that your fellow Tories are spreading."
"Has he betrayed his country?" asks @afneil after claim from defence secretary about the Labour leader

"Jeremy Corbyn, I think, is a grave danger to this country because of the ideas in which he believes and what that would mean…" @SteveBakerHW

#bbcdppic.twitter.com/Foay2XphNZ

— BBC Daily Politics and Sunday Politics (@daily_politics) February 21, 2018
More from LabourList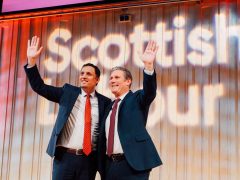 Daily email
Rutherglen: Will Labour win – and would it really signal Scottish revival? Starmer is hitting the campaign trail…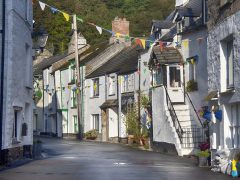 Comment
Labour has promised a 'Take Back Control Bill' in the first King's Speech. Aimed at England, it must…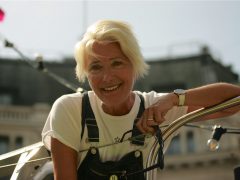 News
Almost 100 climate activists, experts and campaigners from around the world have written to Labour leader Keir Starmer,…