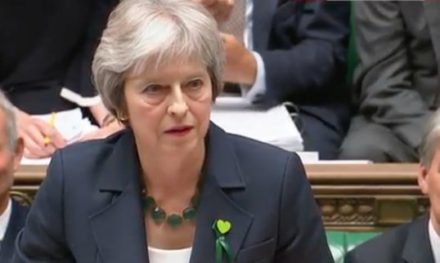 Sign up to LabourList's morning email for everything Labour, every weekday morning.
Will enough Tory MPs vote against the customs bill for it not to pass, throwing the government into yet more chaos? That's the question everyone in Westminster is asking this morning as the key piece of Brexit legislation returns to the Commons for its remaining stages before going to the Lords.
Over the past few months, pressure has been building within the Labour Party as the call for a 'people's vote' on the terms of Brexit has spread from the Progress wing of the party (with its NEC candidates' LabourSay.EU campaign) to the Corbynite soft left (in the form of Open Labour) and now to Momentum (split between proper Lexiteers, pro-EU Alliance for Workers' Liberty-type Trotskyists and Corbynite loyalists who consistently follow the party line, Keir Starmer-prompted shifts and all). On Brexit, Jeremy Corbyn has been pushed and pulled from every corner. But the Labour leader is not in government, and Theresa May unfortunately is.
It is now the Prime Minister coming under intense pressure from every side. The walls are closing in. The ranks of Jacob Rees-Mogg's European Research Group are swelling day by day as junior ministers no one has heard of step down and join the Brexiteer mission to destroy the PM's 'facilitated customs arrangement' plan. (Robert Courts – the guy who took over David Cameron's old seat – was the latest to quit last night.) Led by recently resigned Steve Baker, their whipping operation is said to be strong, and it was bolstered over the weekend when Tory MPs returned to unhappy constituents and furious Conservative associations.
Meanwhile, Justine Greening has called for another referendum and other senior Remainer Tories are thought to soon follow suit. As the former Education Secretary writes in The Times today, May's Chequers proposal is "the worst of both worlds". It neither delivers on the referendum result in the firm way Brexiteers want it to, nor is it 'soft' enough to satisfy Remainers who are worried about the economic impact and doubtful of President Trump's reliability. TSSA's Manuel Cortes summed up the situation when he tweeted: "There's a first for everything and I find I agree with Boris – #Brexit will turn Britain into a colony." People on both sides agree on one thing: the Chequers proposal means turning the UK into a vassal state.
There is evidence of May's troubles in the latest polls, which show 2017 Tories are switching to UKIP. Labour has therefore taken a four-point lead. That Leavers angry with Theresa May are turning to the far-right is not cause for celebration on the Left. But voters are fully aware that we operate under a first-past-the-post electoral system, and also that Vince Cable is distinctly unimpressive. The less remarked upon finding in Opinium's new research therefore makes sense: 17% of 2017 Liberal Democrats would now vote Labour. It appears Labour is picking up disenchanted Remainers, despite the claims of some FBPE-ers that Eurosceptic Corbyn will lose the votes of the entire pro-EU electorate.
The careful balancing act being performed by Labour and the Conservatives alike continues.
Sign up to LabourList's morning email for everything Labour, every weekday morning.
Value our free and unique service?
LabourList has more readers than ever before - but we need your support. Our dedicated coverage of Labour's policies and personalities, internal debates, selections and elections relies on donations from our readers.
If you can support LabourList's unique and free service then please click here.