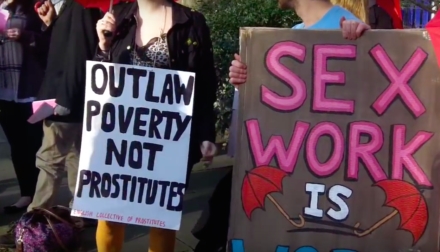 As three Labour activists who have fought for years to ensure the rights and dignity of sex workers – a fight informed by our commitment to the Labour Party's principles of justice, equality and worker's liberty – we are dismayed that Sarah Champion, MP for Rotherham, has tabled a parliamentary debate today that frames the advertising platforms of sex workers as tools for exploitation, and calls to ban them.
The debate's aim is to pressure the government to adopt a strategy inspired by the Trump administration, which recently signed the Stop Enabling Sex Traffickers Act (SESTA) and Fight Online Sex Trafficking Act (FOSTA) into law. Under the guise of ending sex trafficking, the law makes websites used by sex workers to screen clients and warn each other of dangerous and violent predators effectively illegal. As the LabourList article by Sarah Champion explains, the debate also aims to promote the Nordic Model, a legal framework in which the selling of sexual services is legal but the purchase of those services is criminalised.
Unfortunately, there is overwhelming evidence that legislation that criminalises the sex industry (from the direct purchase and sale to the advertisement and management of prostitution) makes it much harder for sex workers to survive. British law enforcement agrees: the Beyond the Gaze study, which involved interviews with 16 police forces, demonstrated that online advertising platforms such as Vivastreet and Adultwork provide a digital footprint enabling law enforcement to trace criminal behaviour and enable sex workers to get early warning of potentially dangerous clients. The research also showed that sex workers who are able to use the internet to advertise are safer than those who do not. We fear that by removing sex workers access to these platforms, more and more vulnerable workers will be forced to work outdoors where they are at risk of violence and arrest. Advertising platforms also work with the national safety scheme, National Ugly Mugs, a life-saving service that allows sex workers to report dangerous clients.
In the US, where FOSTA/SESTA have come into force, sex workers are already reporting increased risk of violence, exploitation and precarity. Sex workers who had found ways to work independently through online advertising are now being forced to turn back to exploitative managers in order to find clients and sustain themselves. In April, St James Infirmary, a health service for San Francisco street based sex workers, reported four times as many sex workers on the street as usual immediately after popular advertising platform Backpage was closed. In the US, the most precarious sex workers – particularly sex workers of colour, trans and queer sex workers, disabled sex workers, and migrants – are feeling the effects most harshly. There is no reason to believe the same will not happen in the UK if these proposals become law.
In March 2018, a year after purchasing sexual services became illegal in Ireland, Ireland's Ugly Mugs service reported that violent incidents against sex workers increased by almost 50 percent – from 900 the previous year to 1,400 in this one. As Labour members and elected representatives we are dismayed to see Labour MPs supporting such measures despite the fact they haven't meaningfully engaged with sex workers, the people whom their proposals will affect. Indeed, such a proposal flies in the face of Labour's commitment for workers' rights.
In any industry it is self-evident that workers should be the ones to determine how best to improve their working conditions. In every other industry besides sex work, we accept that a job is not something we do for enjoyment, it is something we do in order to survive. The case remains the same for sex workers. Most sex workers are women, often mothers, who do the work because of the results of brutal cuts to frontline services and social welfare systems as well as the upsurge in precarious zero-hours contracts. One does not have to find sex work appealing or tasteful to understand that sex workers are trying to make a living like anyone else in the context of the Conservative austerity agenda. If people wish to reduce demand for sex work, or to protect sex workers, the answer is the same as it is for every other type of worker in the UK and across the world: it is to end austerity, to provide real security for precarious workers, to welcome and respect migrants, to strengthen workers' rights across the board.
We call on all Labour members and elected officials, including Sarah Champion and Jeremy Corbyn, to look to New Zealand, where sex work has been fully decriminalised since 2003. Sex work has not increased and health and safety outcomes for sex workers have improved.  The Home Affairs Select Committee Report published two years expressed serious concerns about the Nordic Model and recommended that soliciting by sex workers, and sex workers sharing premises, should be decriminalised. We call on Labour to listen to the overwhelming evidence and stand with organisations like Amnesty International and the World Health Organisation, which call for full decriminalisation as the best way to respect the human rights of sex workers. Anything else flies in the face of our values.
Margaret Corvid is a Plymouth councillor and former sex worker. Alex Feis-Bryce is a Lewisham councillor and founder of National Ugly Mugs. Aisling Gallagher is a Lewisham councillor who has worked with Leeds University on sex work and austerity research. They are writing in a personal capacity.
More from LabourList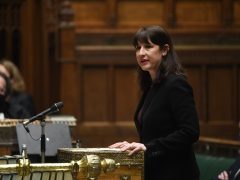 News
Labour has urged the government to close a "major tax loophole" in the windfall tax ahead of a…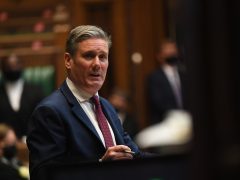 News
The Labour Party is preparing to make several significant policy interventions on the economy to combat the rapidly…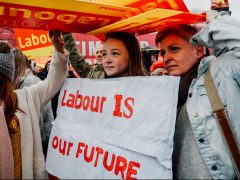 Comment
This summer marks the rebirth of a national Labour students organisation. Its predecessor, marred by factionalism and disagreement,…