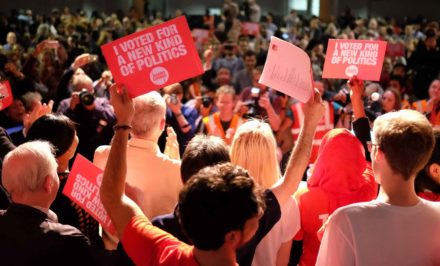 Momentum has revealed the results of its Brexit consultation, which show that 41% of members surveyed support a 'people's vote' in "all circumstances". A further 28% would only want a Brexit vote if there was no possibility of a general election, meaning a total of 53% support another referendum now. Only 17% said they did not want another Brexit referendum at all.
In the event that there is no general election, conference has said that Labour must support all options remaining on the table including campaigning for a public vote. Do you support a public vote and, if so, in which circumstances? (please choose one answer)

I support a public vote remaining on the table as an option if there is no general election – 28%

I support committing now to a public vote but only if there is no general election – 12%

I support committing now to a public vote in all circumstances – 41%

I do not support a public vote – 17%

Don't know – 2%
According to Momentum, the consultation of members also found that:
92% want all Labour MPs to vote down Theresa May's Brexit deal
89% believe a no-deal Brexit should be rejected as a viable option
81% believe Brexit is likely to make things worse for their friends, family and community
96% signed a petition calling on May to immediately end the uncertainty around the rights and status of EU citizens living in the UK and UK citizens living elsewhere in the EU
The full results of the consultation have been published here.
The consultation was launched on 22nd October and closed on 1st November. Over those ten days, over 6,570 Momentum members answered the questions, which asked how they felt about Theresa May's negotiations, the impact of Brexit and whether the Tory deal should be voted down in parliament.
The digital survey was sparked by the efforts of Momentum member and pro-EU activist Alena Ivanova, who got the required number of signatures on a petition demanding that all Momentum members have a say on "whether to oppose Tory Brexit, and whether to campaign for Labour to hold a vote at annual conference in September on giving the people the final say on the Brexit deal".
Momentum's national coordinating group (NCG) agreed at the beginning of September to hold the consultation, but only after Labour conference. This meant that the Corbynite group as a whole took no formal position on Brexit at conference.
Commenting on the results, Momentum are most keen to emphasise that its members overwhelmingly backed the Labour leadership's position on Brexit, both in terms of voting down May's deal and opposing no-deal.
Becky Boumelha, a Momentum spokesperson, said: "The view of members is clear, Theresa May's Brexit deal will be a disaster for this country and all Labour MPs must vote it down if it fails Labour's six tests. It is not in the national interest to slip through the back door a Tory Brexit that will destroy our communities and crash the economy. Propping up a destructive Tory deal will be kryptonite to Labour members, and any Labour MP who votes with the government will have a hard time explaining themselves back in their constituencies."
But pro-EU campaigners are primarily focussed on the 'people's vote' answers. Petition creator Alena Ivanova has said she is "delighted" with the consultation results, commenting: "Momentum members have overwhelmingly endorsed giving the people the final say on Brexit. These results should finally put to bed the idea that Brexit is just an issue for Corbyn's opponents. We – the overwhelming majority of Momentum members, and Labour members – back Jeremy Corbyn and want to fight Tory Brexit. We are the people who deliver the leaflets, fill rooms and who will put Jeremy into Number 10, and we will not be ignored."
Another Europe is Possible is one of the pro-EU, pro-Corbyn groups that pushed for endorsement of a 'people's vote' at conference. Michael Chessum, a national organiser who worked on Jeremy Corbyn's 2016 leadership campaign, said: "The evidence can no longer be ignored – the activist base of the Labour left is overwhelmingly in favour of a fresh referendum if no general election can happen.
"The most popular option on the survey was for a referendum "in all circumstances", which is an incredibly strongly worded option. Brexit means deregulation, attacks on workers' rights and the end of free movement. There is simply no excuse – either for Labour as a whole, or for individual Labour MPs – not to oppose this agenda and give the people a final say."
In June, TSSA became the first affiliated trade union to back a 'people's vote' on Brexit. Commenting on the survey results, general secretary Manuel Cortes said: "There is a clear view among members that a popular vote is needed on the terms of any deal the Tory Prime Minister cobbles together. This is hardly surprising given the dogs' breakfast the Tories have made of Brexit, but it's better to listen and learn, and look before we leap."
Value our free and unique service?
LabourList has more readers than ever before - but we need your support. Our dedicated coverage of Labour's policies and personalities, internal debates, selections and elections relies on donations from our readers.
If you can support LabourList's unique and free service then please click here.