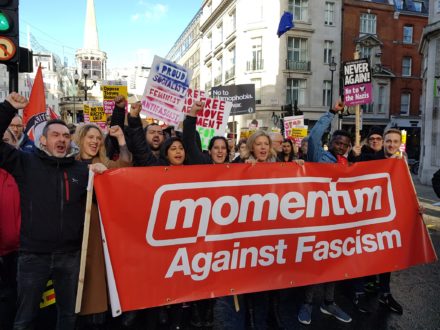 Anti-fascist protestors outnumbered Tommy Robinson supporters at the demonstrations in London today by almost five to one, according to Momentum.
The Corbynite group said that although Robinson had the support of Ukip, he mobilised under 3,000 people, whereas an estimated 15,000 joined its counter-protest.
Laura Parker, Momentum's national coordinator, described the rival turnout as a "huge blow for Tommy Robinson and his vile, hate-fuelled politics".
She said: "This is a victory for the vast majority of people in our country who reject Tommy Robinson's Islamophobic, migrant-bashing politics. We know that our country faces many problems, but racism won't fix them.
"Our underfunded hospitals and shrinking pay packets aren't the fault of migrants. They're the fault of a super rich elite who run the system in the interests of the few."
John McDonnell, who backed Momentum's efforts ahead of the protest on Sunday, commented: "The working class of Britain have a proud history of beating the far right.
"In Lewisham in the 1970s, the National Front were outnumbered by nearly ten to one. At Cable Street, the local Jewish community and socialists from across Britain stood firm against Oswald Mosley's blackshirts.
The Shadow Chancellor added: "This history must continue. A newly energised, well-funded network of hate is emerging, from Steve Bannon in the US to the former EDL leader Tommy Robinson at home, and it threatens the very fabric of our nation. The labour movement must be front and centre in opposing them, and I'm glad that Momentum are leading the way."
In the weeks leading up to the protests, there had been debate on the left and within Labour circles about whether to oppose both Brexit and Tommy Robinson.
Writing for LabourList on Friday, Artin Giles – chair of London Young Labour, which helped organise the rival march – argued that left-wing activists should not "fall into their trap".
He wrote: "With their 'Brexit Betrayal' march, the far right are trying to claim leadership over and legitimacy among the 52% of our fellow citizens who voted leave. While we all know that May's deal is a shambles, it is not Brexit that we must fight them on."
Attendees said Labour activists were out in force today, and a Momentum Twitter thread highlighted the number of local Labour groups that had turned out to the counter-demonstration.
So many Labour groups out here to fight fascism! ✊

Tweet us your banner and we'll add it to this thread! 🙂#StopTommyRobinson #NoRacismNoFascism pic.twitter.com/PYu5eqmqu6

— Momentum (@PeoplesMomentum) December 9, 2018
Earlier in the week, Momentum released a video that highlighted comments made by Tommy Robinson about refugees and Muslims. It has garnered 1.6 million views, as well as thousands of retweets and likes, in just a few days.
"Did you find any hatespeech"? 🤔🤔🤔

Take a stand against the new far right this Sunday: https://t.co/w8WGv7d88T pic.twitter.com/pOXEJrjSvr

— Momentum (@PeoplesMomentum) December 3, 2018
More from LabourList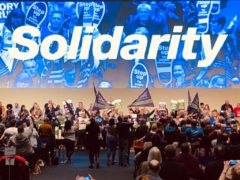 Comment
Below is the full text of the UNISON annual conference opening speech made by general secretary Dave Prentis. …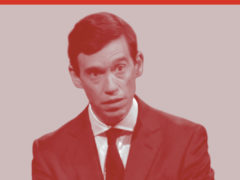 News
LabourList readers would most like Rory Stewart to win the Tory leadership contest, according to our latest survey.…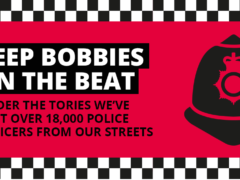 Comment
The desire to appear more trustworthy to voters on law and order runs like a golden thread through…