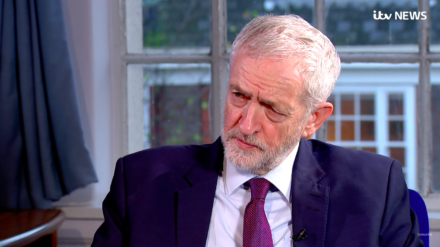 In an interview with ITV's Robert Peston, Jeremy Corbyn talked about Theresa May's Brexit deal, another referendum and a vote of no confidence. Here are the highlights.
1. On when Labour will call a no-confidence vote in the government…
Under the Fixed-Term Parliaments Act, an early election can only be held:
if a motion for an early general election is agreed either by at least two-thirds of the whole House or without division; or
if a motion of no confidence is passed and no alternative government is confirmed by the Commons within 14 days.
Labour is expected to attempt a vote of no confidence in the government after Theresa May's deal is voted down. But there is debate over whether the opposition party should wait until the Tories trigger their own vote of no confidence in May as a leader.
Corbyn did not confirm when it would take place, telling Peston: "I want this deal defeated, and that is our priority… We will then take our tactical decisions after that."
He concluded: "We'll decide on Tuesday."
2. On the "options remaining on the table"…
Labour's Brexit composite motion agreed at conference says the party will "support all options remaining on the table, including campaigning for a public vote" should it not be able to secure a general election.
Pressed on what the options on the table – other than another referendum – would be, Corbyn said: "The other options are, do you force some new negotiations, do you force new demands on the government."
The Labour leader went on to point out that another referendum would likely take months to get through parliament.
3. On putting a 'remain' option on the ballot paper in a fresh EU referendum…
When Peston asked the Labour leader about whether his pledge to respect the result of the 2016 referendum affected calling for another public vote, he said a "re-run" would be "met with dismay by a lot of people".
Corbyn added: "There has to be an option there of what's on offer. We still don't know what would be on offer. At the moment we've got this deal, which doesn't look as though it's going to get through parliament. Or some other subsequent offer that comes from the EU commission next weekend."
4. On a shadow minister backing the 'people's vote' campaign…
Peston pointed out that shadow sports minister Rosena Allin-Khan, who represents a heavily Remain seat in London, today backed the campaign for another referendum with a speech at the People's Vote rally.
On whether this was consistent with Labour's policy, Corbyn said: "Look, she's entitled to her point of view. I'd rather she and every other Labour MP spent today, tomorrow and Tuesday concentrated solely on making sure we defeat this deal."
Asked whether Allin-Khan could stay on Labour's frontbench, Corbyn replied: "I'll have a discussion with her."
More from LabourList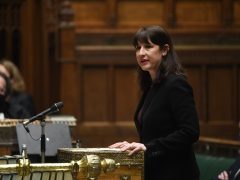 News
Labour has urged the government to close a "major tax loophole" in the windfall tax ahead of a…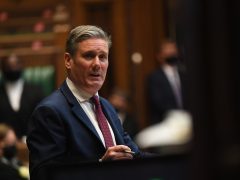 News
The Labour Party is preparing to make several significant policy interventions on the economy to combat the rapidly…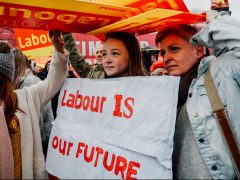 Comment
This summer marks the rebirth of a national Labour students organisation. Its predecessor, marred by factionalism and disagreement,…