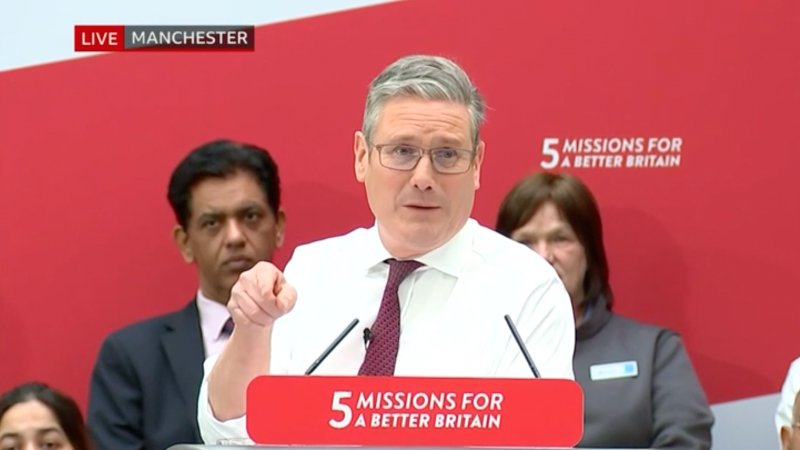 Keir Starmer has said the "vast majority" of Labour members and supporters are "100% behind" his plans for a future Labour government following a speech launching the five missions that will be the basis of the party's manifesto.
In a speech in Manchester this morning, the Labour leader outlined five missions on the economy, NHS, crime, education and clean energy that he said will be the "pillars of the next Labour government".
In a question-and-answer session with journalists following the speech, Starmer was asked why people should trust him when he is seen to have rowed back on many of the pledges he made during his Labour leadership campaign.
Starmer said: "When I stood for leadership of the Labour Party, I ended every single hustings by saying everything you've heard today won't happen if we don't have a Labour government. And therefore the single absolute mission has to be to get a Labour government. And that's the basis on which I was elected."
He added: "The vast majority of Labour members and supporters are 100% behind what we're doing. They really liked these missions, and they want us to put them into action and to do what I promised when I stood as leader, which is to take our party from the worst general election defeat since 1935 into a Labour victory."
During his Labour leadership campaign, Starmer made a series of pledges on which he has since been accused of backtracking, including on "common ownership of rail, mail, energy and water", "end outsourcing in our NHS" and supporting the "abolition of tuition fees".
The Labour leader said in January he had to be "realistic about what is possible" with the leadership pledges given the impacts of Covid, the conflict in Ukraine and the "huge damage" done to the economy by the government.
At Labour conference last year, delegates passed motions backing "new models of democratic and efficient public ownership" of essential services and utilities and calling for the return of all privatised portions of the NHS to public control.
The party is not bound by policy passed at conference, even if motions are passed unanimously. Labour's national policy forum (NPF) and 'Clause V' meeting before an election decide which parts of the party programme are included in the manifesto.
During Starmer's speech this morning, the Labour Party released more details on its five missions, which it has described as "unashamedly long term". It said the party would seek to:
"Secure the highest sustained growth in the G7, with good jobs and productivity growth in every part of the country making everyone, not just a few, better off.
"Make Britain a clean energy superpower to create jobs, cut bills and boost energy security with zero-carbon electricity by 2030, accelerating to net zero.
"Build an NHS fit for the future by reforming health and care services to speed up treatment, harnessing life sciences and technology to reduce preventable illness, and cutting health inequalities.
"Make Britain's streets safe by reforming the police and justice system, to prevent crime, tackle violence against women and stop criminals getting away without punishment.
"Break down the barriers to opportunity at every stage, for every child, by reforming the childcare and education systems, raising standards everywhere and preparing young people for work and life."
Starmer gave further details on the party's first mission in his speech, pledging that Labour will deliver the highest sustained growth in the G7 by the end of its first term in government.
The Labour leader added that the mission "comes with a second yardstick" that economic growth must be "powered by good jobs and stronger productivity in every part of the country".
He told attendees: "I want more growth in London, of course I do. But I'm not interested in a model of growth where London races ahead and the rest of our country stagnates.
"Nor will I be satisfied if our growth depends on creating jobs that are low paid and insecure. We need growth from the grassroots – a new model. Wealth created everywhere, by everyone, for everyone."
Below is the full text of Labour leader Keir Starmer's speech in Manchester this morning.
It's great to be here in Manchester. I have to confess it's the first time I've been here since a particular football game last week, so I might take a pass on the Arsenal jokes today. Let's just say – the fight goes on. And actually – that we can learn something from Arsenal and Man City, because all the way to the end of the season the objective, for both teams, is the same: win the league. A goal that can only be achieved only by teamwork, excellence, a blend of skills. Different people pulling together, on and off the pitch. Contributions, big and small. Tactics may change, but the pursuit is single-minded. And the focus, the ambition, the mission – that never changes.
Now, don't worry – I'm not going to start turning up to parliament in a tracksuit, but I do believe Britain needs a clearer sense of purpose. That the way we run our country can become more like a brilliant sports team pursuing victory. That government can be driven forward by clear, focused objectives and that this approach is vital for Britain to get its confidence, its hope and its future back.
That's what I'm here to set out today. How a new 'mission-driven' Labour government will end 'sticking plaster' politics. And in doing so, get Britain back on its feet. I will never accept that this country is destined for decline. That our best days belong to the past. Success is all around us – it just needs direction. People have huge ambitions for their community – they just need them matched. There is a yearning to come together, to be part of something bigger, an appetite that's always been there in all of the big moments of our history. The creation of the NHS. During the pandemic – in spades. The passing of the late Queen last year. A pride and a purpose that we have to unlock to drive our country forward towards a better future.
All around the world, countries are gearing up for an almighty race for the opportunities of tomorrow. Britain must be on the start line – not back in the changing room tying its laces. Some nation is going to lead the world in offshore wind. Why not Britain? Some nation will create the first generation of quantum computers. Why not Britain? Some nation will design medicines personalised to match our unique DNA. Why not Britain?
Why not? Because 'sticking-plaster politics' holds us back. Pick any of our current problems: energy security, productivity, immigration. Honestly, we could be here all day. But it wouldn't matter. The pattern is always the same. Distracted by the short-term obsessions that fixate Westminster. Held back by a cynicism which uses low trust in politics as an excuse to narrow our ambitions. Blinkered to the potential of an active government setting the direction. We lurch from crisis to crisis. Always reacting, always behind the curve. A sticking plaster, never a cure.
Just look at the NHS. For years we've had winter crises. Every year the same panic, the same despair. This is life and death, yet the government has never found a long-term solution. Sticking-plaster politics. The fundamentals never fixed. Not one crisis, but a cluster of crises that compound each other combining to send a nation into a downward spiral.
The evidence that this has happened to Britain is all around us. The only country in the G7 still poorer than it was before the pandemic. The worst decade for growth in two centuries. Seven million on waiting lists and rising. You don't see this elsewhere.
And look – it's easy to blame it all on the Tories but some of these problems go back decades. Others, are clearly aggravated by events, and I won't criticise this government unfairly for the consequences of the war in Ukraine. But over 13 years, by their actions and crucially, their inaction, the Tories have made Britain's problems deeper, longer-lasting and more painful than any of our competitors.
Seriously – ask yourself this: do I feel better off today than I did 13 years ago? What is the list of achievements they can rattle off, the legacy for our country they can be proud of? And the idea that the people who created the mess around us are the right ones to clean it up. Forget it. They're devoid of ideas. They're clapped out. They're divided. Too weak to challenge the vested interests in their party which hold Britain back. Too closed in on themselves to think big for our country.
Britain needs leadership with ambition. Belief in the possibilities of the future. Hunger to take on the big challenges. That's the case for change: a new government and a new way of governing. Britain needs both. With Labour, Britain will get both.
That's what today is about. A Britain that gets its future back. And I'll tell you how. We're going to transform the way Britain goes about its business, from top to bottom. We'll modernise central government so it becomes dynamic, agile, strong and, above all, focused. More open to expertise, to partnership with business, unions, communities and civil society.
Mission-driven government. A relentless focus on a clear set of priorities. An answer to the widespread call to 'fix the fundamentals.' A long-term plan to unlock our pride and purpose. A profound statement of intent.
Mission-driven government. In some ways, it's a simple idea. Every business around the world – every organisation – has a strategy. A nation needs one too. A plan, a framework, a compass – that acts as a guide for everything we do. Making clear what is mission-critical for my government. And what isn't. A clarity that will ruffle feathers across Whitehall and beyond. But one that is necessary. Necessary to build Britain's long-term strength. Necessary to galvanise action for change across the country. Necessary because of what it can give businesses, families and working people. Certainty and change. Stability and success. A plan for today and a more secure future. And from this, something even more precious. A Britain once again on the front foot. With a sense of hope, of possibility, of ambition. A Britain that gets its future back.
Five national missions. Each one laser-targeted on the complex problems which drive our crises. The root causes that demand new thinking. New solutions born in all parts of the country. New ways of harnessing the ingenuity that is all around us. Each mission will come with clear, measurable outcomes.
Ambitions that won't be overtaken by the future. That raise our sights and, at first glance, seem too bold, invite a sharp intake of breath, a question – can this really be done? And then, when the doubts begin to subside, a new emotion and a new determination. Why not Britain?
Let me give you an example. Zero-carbon British electricity by 2030. A huge goal that will allow us to accelerate to net zero. Make no mistake – this goal would turn Britain into a clean energy superpower. It puts us ahead of any major economy in the world. That's the sharp intake of breath. And look – I'm already talking to CEOs, investors, entrepreneurs, unions, energy workers about how we get this done. The conversation always starts with a shake of the head: "This is a bit much, Keir. Clean electricity by 2030 will be going some." But when I tell them: "Here's the ambition, here's the plan and here's the opportunity for you, that there is a powerful urgency to make it happen." But it will only happen with the right building blocks: cheaper bills, real energy security, independence from tyrants like Putin and an industrial strategy that can win the race for jobs, in the green industries of the future.
Each of our five missions will contain this formula: a measurable goal. The building blocks of a clear strategy. And the first steps of a credible, long-term plan. First steps like – the insulation of 19 million homes. Like training for people to be heat pump fitters, builders, engineers, electricians. Like GB Energy, a new British company, that will supercharge our drive for cleaner energy. And, taken together – lay a new foundation for prosperity in every community. Every community.
Today, I want to focus on Labour's mission for the British economy. Because no mission is more important to the future of our country. In the last year alone, Rachel Reeves and I have met thousands of business leaders, CEOs all over the country, leaders in retail, in hospitality, life sciences, digital, clean tech, the creative industries. We've met workers on the shop-floor and those suffering profoundly from the cost-of-living crisis, right across Britain. And through all of this, what we need has become crystal clear: growth.
Economic growth is the oxygen for our ambitions, the lifeblood of a strong society and a successful economy. Higher living standards. Better public services. More hope and opportunity. Without strong growth – these are just empty slogans.
Let's me spell it out – if growth over the last 13 years had been as strong as under the last Labour government, we would have £40bn extra to spend on schools and the NHS without a single extra penny in tax. Britain needs to create more wealth, needs to be more competitive – it's that simple.
Now, you may ask: "It's easy to want growth, what's so different about you?" To which I say: "For 13 years there's been no plan, no urgency and no-one with the courage to do the hard yards that will change who growth is for and where it comes from."
So let me announce the economic mission for the next Labour government. By the end of Labour's first term, we will deliver the highest sustained growth in the G7. Note that word – sustained. This isn't growth on a graph – this isn't going to be gamed by clever statistics. This is going to be growth that makes people better off – higher living standards. I want more growth in London, of course I do. But I'm not interested in a model of growth where London races ahead and the rest of our country stagnates. Nor will I be satisfied if our growth depends on creating jobs that are low paid and insecure.
We need growth from the grassroots – a new model. Wealth created everywhere, by everyone, for everyone. And so our mission on growth comes with a second yardstick. It must be "powered by good jobs and stronger productivity in every part of the country". Every part of the country. Judge us against that. Judge us on our plan. Over the last three years, we've put the building blocks in place. And we have those first steps – necessary but not sufficient – which can tackle the immediate problems.
So when we say – growth demands we unlock the potential of every worker, that we'll get Britain back to work and thriving once it gets there, we can say the first steps are reforming. Reforming apprenticeships. A modern childcare system. And a new deal for working people that will make work pay. When we say growth depends on seizing the opportunities of tomorrow, not falling behind. On embracing technology, innovation, science, we can say the first steps are a reformed planning system, a more powerful British business bank that can support start-ups to grow and scale and a credible industrial strategy that gets everyone round the table – removes barriers to investment.
When we say growth needs an economy that is resilient to global shocks and open to global trade that means we will use levers like procurement to build-up those supply chains that are critical for our security. And we will fix the Brexit deal. Reset our relationship with the EU.
And when we say growth must now be built on the contribution of every community, every region, every nation, this means we'll give communities the right powers for robust private-sector growth. To control their economic destiny. Stand on their own feet. And put those powers into our take back control bill.
But one thing I do need to be very clear about. These four shifts in Britain's approach, this new model. Depend on a fifth. From chaos to certainty – the rock of economic stability. Where policies are always fully costed. Fiscal rules are sound and followed rigorously. Constraints accepted. Institutions respected not bypassed. And as a result – investors here and across the world have the confidence and certainty that they need to get behind our missions.
I look at what some Tories are saying at the moment, and I can't believe they need to learn this lesson again. That they still don't understand that chaos has a cost. The noises off you hear from them are a primal scream. The last gasp of a party caught between a rock of stagnation and the hard place of its economic recklessness.
The message to the British people is clear. Labour is the party of fair growth. Labour is the party of economic stability. Labour is the party of ambition.
That stability, that certainty, the security good government must always provide. Without it mission-driven government won't work. You have to do the basics – of course you do.
I look at a problem like our asylum system – and yes, it needs a solution. It's incredible the government doesn't have a plan. That they won't match our plans to set-up a dedicated NCA unit to deal with this. More specialist officers, working every day to take down the gangs and to reach out across to the channel to countries who share this challenge. National security – at our borders, in our communities, on the world stage – is the number one duty of government, always. That's why I went to see President Zelensky last week to underline the total solidarity of my Labour Party towards his fight for freedom.
Mission-driven government is about what we do beyond that. How we restore our ambition. Raise our sights above the quick fixes, the pandering to the noisy crowd, the short-termism that will only ever provide the sticking plaster. But also how you bring our country together, open minds, change how government operates, end the silos. It's about creating the conditions for ambition to be realised. For pride to be harnessed. Purpose to be unlocked. Five national missions.
Mission one – secure the highest sustained growth in the G7 with good jobs, productivity growth in every part of the country, growth that makes everyone, not just a few, better off.
Mission two – build an NHS fit for the future by reforming health and care services to speed up treatment, harness life sciences and technology, reduce preventable illnesses and cut health inequalities.
Mission three – make Britain's streets safe by reforming the police and criminal justice system, preventing crime early, tackling violence against women and girls and stopping criminals getting away without punishment. Tough on crime, tough on the causes of crime – you've heard it before, but its right!
Mission four – break down the barriers to opportunity at every stage, for every child, by reforming childcare, reforming education, raising standards everywhere and preparing young people for work and life.
And five – yes, we will make Britain a clean energy superpower.
These missions will form the backbone of the Labour manifesto. The pillars of the next Labour government. They will be measurable, so we can track progress and be held to account. Long-term so we can look beyond the day to day. Informed by experts and the public, so we can build a coalition for change. And each will support our drive for growth. Each will help us get our future back.
But look, if we're going to make it work it will need a totally new mindset. We have to understand that the how is as important as the what. So we're going to ask different questions of public servants and ministers. Difficult questions.
How do we devolve decision-making to those with the real expertise on the ground? How do we bring people affected – every day – by the issues we must solve, into the heart of our decision-making? How do we make sure that our relentless focus on the ends goes alongside flexibility, creativity and imagination about the means? How do we change incentives so that we embrace technology rather than be afraid of the risk that comes with the new? And finally, one more question, that draws on my experience running the Crown Prosecution Service. How, in everything we do, can we take a preventative approach? Catching problems early before they fester and grow into something more deep-rooted.
We will ask these questions, because I'm not interested in dancing around issues, or mouthing off about them, but in bringing people together with purpose and intent.
And look – when I say everything will not be fixed just by spending more money, that's not just because of the damage the Tories have done to our economy. Or because we think it's the responsible thing to do – though all that's true. It's because the more I delve into these challenges, the more I can see things that are simply not working. Things that could be sped up, joined up, given direction, made to work better. This is at the core of my politics. Government can prevent problems, as well as fix them. Can shape markets rather than serving them. Can lead a collective national effort on growth and innovation. But without reforming the role of government – none of that will happen. Equally, I'm not concerned about whether investment or expertise comes from the public or private sector – I just want to get the job done. And I mean that – we have to get it done.
There is a massive role for the private sector in mission-driven government, but if the aspiration is merely to replace the public sector while extracting a rent to privatise the profits, while socialising the risk, that takes us nowhere. Mission-driven government is a different way altogether. Not state control or pure free markets, but a genuine partnership, sleeves rolled-up, working for the national interest. Not command and control, Whitehall knows best, but an approach that understands what national renewal means – change for all, from all.
That's the best thing about mission-driven government. You can't do it without people. You can't grow the economy without entrepreneurs creating new ideas. You can't make streets safe without communities looking out for one another. And you can't make healthier lives without people changing their habits.
Change can come from unlocking the pride and purpose of us all. I grew up working class, in a small town. All my life I've seen potential thrown away, people who don't get the respect they deserve, who feel invisible in their own country. I want a Britain where you don't have to change who you are just to get on. A country where success belongs to everyone and success comes from everyone. A future built by everyone, everywhere
That's what our missions are about. Change from the whole country. National renewal from a new national purpose. That's my role in this. As Prime Minister, my personal mission would be to make mission-driven government a reality. To keep our eyes focused on the prize.
So in the coming months, for each mission, the whole of the shadow cabinet will be supporting me, meeting with experts – yes, we believe in them – but also the frontline practitioners, the doers, the thinkers, the entrepreneurs and innovators. The British people. We're going to ask them what will it take, what are the barriers, what needs to change to bring these missions alive. And crucially, how do we make these missions a vehicle for hope for you, your family, your community. How do we build a bridge from the Britain we see around us today – full of potential but short of direction – to the fairer, greener, more dynamic future our missions will deliver.
That is the defining work of my Labour government – and we will prepare for it now. There is no time to lose. I am well aware that at a moment like this, it's hard to hope. Harder still to convince people that they and politicians have a common cause. Of course it is. People have listened to politicians and pulled together before. They did it after the financial crash while politicians made them pay for the mess caused by banks. They did it in the pandemic while the government broke all the rules they followed. They might even have done it after Brexit. But nobody in charge could find the words to ask. People are entitled to turn round and say – why should we trust you. But I say to them, the change you want, the Britain you want, the better future you want. We can walk towards it, together.
Every region and nation of the UK must be heard. But we have to come together: national missions for national renewal. The fastest growing economy in the G7. A clean energy superpower. Public services that lift us up. A mission driven government that will end sticking plaster politics, will unlock the pride and purpose that is in every community, will give this country its confidence, its hope, its future back. Now is the time for us all to be part of something bigger. And to say with one voice: why not Britain? Thank you.
More from LabourList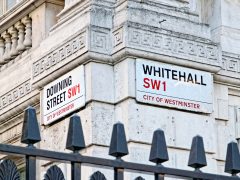 Comment
New governments need to make a splash, to make changes, to make their mark. The first 100 days…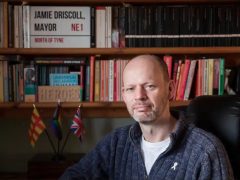 News
The Labour mayor for the North of Tyne region Jamie Driscoll has been blocked by the party from…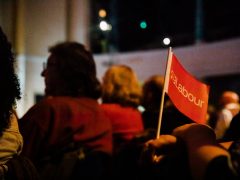 News
Labour Party membership has fallen by almost 170,000 since 2018 and by approximately 19,000 since last summer, despite…