There has been a great deal of excitement recently over polling data that suggests that young people are more likely to vote Tory.
Except the polling doesn't suggest anything of the sort. On the contrary, polling suggests that young people are in fact more likely to vote Labour. People should be careful not to use small unrepresentative sections of polls to argue something, or they end up getting served by pollsters like Anthony Wells. I should know – he did it to me last year.
The latest example comes from Matthew Holehouse at the Telegraph, who argues that:
if only those 24 and under were allowed to vote, we forecast David Cameron would be PM with a healthy majority of 46 and 44 per cent of the vote – a greater share of the general vote than Thatcher or Blair ever enjoyed. Labour would gain 18 seats off 36 per cent of the vote, but remain in opposition. And all that would remain of the Liberal Democrats, with 4 per cent of the vote, would be Alistair Carmichael, Member for Orkney and Shetland. Nick Clegg's Sheffield Hallam constituency would fall to the Tories, as would Vince Cable's Twickenham. Charles Kennedy, Jo Swinson and  Simon Hughes would lose to Labour.
Wrong wrong wrong wrong wrong I'm afraid. Here's why:
– It's only based on one unrepresentative, unweighted section of one poll – Holehouse has largely based his blog on one poll – today's YouGov poll to be precise. He's taken the (unweighted) votes of those interviewed under 25 and extrapolated his thesis from there. Yet as Anthony Wells has pointed out on Twitter, the margin of error on a small chunk of a poll is around +/- 9%. So it's basically useless for predicting an actual result from.
– Using one – unweighted – poll to make a big argument is silly – Polling is best observed by focussing on trends. And you definitely can't pull out something from one poll, ignore all of the other polls, and claim that your one – outlier – result that suits your narrative is the correct one. Holehouse claims that young people are more likely to be Tory based on one YouGov poll – but here are how many under-25's said they'd vote  either Labour or Tory in the last five YouGov polls: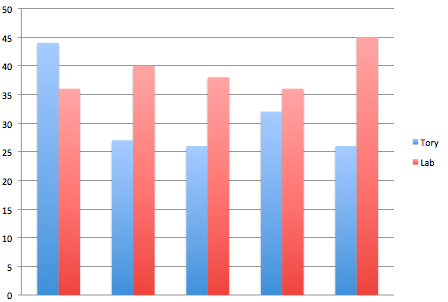 That doesn't look like they'll be voting Tory does it?
– Young people specific polling suggests they're more likely to be Labour – to get a proper idea of where young people are at politically though, you'd have to do a poll specifically aimed at young people – to ensure it was weighted properly. Fortunately YouGov did one of them last month. The results? 23% said Labour broadly represented their view, compared to just 12% who said the Tories did.
Young people aren't becoming Tories – they're (still) more likely to be Labour.
More from LabourList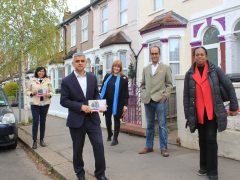 Comment
As Londoners head to the polls tomorrow, Labour sources are warning that they are "expecting a considerably worse…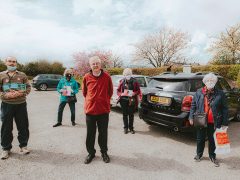 Comment
"People have realised that Wales can use its powers independently," Jane Hutt explains to me. "But Welsh Labour…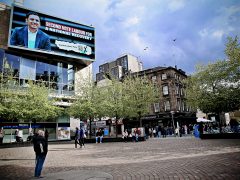 Comment
Labour started off in 1999 with every constituency seat in Glasgow, and it stayed that way until 2007,…