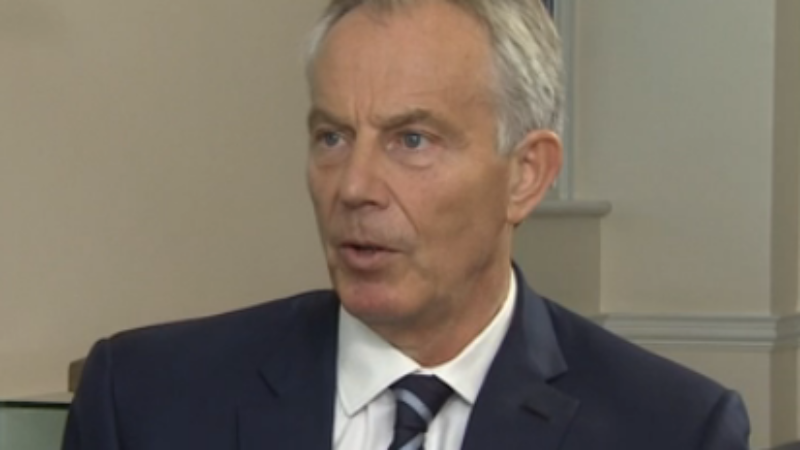 Tony Blair has made a new intervention in the Labour leadership contest with an article in today's Observer, which the paper has splashed with on the front page: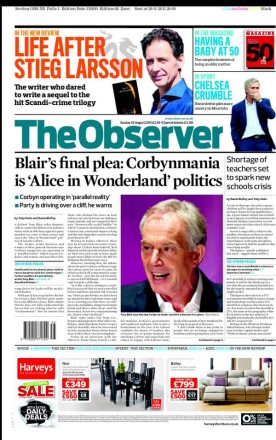 The former Labour Prime Minister confesses that he doesn't "get" frontrunner Jeremy Corbyn's popularity, but claims that he is "trying hard" to understand it, and compares it to similar waves of support for Donald Trump and Bernie Sanders in the US presidential race.
Blair also says he appreciates that his advice against voting for Corbyn will probably not be heeded, conceding that warnings to Corbyn supporters from establishment figures "actually makes them more likely to support him". He says other former leaders Neil Kinnock and Gordon Brown share the same problem:
So when people like me come forward and say elect Jeremy Corbyn as leader and it will be an electoral disaster, his enthusiastic new supporters roll their eyes. Neil Kinnock, Gordon Brown and I have collectively around 150 years of Labour party membership. We're very different. We disagree on certain things. But on this we're agreed.
Anyone listening? Nope. In fact, the opposite. It actually makes them more likely to support him. It is like a driver coming to a roadblock on a road they've never travelled before and three grizzled veterans say: "Don't go any further, we have been up and down this road many times and we're warning you there are falling rocks, mudslides, dangerous hairpin bends and then a sheer drop." And the driver says: "Screw you, stop patronising me. I know what I'm doing."
He accuses Corbyn of creating a "politics of parallel reality", where "reason is an irritation, evidence a distraction, emotional impact is king and the only thing that counts is feeling good about it all".
And he points out that the cuts Corbyn's supporters get so exercised about are coming to areas introduced by Labour in Government:
If you're angry about welfare cuts, then two things are obvious: those are cuts to programmes Labour introduced, and we only introduced them by being in power.
So it is completely illogical to oppose them without understanding how best to get back into power, since in opposition we can do nothing.
It is not the first time Blair has come out against Jeremy Corbyn in this race. In July, he said that Corbyn would be the "Tory preference" for Labour leader, and in a Guardian article earlier this month said that a Corbyn victory could lead to "possible annihilation" for Labour.
The piece has attracted criticism from some quarters, most notably from Unite's Political Director Jennie Formby, who tweeted accusing Blair of being a "neo-liberal multi-millionaire war-mongerer".
https://twitter.com/JennieUnite/status/637929845708746752
More from LabourList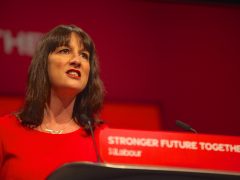 News
Rachel Reeves will set out a "radical plan" to make Britain the "high-growth, start-up hub of the world"…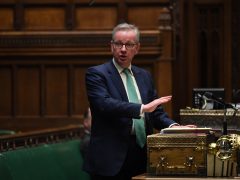 News
Michael Gove has approved planning permission for a new coal mine despite warnings that the decision will undermine…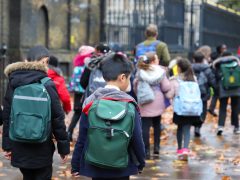 Comment
The Children and Families Act and the SEND code of practice set out clear guidance on caring for…