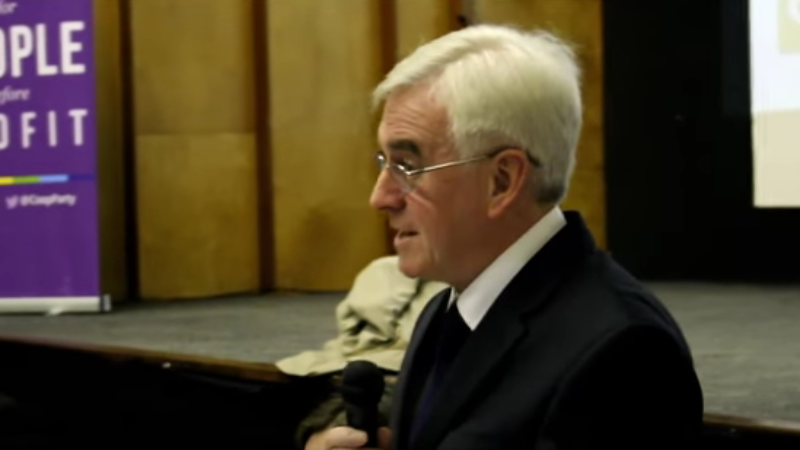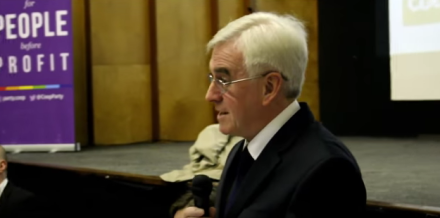 John McDonnell has written to George Osborne to question him over the nature of the Treasury's tax deal with Google.
McDonnell notes that Osborne has failed to appear in Parliament or do any live interviews since the deal with the tech giants was announced via the Chancellor's Twitter account over a week ago. When McDonnell posed an Urgent Question in the House of Commons last week, junior minister David Gauke had to stand in for the absent Osborne.
In the letter, which McDonnell has sent and made public this evening, the Shadow Chancellor raises six questions about the nature of the deal that Osborne has so far failed to answer. This follows on from the letter he sent to the European Commission last week, demanding they investigate the deal, which is increasingly becoming an embarrassment for Osborne.
You can read the full letter to George Osborne here:
Dear George,
It has now been over a week since you announced on Twitter the Government's tax deal with Google. Since then there has been public outcry and support from all side of the House of Commons at the decision to settle for such a derisory sum. 
In fact, not one single fellow member of the Cabinet agrees with you that this was a "major success" And only yesterday on the Andrew Marr Show the Business Secretary has conceded on your behalf that this was "not a glorious moment".
Nevertheless, there are still a number of questions which you have failed to answer over the last eight days and which cannot continue to be brushed under the carpet. And another revelation has come to light in yesterday's papers that needs to be urgently addressed.
According to reports in the Sunday Mirror, last summer HMRC made an agreement with Google as part of an ongoing contract to provide office services. This deal is likely to not only dismay staff at HMRC who face losing their jobs, but also taxpayers who are concerned that a company which is potentially paying a single digit effective tax rate is also being paid by our government to help HMRC collect taxes.
Therefore, I am writing to you in the light of Google's settlement to ask what consideration, if any, what impact has the revised guidance from the Cabinet Office in April 2013 (Public Contract Regulations 2015: exclusion for non-payment of taxes or social security contributions) on public sector procurement had since its introduction? And specifically in regard to the case of Google highlighted by the Sunday Mirror?
As part of the tax settlement agreement, did Google disclose any information referring to where they have infringed the law and have been found guilty or invested in a particular scheme to limit their tax liabilities that should have been notified and brought to HMRC at end of scheme? Or is there any evidence that they failed to do this?
In addition, if there are examples that you can publish, where other potential bidders have had to disclosure failures in tax compliance, and in turn, have been barred from making a bid? And have there been other cases of companies having bids turned down because they have been required to admit involvement in such schemes, and then how many of those cases if any resulted in any being struck off?
Furthermore, following separate suggestions in the papers last week that Google's company structure is not liable under the Diverted Profit Tax (DPT), will the Chancellor therefore be revising the guidance on this matter? And could he publish the most up-to-date number of corporations that are currently expected to pay the DPT?
Lastly, I should like to add that it has not gone unnoticed that you have not given a single live broadcast interview, opting instead for a pre-record, and neither have you personally given a statement in the House of Commons on this issue.
I hope this is not set to continue as I think as Chancellor you should address this matter personally and openly yourself; I look forward to hearing from you.
Given the considerable level of public interest in this matter, I am making this letter public.
Yours sincerely,
John McDonnell MP, Shadow Chancellor
More from LabourList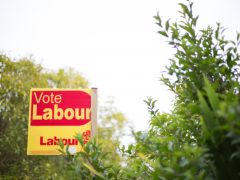 Comment
"It would be me being dishonest if I said we expected to lose," Harrow councillor David Perry tells…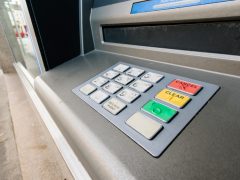 Comment
As bank branches across the country close and shops increasingly turn to contactless payments, the debate over access…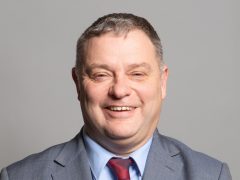 News
Mike Amesbury has quit Keir Starmer's frontbench team, telling the Labour leader that he would be resigning his…