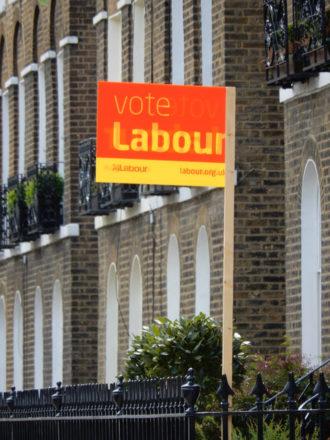 Tomorrow's elections are the perfect test of Jeremy Corbyn's theory that anti-austerity politics and mobilising non-voters is the key to winning elections. In Scotland, we have an anti-austerity electorate and in the English local elections, we have millions of habitual non-voters ready to be mobilised. Scots favour slower spending cuts by a margin of two to one, while in England, two thirds of voters stayed home the last time these council seats were up for grabs.
When Jeremy Corbyn predicted that Labour will not lose any seats at the council elections, he was not just reflecting his personal belief in the power of turning out non-voters, he also reflecting what almost always happens.  Historically, Labour oppositions have tended to make gains in local elections, whatever their electoral strategy. In the last 18 local elections Labour contested as the national opposition, it has gained seats in 16.
Seat gains and losses are far from a perfect guide as they depend on how many seats are up for grabs in the first place. A better measure of national progress is the share of the vote. This takes a bit of an effort to work out, as only certain parts of the country are having elections. Academics take these results and calculate what the national equivalent vote (NEV) share would have been if the whole country had been up. Labour should be racking up double digit leads to be in line to win the next election.
A different way to look at this is to recognise that Labour had a six point NEV lead last time these seats were contested. Progress would be doing better than that, regress would be doing worse. But of course, Labour lost the last election very badly. The question is the scale of the progress, not whether it exists.
While Jeremy has been clear he expects to make gains, some talking for him have set their sights more conservatively. Jon Trickett argued to the Parliamentary Labour Party that the benchmark should be the general election performance in equivalent localities. If Labour does better now than it did last May, it has moved forwards.
This is a remarkably unambitious goal, given that historically oppositions do better and governments do worse at mid-term elections.  When Labour was in power, every mid-term election from 2000 onwards saw the Tories led in national equivalent vote share. After the shambles of tax credit cuts, divisions over Europe, the junior doctors crisis and all the Tories' other problems, gravity ought to deliver Labour a vote share boost relative to last May, the task is to do better than that windfall.
Whatever happens in England and Scotland, Labour ought to be able to retake London. Labour won London by eight points in the general election. The Tories have replaced a charismatic mayor with a cardboard cut-out who has run a racist campaign in one of the most diverse and tolerant parts of the country. Ken's anti-Semitic victim-blaming  is bound to cost votes in parts of the capital but it is far from the most important issue for most Londoners.
It would be wrong to look at these elections purely as indicators of what might happen in 2020. Local authorities, the Scottish government and the Mayor of London have the power to make a profound difference to people's lives.  The more power Labour has in these areas, the more it is able help people. Winning elections is the core way our party can make a difference. Let's hope Labour wins as much as it should in 2016 and shows it is on the path to winning for the whole country in 2020.
James Morris is Director of the London office of Greenberg Quinlan Rosner and was polling adviser to Ed Miliband
Value our free and unique service?
LabourList has more readers than ever before - but we need your support. Our dedicated coverage of Labour's policies and personalities, internal debates, selections and elections relies on donations from our readers.
If you can support LabourList's unique and free service then please click here.