Today the Chilcot report will be released. It is the outcome of a seven-year long inquiry into the decision to go to war in Iraq in 2003. The full report is now available to read here.
15.10: Having spoken for over 50 minutes, Tony Blair has now come to the end of his lengthy response to Chilcot. Here's a run through of some of his most notable quotes.
He said that the decision to go to war was the hardest of his time as prime minister. "For that decision I accept full responsibility. Without exception and without excuse." And he says that he feels "deeply and sincerely, in a way that no words can properly convey, the grief and suffering of those who lost ones they loved."
He added: "For all of this I express more sorrow, regret, and apology than you may ever know or can believe."
However,  he says that "the world was and is in my judgement a better place without Saddam Hussein". He also seemed to question Chilcot's argument that the report's conclusions do not seek to make decisions in hindsight, and talked up the tense situation of the period: "If you knew the fact this dictator used chemical weapons… had continued to lie about them.. would you have wanted to take the risk of leaving him in place?"
In the post-speech question and answer session, he said that unless you can say what the consequences of inaction were, "you are a commentator and not a decision maker." He also took the opportunity to directly address the families of fallen soldiers "and the country" and say he did not mislead in his case for war.
14.04: Jack Straw, Labour's Foreign Secretary at the time of the invasion, has released his own statement on the report.
He concedes that there were "serious failures" in post-conflict planning, and has specific criticisms for the actions of Paul Bremer, the US Head of the Coalition Provisional Authority in Iraq between 2003 and 2004. Straw says:
"As the Report spells out in great detail, there were serious failures in relation to the post-conflict planning and implementation by the United Kingdom Government. These were significantly compounded by the extraordinary, unilateral edict of the US Head of the Coalition Provisional Authority, Paul ('Gerry') Bremer completely to disband Iraq's army and other security forces. This decision, whose consequences Iraq is still living with, not only blindsided the British Government; it blindsided key members of the US Administration, including then National Security Adviser Condoleezza Rice, and the then Secretary of State Colin Powell."
Straw says that "different decisions would have been made" with what we know now, and that he takes "full responsibility" for the decisions he made.
"With the benefit of hindsight, different decisions would have been made on Iraq, and the Inquiry sets out the clear lessons which need to be learnt. But the decisions made by me and others can only properly be judged in the context of the time. I take full responsibility for all those that I made."
13.26: Alastair Campbell, Tony Blair Director of Communications at the time, says he has been cleared of "sexing up" intelligence. Writing on his website this afternoon, Campbell says: "The truth was – and remains, confirmed today – that the so called sexing up of intelligence never happened."
He accepts that mistakes were made in the planning of the aftermath of the invasion:
"Some of the main criticisms appear to be related to the aftermath, and many of these seem to me to be justified. We assumed, wrongly, that the Americans would be as interested in the aftermath as they were in the military operation to topple Saddam. They were the main player and we, a junior partner in a huge international alliance, did not press them hard enough."
And he says that, while Chilcot claims peaceful options had not been exhausted, he did not believe there was scope to get unanimous agreement from the UN Security Council to "follow through on the logic of Resolution 1441":
"People often talk of the UN as though it were a court of law, able to adjudicate on difficult and complex issues. It is not. It is a collection of all the countries of the world with all their competing visions and interests. But particularly today, with Putin's Russia one of the five permanent members of the Security Council, it is rarely a body on which full international agreement can be found on anything. The inquiry believes we had not exhausted all diplomatic efforts. Of course, we could have gone on talking. But the reality is that there came a point where France and Russia were never going to follow through on the logic of Resolution 1441, agreed unanimously including by them, which was yet another 'final opportunity' for Saddam to comply with the weapons inspectors, deliver on the many UNSCRs he was still defying, or face the consequences."
13.17: Margaret Beckett, who served as Foreign Secretary towards the end of Blair's premiership, says that those who voted for the war did so on the basis of the evidence in front of them, but must still bear "responsibility" for the decision.
But she adds that those in ISIS must also bear responsibility for their part in "bloodshed".
13.04: Corbyn has just finished his Commons statement on Chilcot, saying it was a "it was an act of military aggression launched on a false pretext". He said that he hopes this parliament will pass a War Powers Act, ensuring that MPs are given rigorous and objective evidence when deciding whether to go to war.
He also claimed that Parliament had been "misled" and criticised what he called a "colonial-style occupation".
12.37: Cameron announces there will be two days of Commons debate on Chilcot next week.
12.23: Unite, the UK's largest trade union, has published its response to the Chilcot Report. Len McCluskey, the general secretary, says that the Inquiry confirms it was an "unnecessary conflict":
"Chilcot confirms what millions of us knew in 2003 – the case for war had not been made. It was an unnecessary conflict, launched on the basis of flawed intelligence, secret diplomacy and with no sound legal basis.
"It has cost hundreds of thousands of lives and made both the Middle East and the wider world less secure.
"Today our thoughts must be with those who lost loved ones, and with the people now living in the wretched insecurity that followed this war, but it is long past time that those responsible were held to account."
12.00: Tony Blair has published his initial response the report, which will be followed by a more detailed response this afternoon:
"The report should lay to rest allegations of bad faith, lies or deceit. Whether people agree or disagree with my decision to take military action against Saddam Hussein; I took it in good faith and in what I believed to be the best interests of the country.
I note that the report finds clearly:
That there was no falsification or improper use of Intelligence (para 876 vol 4)
No deception of Cabinet (para 953 vol 5)
No secret commitment to war whether at Crawford Texas in April 2002 or elsewhere (para 572 onwards vol 1)
The inquiry does not make a finding on the legal basis for military action but finds that the Attorney General had concluded there was such a lawful basis by 13th March 2003 (para 933 vol 5)
However the report does make real and material criticisms of preparation, planning, process and of the relationship with the United States.
These are serious criticisms and they require serious answers.
I will respond in detail to them later this afternoon.
I will take full responsibility for any mistakes without exception or excuse.
I will at the same time say why, nonetheless, I believe that it was better to remove Saddam Hussein and why I do not believe this is the cause of the terrorism we see today whether in the Middle East or elsewhere in the world.
Above all I will pay tribute to our Armed Forces. I will express my profound regret at the loss of life and the grief it has caused the families, and I will set out the lessons I believe future leaders can learn from my experience."
11.55: Some families of British nationals who died in the conflict are now holding a press conference. They say they believe the report is "fair" but are stressing that the three hours they have so far had to read the report is not enough to make a full judgement on what their next steps should or will be.
11.50: There is obviously no way to condense a 2.6 million word report, but Chilcot's conclusion appears to be damning on almost every aspect of the decision to go to war, the aftermath planning, and the way both legal and military evidence was used. It now leaves open the possibility that legal action could be taken against those involved in making the decision.
11.36: The full report is now available to read here.
11.35: "Military action in Iraq may have been necessary at some point, but in March 2003 there was no imminent threat from Saddam Hussein". He also points out that "military intervention may be necessary in the future" and mistakes over Iraq should not overshadow this.
11.31: Government failed to take into account the "magnitude of the task". Chilcot also says that "the UK military was conducting two enduring campaigns in Iraq and Afghanistan. It did not have sufficient resources to do so."
11.27: "We do not agree that hindsight was required" to see the "inadequacies of US plans", which he says ministers "were aware" of.
11.22: This is not the whitewash some had been eager to claim it would be: "policy on Iraq was made on the basis of flawed intelligence and assessments".
11.17: Chilcot suggests that the UK Government was "undermining" the UN security Council's authority. While it was not in the inquiry's remit to judge on the legality, he does come close, saying that "the circumstances in which it was decided that there was a legal basis for military action were far from satisfactory".
11.14: Blair wrote to Bush in July 2012, months before the vote in Parliament, assuring the President he would be "with him, whatever".
11.11: The UK "chose" to go to war "before peaceful options for disarmament had been exhausted". The presentation of whether there were WMDs was with a certainty that evidence dd not back up.
11.08: Chilcot arrives, fittingly several minutes late, for the launch of his Iraq Inquiry Report. After seven years, we're finally underway.
Here is the LabourList run-down of what we're expecting from the report.
Robin Cook, who was Leader of the House of Commons, resigned his Cabinet position as a result Blair's support for the war. His resignation speech is considered one of the finest in recent history. You can read it here.
We've also got Blair's speech in favour of intervention here.
More from LabourList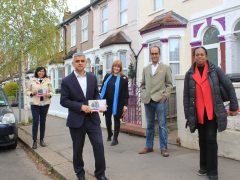 Comment
As Londoners head to the polls tomorrow, Labour sources are warning that they are "expecting a considerably worse…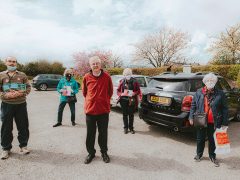 Comment
"People have realised that Wales can use its powers independently," Jane Hutt explains to me. "But Welsh Labour…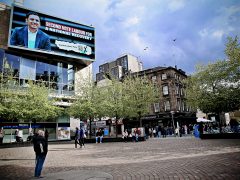 Comment
Labour started off in 1999 with every constituency seat in Glasgow, and it stayed that way until 2007,…