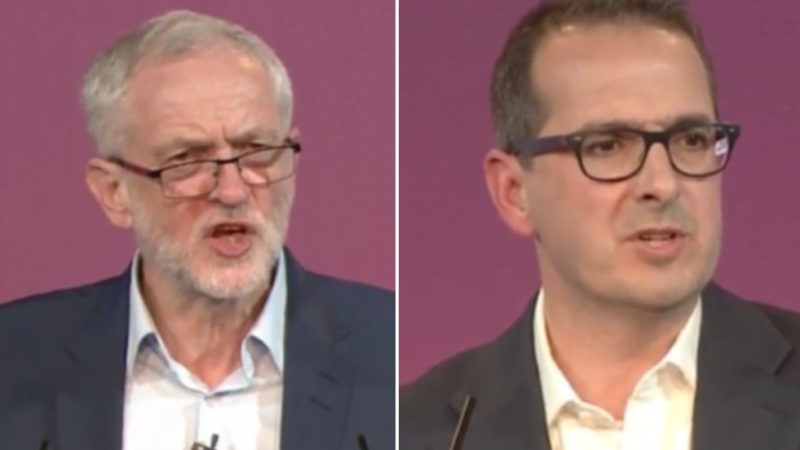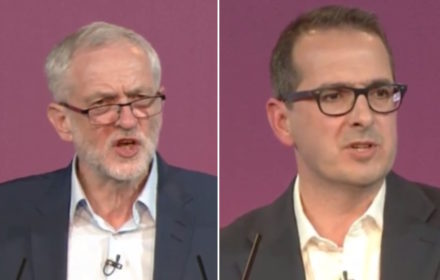 Jeremy Corbyn is the runaway favourite in the leadership race among LabourList readers.
Almost two in three – 62 per cent – will be choosing to re-elect the current leader in this year's contest. Challenger Owen Smith was backed by only 33 per cent of people who took part in this week's survey.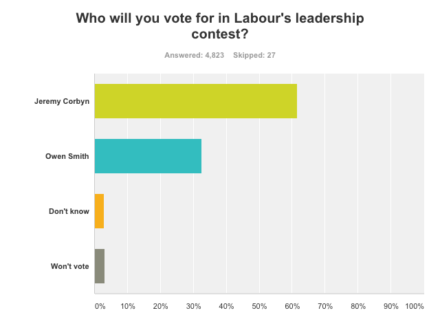 This would see a slightly increased margin of victory for Corbyn, who won 59 per cent of the vote in last year's contest against Liz Kendal, Yvette Cooper and Andy Burnham.
Our self-selecting survey of readers mirrors the most recent weighted data from YouGov, which showed a similar lead for Corbyn this week.
Only three per cent said they were unsure who they were voting for, indicating the number of floating voters is fairly narrow at this late point in the campaigns. The same amount said they would not vote in the contest, giving reason to expect a large turnout. These low percentages suggest there is little opportunity for either candidate to improve their numbers.
Similar numbers believe their candidate would make the better prime minister, showing readers are considering the candidates' responsibilities leading the country as well as the party. Again, Corbyn scored 62 per cent and Smith 33 per cent.
Additionally, 65 per cent of readers believe there is a concerted effort to exclude Corbyn supporters from having a vote. This is more than the number of readers who are backing the Islington North MP in the contest, indicating more than those in his voter base have been convinced there is a "rigged purge" of certain members from the contest.
A third of readers thought there was no political bias against those excluded from voting in the contest, with 30 per cent saying they disagreed with John McDonnell and Emily Thornberry that the party was making efforts to affect the outcome.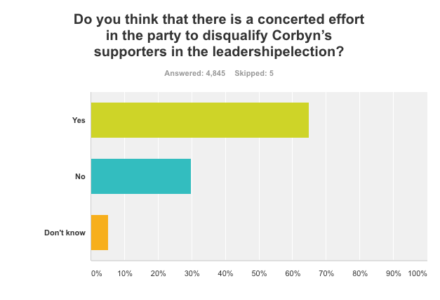 4,823 people took part in this survey. Thanks to everyone who voted.
More from LabourList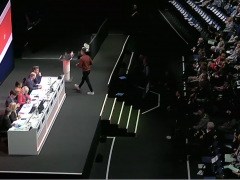 News
Labour conference has passed motions expressing support for an increase in funding for defence manufacturing to ensure that…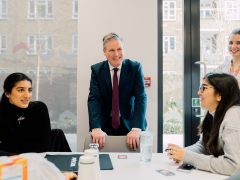 Comment
What a difference year makes. After delivering an optimistic vision for green, technology led growth in Brighton last…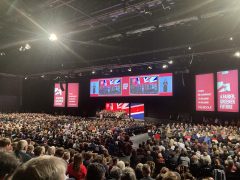 Comment
The mood in the conference hall this afternoon was markedly different to 2021, when Keir Starmer was heckled…