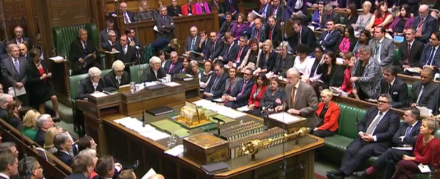 Thousands of Labour people spent last night trekking home from conference. For a few of them, however, the journey from Liverpool will have weighed especially heavily in their legs.
Those centrist MPs who had spent a year waiting for a leadership contest, and then seen the backbenches rally around Owen Smith only to lose to a re-invigorated Jeremy Corbyn, will be doing a lot of hard thinking over the weekend. The question of a looming shadow Cabinet reshuffle, which has moved from possible to inevitable because of Andy Burnham's imminent departure, raises several questions for them.
So what options do they have?
Agree collectively to join the frontbench en masse
MPs opposed to Corbyn's leadership could simply shrug their shoulders, accept the result and take a shadow ministerial position. After a summer of strife it would feel like the least controversial thing to do – initially at least. They would be put on the spot, however, in the numerous areas in which their views diverge from those of their boss. On key areas such as borrowing or Trident they could find themselves unwilling or unable to defend Corbyn's views so it is a route fraught with personal and political difficulty.
Send "sensible" MPs in to join Corbyn's team
Of course, this depends your definition of the word sensible – but it is perfectly possible the Parliamentary Labour Party could find a few dozen MPs to take up jobs with Corbyn. There would, however, be no expectation they would receive the plum jobs. Leaders tend to reward their loyal followers and there is no reason why Corbyn would have to otherwise. The tasks for the centrists, as they might see them, would be various: to provide a more effective Opposition, to demonstrate to the country that the leader does not represent a uniform view among Labour and to show to party members they are willing to engage with Corbyn even if it involves an element of self-sacrifice.
Pick a few big names to join the shadow Cabinet
It would represent a huge moment if some of the bigger beasts on the backbenches – like Dan Jarvis or Caroline Flint – took a job in Corbyn's top team. It would transform the dynamic at the top of the party but would be likely to spark a few fireworks. It remains unlikely, however. Meanwhile several many other significant players, such as Yvette Cooper, Chuka Umunna or Hilary Benn, could end up taking up the chair's role on influential select committees.
Sit tight on the backbenches
This, of all the options, would represent the biggest risk for the long-term interest of the party. Labour has struggled to function as an Opposition over the last year and was engaged in an internal war from the EU referendum to the leadership result last Saturday. The frontbench is denuded of members after 60 resignations and many MPs are stretched across two shadow ministerial jobs. We need a strong Labour voice in parliament and in the country. There are multiple crises created by Brexit, the war in Syria and the deficits at NHS trusts and the Tories cannot be trusted to tackle them.
Nobody knows what will happen next – not even Corbyn. We went into this conference knowing little more than that the leader would be re-elected and that is how we ended.
The resignation of Burnham was entirely expected even if the manner of his announcement, with a few defiant digs at those who decry the last Labour government, was a little unexpected.
And there remains one other huge uncertainty in the question of what form the shadow Cabinet structure will take.
There are several options on the table, ranging from the status quo of appointments, the return of elections by the PLP, or a split structure with MPs, the leader and party members choosing the make-up of the shadow Cabinet. The prospect of the last option, however, member votes on the top team, has now faded significantly because of the constitutional changes that have added more centrist voices to the ruling national executive committee (NEC).
We will soon know the next stage in this saga. The only certainty seems that it will be Corbyn back giving the leader's speech next September.
Value our free and unique service?
LabourList has more readers than ever before - but we need your support. Our dedicated coverage of Labour's policies and personalities, internal debates, selections and elections relies on donations from our readers.
If you can support LabourList's unique and free service then please click here.