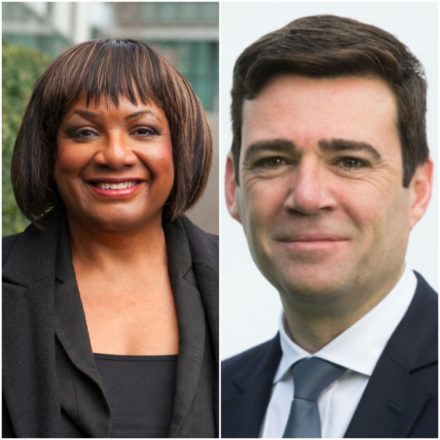 Immigration is a topic no one in Labour really relishes discussing. In this post-truth era, where facts no longer matter to some, the debate around migration risks becoming toxic. A strong Labour voice and position is required more than ever, as Maya Goodfellow wrote this week.
It is possible to have a detailed policy that doesn't inflame tensions or deflect concerns – but Labour is not quite there yet. There is nothing certain in what Labour should say on immigration.
In the past week, Andy Burnham, the former shadow home secretary and Labour candidate for Manchester metro mayor, described free movement as "inherently discriminatory" and as having been "defeated at the ballot box" in an impassioned Commons speech. Diane Abbott has, in the recent past, struck a very different tone and warned that Labour must not try to "out-UKIP UKIP".
Abbott is right to warn of the dangers of trying to sound too tough. Some people who criticise migration – even dressed up as anti-EU sentiment or as criticism of a free movement system that privileges our near-neighbours – have unsavoury motivations.
This is clearly not the case with Burnham, who is concerned by the impact on wages and public services in the North West, or Hilary Benn. The chair of the Brexit select committee today told Sky News the 52 per cent who voted Leave "sent a message about controls of free movement".
At the same time there are many people who supported Brexit or voted UKIP at the general election because they felt there was no alternative voice on these issues, which for them are a reasonable concern.
We need to look again at why the Leave campaign plastered the lie of £350m for the NHS on the side of their bus to understand the immigration debate: it is because strong public services are something people care about. When anti-immigration groups frame migrants as the reason why you cannot get doctors appointments, first-choice school places or council houses then this has a cut through.
These are, however, core issues on which Labour should be winning. It is in our DNA to support strong public services, and the public recognises this, but without confronting these false anti-immigration arguments then certain myths are able to flourish. These myths undermine what we do say about the damage being wrought on public services by the Tories. There is also the risk, that if we were to adopt a UKIP-lite approach to immigration – we'll go a bit hard on it, but not as hard as them – then it could legitimise the falsehoods which undo our arguments. There is also a tacit acceptance of the lie that the last Labour government had open borders.
And then there is the issue of winning elections. It is unclear how our support in cities or from BAME communities would hold up were we to adopt a tougher line on immigration. This would surely be a gift to the Lib Dems and Greens in Remain-backing cities like York, Manchester and Bristol – as well as of course in London. It is also likely to have an impact on the willingness of activists to put in the hard miles on the doorstep.
There are many in the party, and particularly in the PLP, who are concerned about haemorrhaging votes, and perhaps even seats, to UKIP in the de-industrialised North and Wales. Whilst this is a potential threat, it is one that needs to be kept in perspective. The UKIP electoral machine is famously weak – with a tiny membership – and they can't flood crucial seats with activists in the way that we can. They've just elected a man as leader who backs NHS privatisation – my experience on the doorstep tells me that this won't exactly be a vote winner.
Now UKIP also faces an existential challenge in trying to prove what point they will even serve when we actually leave the EU. If they try to be more Tory than the Tories, the initial appeal of them as a protest vote is unlikely to be persuasive in Labour heartlands.
If they professionalise, however, and remove the less palatable aspects of their party then they could certainly  and erode our vote to an extent that leaves the Tories able to cross the line in marginal seats. We saw this last year when Ed Balls lost his Morley and Outwood seat after an increased UKIP vote indirectly helped the Tory candidate over the line.
If Labour's position on immigration is uncertain, then the Tories at least have a clear promise – which they are unable to fulfil. The repeated failure to hit their net immigration target shows how pointless it is. It  seems, however, to win votes even though it is just tough talking with failure on their own metric.
Theresa May seems to be continuing this pattern, adopting hard-Brexit rhetoric as an attempt to mask her lack of a plan. The Conservatives are clearly still locked in an internal battles between those on the right who are all-but UKIP supporters and liberals, like Ken Clarke, who are somewhat amenable to facts on the economic the importance of immigration. The European issue is continuing divide the Tories, we cannot let the vacuum they have created suck us in too.
And, of course, there is also the rank idiocy of the Tory attempts to reduce international student numbers. This is the clearest example of the UKIP-inspired post-fact approach to policy making. International students pay huge fees, therefore subsidising education for Britons, and tend to be wealthy, spending lots when they are here. The direct benefits they bring to this country are clear, and this is before we consider the soft power influence that comes from having many wealthy members of the elite spending some of the best years of their lives in Britain and experiencing its benefits.
If we are going to talk about the power of "British values", then this is surely better than the rhetorical posturing which has affected all sides of the immigration debate.
Value our free and unique service?
LabourList has more readers than ever before - but we need your support. Our dedicated coverage of Labour's policies and personalities, internal debates, selections and elections relies on donations from our readers.
If you can support LabourList's unique and free service then please click here.