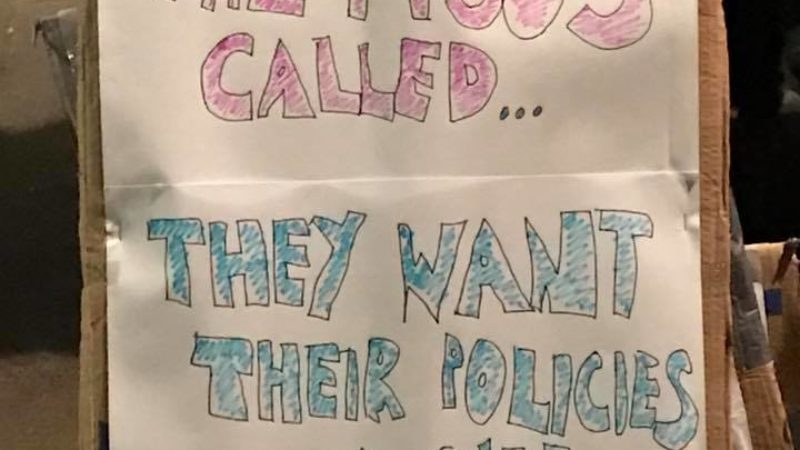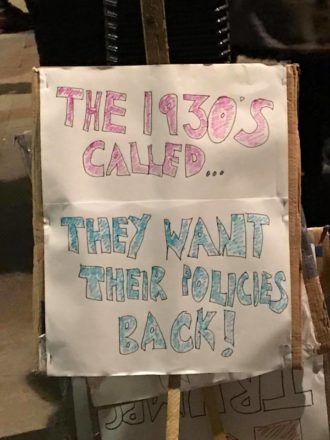 Protesters chanted "shame on May" outside Downing Street last night as thousands of people took part in demonstrations around Britain over Donald Trump's state visit.
Britons took part in demos in more than 30 cities as public anger mounted over the Islamophobic policies of the US president.
A series of senior Labour figures, including Ed Miliband, Diane Abbott and Baroness Chakrabarti, attended the protest outside Downing Street.
Clive Lewis, shadow business secretary, called on Theresa May to act in accordance with the universal declaration of human rights in a speech to the rally in London, saying: "Nowhere does it say [in the declaration that] Donald Trump has the right to undermine our human rights. Because an attack on one, be they Muslim, Mexican or gay, is an attack on all of us."
"So, Theresa May, listen up! We the British people are telling you stop with the appeasement. Stop indulging a racist, torture-supporting, woman-hating, crypto fascist. Stop him from coming to this country until he lifts the ban on Muslims."
Other Labour MPs present included Jess Phillips, and comedian and daughter of Iranian refugees Shappi Khorsandi also addressed the rally.
The event in London was organised by Owen Jones, the writer and Labour activist. There were thousands at the event, which brought Whitehall to a standstill.
Banners focussed on Trump's anti-Muslim policies as well as the widespread accusations of misogny, with slogans including "silence is advocacy", "Theresa the appeaser" – echoing Ilford South MP Mike Gapes' commons jibe at the PM, and simply "dump Trump".
One comic sign connected Trump's infamous claim that Mexico will pay for the border wall, with the leave campaign pledge to provide £350m a week for the NHS, saying simply: "Trump: Ask Mexico pay the £350m for the NHS".
Chants at the event included "you can't build a wall, your hands are too small", directed at Trump, "refugees are welcome here" and simply "shame on May".
Lewis added a call to arms for the upcoming by-election in Stoke-on-Trent central, according to the Huffington Post, saying: "My final plea is this. It's a plea to all the decent people of Stoke. Its clear the Tories have pulled back in Stoke to give Paul Nuttall of UKIP a clear run at Labour."
"In Richmond, progressive voters kicked out Zac Goldsmith – a man who conducted an outrageous racist mayoral campaign. They collectively kicked him out."
"Now I urge the progressive voters of Stoke to support the Labour candidate and stop the politics of Trump from coming to Westminster."
Emma Rees, national organiser for Momentum, said: "Momentum members across the country are coming together with other grassroots groups to send a clear message: Trump's toxic politics are not welcome in the UK and Theresa May's failure to condemn the ban and postpone Trump's state visit is a disgrace. We are part of a growing movement to oppose racism and bigotry and we will fight it every step of the way."
More from LabourList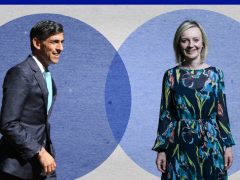 Comment
Rishi Sunak and Liz Truss have now gone head to head in six hustings with Tory members in…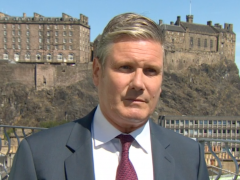 News
Keir Starmer has said that he will set out a "comprehensive set of proposals" to combat the cost-of-living…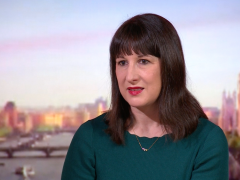 News
Rachel Reeves has urged the Tory leadership candidates to "stop playing to the gallery" and come up with…