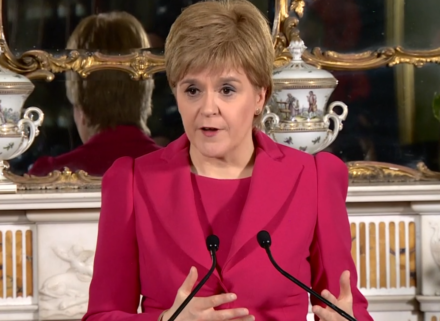 Nicola Sturgeon has done what many of us feared and declared a second independence referendum for Scotland. Today the first minister said she would ask the Holyrood parliament to vote next week for a referendum, which would be held somewhere between autumn 2018 and spring 2019.
The vote will likely pass, as Green MSPs prop up Sturgeon's nationalist government in the Scottish parliament, and so focus must turn – quickly – to how we win the vote, and defeat the SNP's divisive, separatist politics.
The SNP are of course confident that – with the polls narrowing as a result of the Brexit vote and Theresa May's push for a hard exit from the EU – they would only need a small swing for a Yes vote to win. In 2014, we shouldn't forget, they managed to pull back what was expected to be an emphatic victory for the Union, a few months out, to an uncomfortably close call in the end. With a stronger campaign, and more turbulent circumstances, we should be under no illusions that a vote for separation is entirely possible.
As such, we need to look at 2014 and do better. There is no doubt that the nationalists will be doing just that.
Labour, and all those pushing for a "no" vote, must do more than simply point out the negatives of independence. In the last once-in-a-generation vote, the Better Together campaign was vehemently criticised for enacting "project fear". Whilst it is of course important to lay out the risks, and challenge the SNP on their fantasies, we need to also harness that most potent of political weapons – hope.
How this can be done, when Brexit turmoil will be in full swing will of course be tricky, but it must be done if the Union is to survive.
This is always an uncomfortable issue for Labour. The Tories see themselves as the strongest proponents of the Union – even though David Cameron's mishandling of the EU referendum led us to the brink of Scotland pulling out of the UK. Labour is, by contrast, softly patriotic, which I would always argue is the most authentic version of Britishness, and should never be anything but.
But we also should never be afraid to articulate our love of this union of nations and their values – and create a vision for what the best form of our United Kingdom could be. We need to absorb this and project it if we are to win next time round.
Gordon Brown gave an impassioned defence of the Union, in a legendary barnstorming address just days before the 2014 vote, and the vision he articulated of a values-based patriotism is always persuasive.
The nationalist nastiness of the 2014 campaign is something we should not forget either and we must steel ourselves for it once again. When I was at Scottish Labour conference just a few weeks ago, the stories of how campaign offices were bricked, candidates were harassed and supporters were wary of even displaying Better Together merchandise for fear of intimidation were all too common.
Indeed, as Kezia Dugdale has today tweeted:
First official day of #indyref2 and my timeline is already full of abuse and bile – Referendums are so divisive. Will we never learn.

— Kezia Dugdale (@kezdugdale) March 13, 2017
It would seem that the SNP's civic nationalism can stir up just as much nastiness as any other.
Nicola Sturgeon likes to claim that her guiding priority in government is education. This seems hard to reconcile with the facts on the ground.
In the SNP education secretary John Swinney's own seat, there is a school which has urged parents to teach their children maths as the institution itself is so under staffed that it cannot do so itself. Is this SNP values in action?
The NHS in Scotland is experiencing a workforce crisis, with a third of employees saying under-staffing is stopping them from doing their jobs properly and some 90 per cent of nurses saying their workload is getting worse. More than 90,000 patients waited longer than the SNP's A&E target of four hours last year. Crucial maternity units are at risk of closure in Inverclyde and West Dunbartonshire.
Meanwhile the oil prices – which for decades the nationalists had claimed would fund independence – have been thoroughly debunked. The SNP told us that revenue from the black gold would fund a socially just paradise but their estimates for the first two years of independence have been proved wrong by some £21bn. Labour's economy spokesperson Jackie Baillie described this as showing the nationalist's economic case for independence as in "tatters". She's not wrong – when Labour says independence would mean turbo-charged austerity, the evidence backs it up.
It is no wonder Lord Darling, the former Labour chancellor, today warned that the nationalists would try to fight a "fact free" campaign.
The SNP's record in government is abysmal – after ten years as the ruling party in Holyrood all we have seen is the dominance of divisive nationalism and absolutely zero progress on social justice. We cannot allow the referendum to be divorced from the SNP's repeated failures – and we need to expose their nationalism for the smokescreen it is.
If anyone thinks that there is a progressive case for nationalism, let the nationalists' record in government show how wrong this is.
Value our free and unique service?
LabourList has more readers than ever before - but we need your support. Our dedicated coverage of Labour's policies and personalities, internal debates, selections and elections relies on donations from our readers.
If you can support LabourList's unique and free service then please click here.