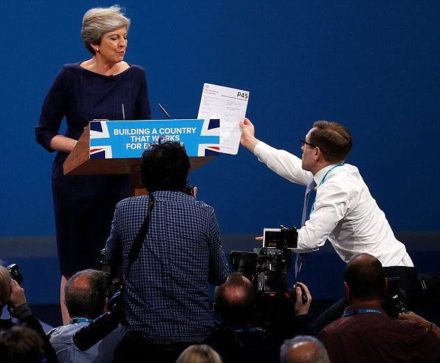 Theresa May's keynote speech at the 2017 Conservative Party conference will be remembered for three things — the P45, the persistent cough, and the collapse of the set behind her.
It will not be recalled for its substance, largely because for an hour-long speech there was surprisingly little of it.
For example, the prime minister uttered just 142 words on mental health, one of the areas where the "burning injustices" she mentioned have been propagated by her government and the Conservative-led administrations since 2010.
I know that many of my friends who are concerned with mental health issues will welcome the announcement of a review by Professor Sir Simon Wessely into the Mental Health Act 1983; reforming our legislation brings us one step closer to ensuring mental health issues receive the parity of treatment and funding that is desperately required.
On that latter point, however, it will be hard to swallow May's proclamation that mental health is a priority for her, for two reasons.
Firstly, a government study recently showed that a quarter of 14 year-old girls are displaying signs of depression, as teenagers face greater pressures on them than previous generations.
In that vein, the number of children admitted to A&E with a psychiatric condition has more than doubled since 2010, according to a study in The Independent.
Yet, while all these figures rapidly increase, the number of qualified psychiatry nurses working in the NHS has fallen by almost 10 per cent in the same period, and the National Children's Bureau reports that specialist mental health services turn away nearly a quarter of all young patients referred to them.
Secondly, freedom of information requests published by Luciana Berger in September have shown that more than half of all CCGs plan to reduce their overall spending on mental health for the next financial year.
This is despite repeated calls from NHS England for increased spending on mental health, where they say an extra £1bn is required by 2021 to ensure the system provides adequate care.
So, while Theresa May is correct in suggesting there is discrimination in our mental health system, and that there are shortfalls in services, it is her government who has presided over this.
If figures are not enough to convince you, ask the service users you know – the experiences of my friends and family only confirm that our mental health services are now at breaking point.
Contrast this to Labour's approach – Barbara Keeley's conference speech in Brighton set out a brighter future for our mental health services.
Keeley echoed Jeremy Corbyn's comments during the election by describing how Labour would "ring-fence mental health budgets so that money isn't siphoned off by other parts of the NHS", and extend school-based counselling services to ensure all schools were equipped to provide much-needed preventative services to teenagers.
Labour have set out a real plan that delivers proactive services to all our schools and financial support for the mental health institutions that already exist; if May's speech proved anything, it's that the Conservatives do not have a plan.
It is not enough to simply say that mental health is a priority – if we do not act now to protect or increase our health budgets, as suggested by Labour during the general election, then any review of legislation will have come too late.
May's supporters have stated that despite the unfortunate developments during her speech, it should be remembered for its content.
Given there were fewer than 150 words on the biggest public health crisis facing our youth in a generation, there is little to remember but the fact that it is happening under the Conservatives. Labour's approach – one that prioritises and protects mental health services – is one we desperately need.
James Calmus is a Labour activist in London and a former mental health volunteer.
Value our free and unique service?
LabourList has more readers than ever before - but we need your support. Our dedicated coverage of Labour's policies and personalities, internal debates, selections and elections relies on donations from our readers.
If you can support LabourList's unique and free service then please click here.