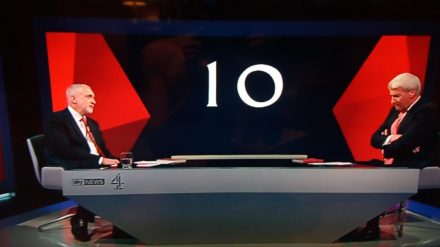 Jeremy Corbyn takes on Theresa May today in the first prime minister's questions of 2018.
It comes after May's latest "relaunch" ended in farce when she failed to deliver the wide-ranging cabinet reshuffle she had planned over Christmas and as key ministers refused to move.
Corbyn has an opportunity once again to paint May as a lame duck prime minister – but the flip side of this is that he make good on his claim that Labour is ready to deliver on its pledge to take power.
Of course, the number of issues facing any leader of the opposition is almost infinite but here LabourList has picked out five challenges that must be tackled if Corbyn and his party are to deliver a united front and capitalise on the Tory turmoil.
Press home the argument on May's chaotic reshuffle
Corbyn was right to lambast the PM's changes as "a pointless lacklustre PR exercise" when he spoke out on Monday.
The tricky part for him, however, is that this is the line used by pretty much every leader of the opposition. Indeed Matt Chorley of The Times pointed out how David Cameron made a similar argument when Gordon Brown carried out a reshuffle in 2009.
The advisors to Corbyn would do well to come up with a short form of words – along the lines of "in office, but not in power" – that captures the sense of decay around May.
Sort out parliamentary selections
Getting this right is one of the key planks of Labour's claim that it is ready for government.
The party was forced to row back on Corbyn's pledge to carry out selections for 75 target seats by Christmas – with the deadline pushed back to the spring, as revealed by LabourList – but if the leader can ensure candidates are being picked and trained and campaigns organised for these key marginals then he will be able to show that he is ready for another early election, should the government collapse over Brexit, which leads us to…
Clarify Labour's line on Brexit
The papers love a Tory story about splits over Brexit – and they have grown partial to something similar on Labour. The internal debates – and occasionally rows – attract so much attention because voters know the disagreements are actually on fundamental points of principle rather than some of the manoeuvring more normally associated with party factions.
Labour benefitted hugely from its constructive ambiguity over EU withdrawal in June 2017 but, with an outline deal agreed and the Brexit date moving closer, then it needs a clear line on the biggest issue of the day – including all the associated debates on the single market and customs union.
Rule out factional deselections
Another variation on the Labour splits story, the spectre of factional deselections dominated the autumn. The party's raison d'etre, however, is that we all achieve more " by the strength of our common endeavour", as it says on the membership cars.
Deselections on purely factional grounds have no place in the modern Labour Party and they do not, ultimately, lead to more council or parliamentary candidates being elected. Labour should concentrate on winning elections locally and nationally and then it might start to worry about whether it has the "correct" people in place.
Keep it short and simple at PMQs
Corbyn prospers when he picks on issue and asks concise questions of May – a leader who is weak on the substance and gets rattled under pressure. Try some more single-sentence challenges to the PM. It looks calm and confident. Keep. It Brief.
Value our free and unique service?
LabourList has more readers than ever before - but we need your support. Our dedicated coverage of Labour's policies and personalities, internal debates, selections and elections relies on donations from our readers.
If you can support LabourList's unique and free service then please click here.