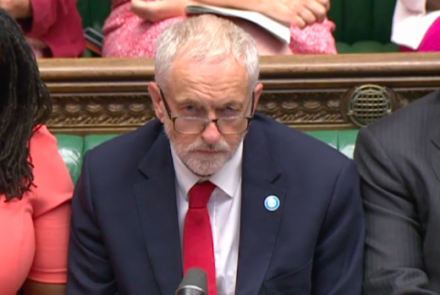 At the last PMQs before parliament goes into a six-week recess over the summer, Jeremy Corbyn chose to press the Prime Minister on the Vote Leave campaign breaking electoral law. His choice of topic will likely have pleased most of the (heavily Remain) PLP, particularly those MPs who have already expressed public support for a 'people's vote' on the terms of Brexit. That group – Chris Leslie, Stella Creasy, Chuka Umunna – largely consists of the Labour leader's most outspoken critics.
The 'people's vote' campaign is often accused of wanting to rerun the 2016 referendum, and this perception is one reason the Labour leadership is extremely hesitant to back the idea. So why did Corbyn opt to attack May and her cabinet over the Brexit campaign group? Many are deeply concerned by what are no longer simply allegations but concrete findings that have led to a £20,000 fine by the Electoral Commission and a referral to the police. And that Vote Leave was fronted by Boris Johnson and Michael Gove amongst other senior Conservatives speaks to a classic Tory 'dodgy' image, which is always happily highlighted by the opposition.
But it didn't seem as if the Labour leader's heart was in it. I suspect that's because – and I could be mistaken here – Corbyn: a) doubts this news will reach much beyond the Twittersphere, and b) doesn't think the story negates the result of the 2016 referendum. The result, after all, has political rather than technical value. There is scepticism amongst Corbynites about whether ordinary voters, rather than 'metropolitan elite' Guardian readers, would change their minds on Brexit based on evidence of Leavers overspending. This analysis isn't necessarily wholly accurate but its gist is felt at the top of the party. So while the Vote Leave news is important – and perhaps deserves more attention, which it will have received as a result of being chosen for PMQs – the narrative adopted by Corbyn today doesn't seem to reflect his wider attitude towards Brexit.
Of course the final PMQs was notable not only for Corbyn's Remain-y choice of topic. The session got off to a tricky start when Brexiteer Tory MP Andrea Jenkyns, best known for shouting "Go Brexit! You don't believe in democracy!" at Remain protesters outside parliament, asked: "Can the PM tell me at which point it was decided that Brexit means Remain?" The blue-on-blue attacks, both on the Prime Minister and in defence of her, continued throughout, with snide references to "certain Conservatives" and Keith Simpson joking about Boris Johnson being "a giant ego" who "leaks continually". For now, May is most concerned by the infighting  on her own benches – and this is what is undermining her credibility and destroying any chance of exiting the EU with a deal.
More from LabourList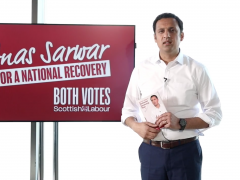 News
Scottish Labour leader Anas Sarwar has warned the 'Progressive Britain' conference today that his party's performance on May…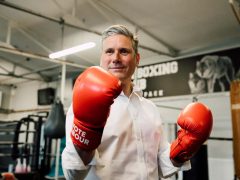 News
Keir Starmer has declared that Labour must "change our party to change Britain" and made the case that…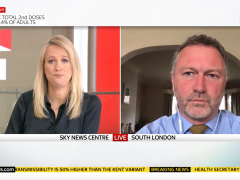 Video
Sophy Ridge on Sunday Shadow Communities and Local Government Secretary Steve Reed backed the easing of Covid restrictions…