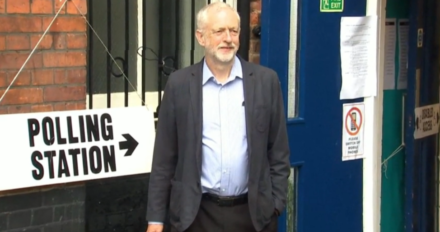 Labour has fallen to its lowest level in the polls since 2009, according to research published today.
The party trails the Tories by 21 points, according to a YouGov survey, which may prompt fresh worries with fewer than three weeks to go until local and metro mayor elections.
The poll, carried out for The Times, put Labour on 23 per cent and the Tories on 44 per cent.
It also showed the Lib Dems – now an anti-Brexit party – on 12 per cent and UKIP on 10 per cent.
The Tories' lead over Labour is the widest recorded by YouGov since Gordon Brown was prime minister.
It follows a ComRes survey for the Sunday Mirror and The Independent which also recorded a 21-point leader for the Tories.
Corbyn's allies have said there should not be "presidential style" coverage of the local elections and last night Barry Gardiner pointed to the long list of policies on issues such as free school meals, pensioner incomes and clamping down on big business late payment which the party has unveiled over the last 10 days.
In recent days an Opinium poll also showed Labour had narrowed the Tories' lead to just nine points.