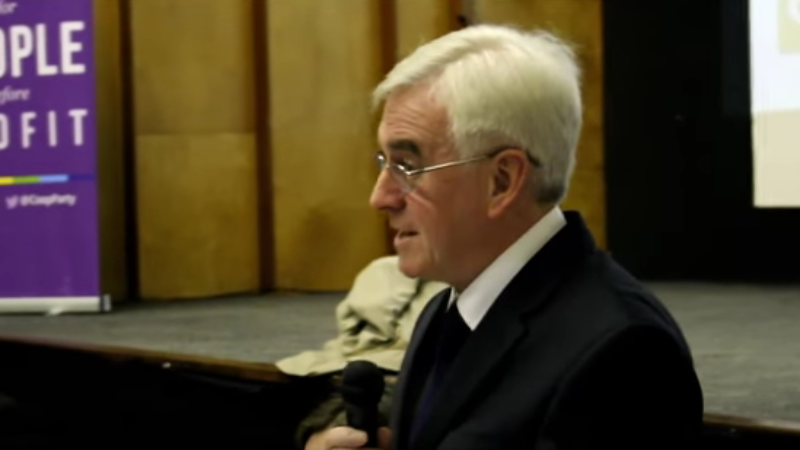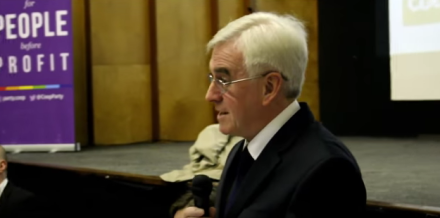 John McDonnell will today lay out an ambitious vision for a more devolved and co-operative state that he says could unlock a "£40 billion boost" to the UK economy.
The shadow Chancellor will call for an expansion of employee ownership and for the handing of more power to local authorities to encourage a more creative approach to business. And he will call for workers to have the first option to buy out and take over the running of companies threatened with closure.
In a speech in Preston today, McDonnell – who last week topped LabourList's Shadow Cabinet rankings for the third month running – will champion the UK's co-op sector, and announce that a future Labour Government will launch a consultation for new legislation to help to unlock capital funding for small business by enabling mutual guarantee societies to be formed.
"The UK's co-operative sector is currently worth £37 billion. This is far smaller than Germany or certainly the US. Our co-operative sector is just 20 per cent of the size of Germany's," McDonnell is expected to say. "But it's grown by 15 per cent since 2010 – faster than the rest of the economy. And 15 million people now own a share in a co-operative. That's up 16 per cent since 2010.
"The evidence suggests that co-operatives are more resilient than conventional businesses. Twice as many co-operatives survive the crucial first five years as other businesses. And worker-owned companies have a clear productivity advantage over conventional businesses.
"So we should be more ambitious about what can be achieved here. We want to see resilient, high-productivity businesses in an economy that is fairer for everyone. The next Labour government will look to at least double the size of the co-operative economy. That's a £40 billion boost to the economy."
McDonnell's defence of co-ops comes as the Labour Party's links to the Co-operative Party are again set to be voted on.
Some of the more Corbynsceptic Labour MPs consider taking a radical approach devolution an important part of the party's renewal – and some believe it is an issue that could see different factions come together. Some senior Labour sources believe that many of Tristram Hunt's devolution proposals are similar to what McDonnell has been proposing since becoming Shadow Chancellor in September.
McDonnell will today make the case for handing extra powers to councils and communities to help build a "fairer" economy
"We want to empower local authorities, communities and workers to think and act creatively when it comes to building a fairer, more prosperous economy," he will say.
"I think workers in workplaces threatened with closure or takeover should have first refusal on buying out and running their place of work. With two-thirds of Britain's family business at risk of closure when their owners retire, employee ownership can help solve our brewing succession crisis."
He will also praise the local council in Preston, holding it up as an example of an "entrepreneurial local state".
"I think the council here has provided a model of how an innovative local Labour administration can start to think and act creatively to secure sustainable economic growth," he will say. "This kind of radicalism is exactly what we need across the whole country.
"Councils in the richest 10 per cent of the country have seen their funding cut by £28 per person since 2010. But the poorest 10 per cent of councils have seen their funding fall by more than ten times that, £228 per person.It's been Labour councils, dealing with multiple social issues in areas of deprivation that have borne the brunt.
"I'm not of the opinion that we should just grumble about this, or wait for something to turn up. I believe in campaigning today and I'm in favour of taking action now to defend jobs, services, and local communities.
"That's why the kind of innovations Preston is putting in place are so important.
"We want to create what Prof Marianna Mazzucato has called an 'entrepreneurial state' that looks to the future. This means a complete break with the failed ideology of standing idly by and pretending only markets can decide.
"This isn't just something for national government. What Preston is showing us, like other local councils, is that we can create entrepreneurial local states, too."
More from LabourList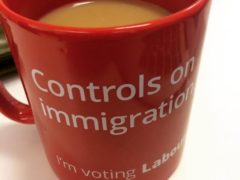 Comment
All the noise coming from Labour around immigration over the last few weeks has revealed an essential truth…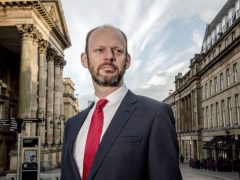 Comment
Jamie Driscoll has said he has received "literally thousands of messages of support" following the decision to exclude…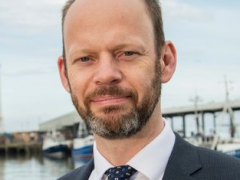 Daily email
Parliament returns from Whitsun recess today and the House of Lords will be discussing the government's illegal migration…