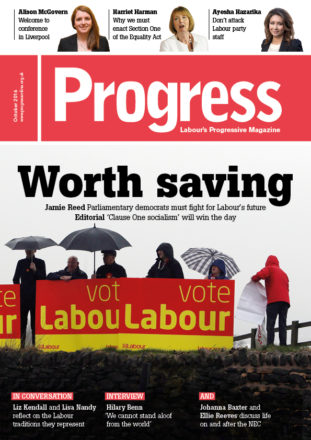 The leading Blairite pressure group Progress has issued a rallying cry on the eve of Labour conference in which it calls on centrists to "stay and fight" for their beliefs in the party.
It published a message of defiance in which it quoted the founding purpose of Labour to "maintain in parliament … a political Labour Party" as set out in Clause One of the party's constitution.
It is the latest salvo in the run-up to the result of the leadership election, which is expected to see Jeremy Corbyn re-elected by a strong majority. Polls closed yesterday lunchtime and today the incumbent told Labour MPs the "slate will be wiped clean" after the contest.
Progress has delivered its verdict on the summer's "drawn-out and frustrating" events, which saw many of its members swing behind Smith even though he was offering a high-spending left-wing prospectus which seemed at odds with the group's centre-left stance.
"Smith was by no means a 'Progress candidate' – this fight was led by the 'soft left'", reads the editorial in the group's latest magazine.
"The theory goes: if we show how much in common we all have with Corbyn's politics the membership will overturn its hard left idol and join with us in the task of getting more votes than the Tories. That theory has been tested to destruction. When Corbyn the man is popular and his coterie are not, and his ideas are either unknown or unworkable, the only way to beat Corbyn is to expose what lies behind the façade and win the battle of ideas. Rejecting the man but embracing the ideas has not worked, and will not do so in future."
Progress has spent much of the summer taking part in "moderate meet-ups", a series of eight sessions with centrist group Labour First discuss those ideas expected to be debate at party conference.
Its uses its editorial to go beyond these meetings, however, and give an assessment of the leadership contest.
"The summer exposed something more fundamental for the non-Corbyn forces. None of us came to this contest with sufficient ideas, organisation and supporters.
"This is our task now. The soft left, moderates and modernisers need to have a deeper understand of Britain and an analysis of Britain's problem that is more than 'the Tories are making it worse'. We must use this understanding to work out specifically where indeed the Tories are making it worse. But we must have lines of attack in parliament that not just oppose their actions but show that Labour has plans that prove, out of the clutches of the hard left, that it is a party that could replace Theresa May's government."
Despite some apparent differences with Smith, the group says his campaign could play a "vital role" in the centrists' struggle within Labour. The article ends with a rallying cry: "At its founding, the party's intention was clearly spelled out for the world to see in the very first paragraph of the constitution: to 'maintain in parliament … a political Labour Party'. If we stay, if we fight, and if our ideas and organisation improve, 'Clause One socialists' will win the day."
More from LabourList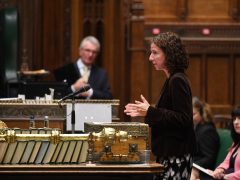 News
Anneliese Dodds has called on the Chancellor to "come clean" about his role in the government's refusal to…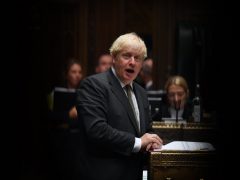 Daily email
The free school meal row is rumbling on, as one Tory council leader has advised parents who struggle to feed…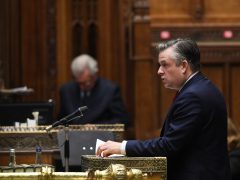 News
Jonathan Ashworth has declared that the government "put Christmas at risk" by failing to implement a national 'circuit…